We finally got our RV, a fifth wheel to be exact, and we purchased our RV off of Craigslist from a private seller. The process was a little more involved than going a dealership route and I must say we were extremely blessed with how amazing of a process it really was. The whole thing ended up being smooth and painless (at least on our end, and hopefully for the sellers) that I wanted to offer some tips and tricks we used as well the process we used in case you are thinking of purchasing an RV privately from a seller.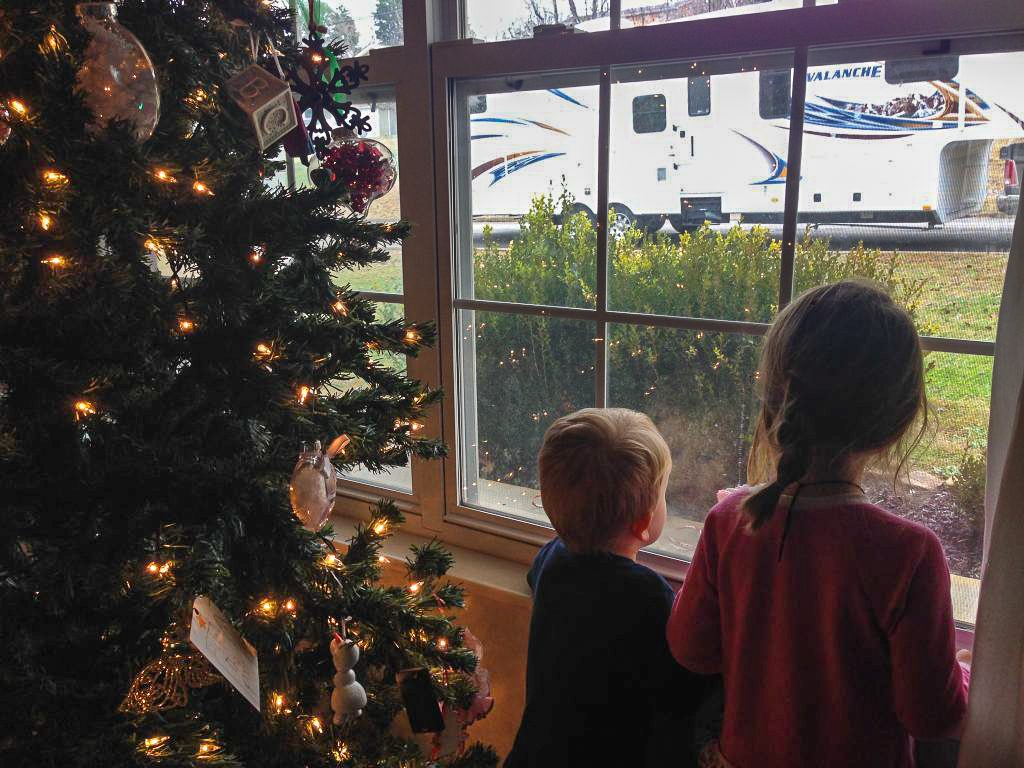 See related posts:
What it's like to travel full-time in an RV
20 Must Have Accessories For Your New RV
10 Things You'll Learn Traveling in an RV
Our Favorite Campground (so far) Gulf Shores State Park
Top Ten Road Trip Destinations in the USA
Do your research then work your deal:
I found the RV off a Facebook group I am a part of called Fulltime Families. I knew we were about ready to make the big leap and had kept my eye on the group because from time to time people will list their RVs for sale. Since I had already done a lot of research on what I wanted in my fifth wheel and what price I wanted to pay when the right one popped up.
When a posting came up for something that matched what we were looking for I sent the listing to my husband and we started to do some research on the particular model. Reid felt good about it and I did too so I messaged the sellers and asked for a phone number and Reid gave them a call. Truthfully, it was a little early for us to lock in and buy the RV but when Reid got off the phone he said "that's our RV." It was about a month before we even wanted to start looking for an RV so Reid just asked the sellers to let us know if they got any serious offers.
After almost a month, no offers were received but it was coming down to the wire where the sellers needed to offload the RV. They called and let us know that they were going to send it into consignment dealership. We were able to use that as a bargaining chip and work on a deal to get the price just right. We also talked with the sellers who were so gracious and offered to deliver since we still didn't have our truck yet. But with all that in place- How do you finance an RV when you are buying from a private seller??? We had no clue. Luckily our bank, USAA, is amazing and walked us through the process. So I'm going to give you a quick rundown of how USAA handled our private transaction for our RV which was fairly similar to auto loans we've done and I assume motorcycle and boat loans would be as well.
Tips for Researching:
Narrow down what you want – Ask yourself these questions…How often will we be using the RV? How many beds/baths will we need? What square footage? Pop-up, tow behind or fifth wheel? The more questions you ask yourselves the easier it will be to find what you're looking for.
Compare prices – There are all sorts of sites and pricing guides online to let you know what a particular RV should be cost. Once you've narrowed down the type or brand of RV start getting an idea of what it is worth.
Negotiate – We try to never pay sticker price, especially with a private seller. Try to negotiate on the price to get the best deal you can. We always try to make sure that both sides get a fair deal and walk away happy. Keep in mind that the seller may not always be open to negotiations but it is always worth trying.

Financing:
Obviously every bank is likely different in their protocol and it may be different depending on what part of the country you are located in so always check in with your bank to get help.
First, we had to apply and get approved for the loan many banks will offer the application and pre-approval process online. Once we were pre-approved, we called in and let them know we were purchasing our RV from a private seller.
Next, our bank asked us for details on the RV (make, model, VIN), details about the seller and also requested a photo copy of the front and back of the RV's title showing the owner's name. Our particular RV had no lien attached to it and was owned free and clear. The process for the title may be different if the seller still owes on it.
Once they determined the fair value of the RV they asked us what our final purchase price would be. At this point they informed us we could add on up to 10% of the RV selling price to cover tax and title. We called our local DMV to get the actual cost and bundled that into the loan. Don't forget the title and tax fees. Many people get the loan and forget about the title and taxes that are due before they're able to get on the road. Once we added in the appropriate tax and title fees we had our final loan amount.
After this the bank will go through your scheduling and monthly payment details, and after they've confirmed with you 100 times the final loan amount they'll have you sign and close the loan. Our bank put the check in the mail the same day with FedEx overnight to hand over once the RV was delivered and we inspected it.
Tips for financing:
Find your bank – We chose to go with a bank we already know and trust. They also happened to have great rates which made our decision easy. If your bank doesn't do RV loans or you want to shop around make sure you compare rates and terms carefully.
Apply for the loan – Because our bank already had all of our information, the application process was easy. Be prepared to offer personal information, financial information and details about how you will use the RV. The more details you know about the RV you're buying the better.
Get the cash – Your bank should send you the check to make the final transaction. Make sure to work ahead of schedule and give them the time to get the check out before pickup/delivery.

Inspection and receiving:
On the set date, our sellers delivered the RV gave us a walk through and allowed us to inspect the RV. They brought a bill of sale they received from their DMV, we made the appropriate signatures on the bill of sale and the title and completed  the transaction. A quick trip to the DMV with our newly acquired title and bill of sale and we've now registered our fifth wheel!
Tips for inspection/receiving:
Get an inspection and follow your gut – We completely trusted the owners and they were a military family living in it full-time and took meticulous care of the fifth wheel. Again you need to consider what is wise for you and your family. We also purchased the fifth wheel while never having stepped foot in it before being delivered. Seriously, we were nuts and going off good-faith but I do not recommend this method to others. Make sure to do a thorough inspection of the RV checking for mold, cracks, body and water damage. Ask about mice, ask how it's stored, ask if it's been maintained and winterized, ask what repairs have been done and why. Find a reputable RV specialized inspection agency or if you have the ability bring it to Camping World for an inspection. We got extremely lucky but not everyone does.
Get your insurance provider lined up – Not all auto providers offer RV insurance so don't make the assumption that your auto company is ready to insure your RV. Also, make sure you have your insurance in place before the transfer of ownership takes place as the seller's policy, if they haven't already cancelled it, will not cover you.
Prearrange a storage space – If you're heading out immediately you may not need this but chances are you're going to need to park your rig somewhere. Make sure you have a place to park where it will be safe and legal. We measured our driveway and knew it would be tight but that it would fit for a few weeks. We also made sure that our neighborhood allowed RVs in driveways.
Register the RV – Call ahead to the DMV and get a list of everything you'll need to register the RV. There is nothing worse than standing in line at a DMV twice because you forget something.
Our experience really wasn't as painful and stressful as I thought it would be. I will also say that we truly had an amazing private seller experience. Our sellers happened to be amazing people. Their kids came with them from Florida to drop it off in and not only did my girls love to have friends come play for the afternoon but they graciously took a few hours to show us the ins and outs of how to work the fifth wheel, helped us park it in our impossible driveway, and just made us so grateful to meet nice people in the world. Not only did the sell us an RV but they became our friends. So while our situation may not be typical, I would say don't be afraid to buy an RV on Craigslist.