Wisconsin Dells has always been high on my must visit list. For years, I have been dying to bring my family to this small midwest town located in the middle of Wisconsin. Why was I anxious to bring my family there? Because we love waterparks. It is one of our favorite things to do together as a family. Also, there are many other Wisconsin Dells activities for toddlers and young kids besides waterparks that make the area a blast for families both in summer AND winter. Have you ever considered a vacation in Wisconsin Dells for toddlers?
See Related Posts:
Best Mammoth Cave Tours For Families and Toddlers
60 Travel Friendly, Healthy Toddler Foods
Wisconsin Dells Resorts
Mt Olympus Resort
Within walking distance of many of the rooms is the main waterpark. Mt. Olympus has many all-inclusive packages that include breakfast, hot dogs, soft drinks and pizza, which make this resort an affordable option for families. Families love the rooms that feature bunk beds for kids and toddlers to spread out. The Mt. Olympus waterpark is very toddler-friendly with a lot of small play areas and toddler slides.
Wilderness on the Lake
If your family is looking for a little more luxury than you will enjoy the amenities that Wilderness on The Lake has to offer. Guests can enjoy the feeling of being on the lake and nature with access to the beach in the summertime. A water taxi that is quick and prompt will bring you to the main resort to enjoy the indoor waterpark. Toddlers and kids love playing and splashing indoor crisscrossing on the lily pads, running up and down the toddler-friendly slides and play structures and getting soaked from splash buckets.
Best Waterparks in Wisconsin Dells for toddlers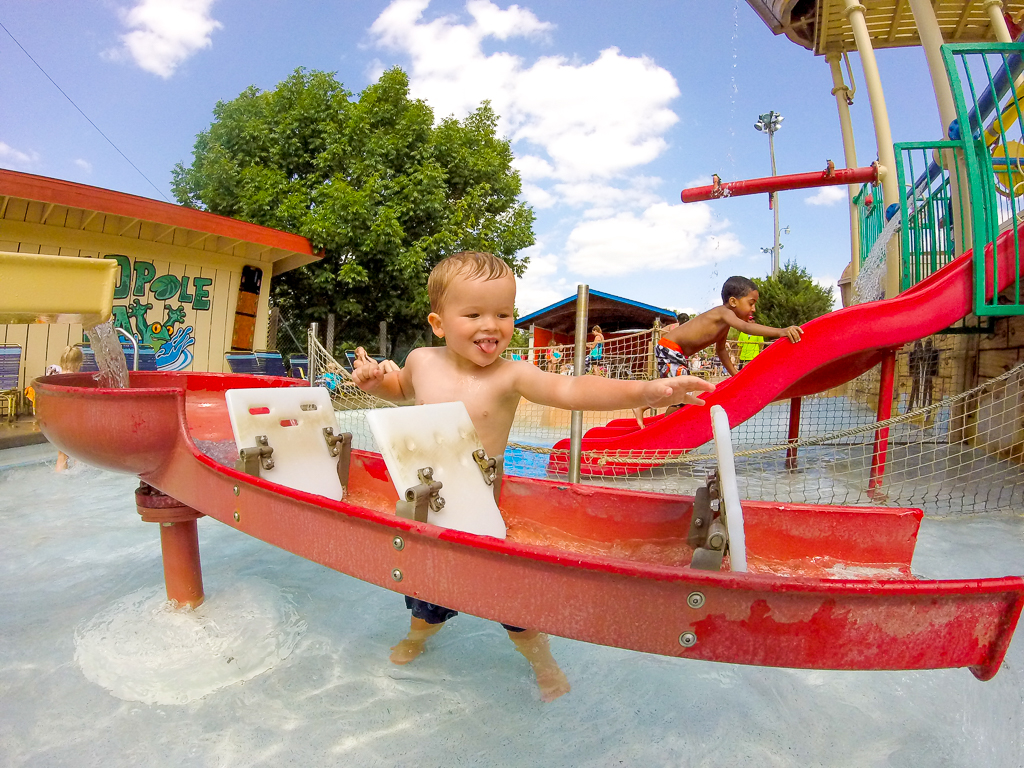 Kalahari
Kalahari has a beach entry wave pool, shallow water play structures and small slides perfect for little legs and arms to play. They'll love watching older siblings try out the flow rider and giggle when they fall. The little ones can also float in the lazy river with mom and dad (also a great place to catch a nap in moms arms) and can enjoy yummy snacks and pizza from the snack bar. Kalahari is the indoor waterpark of toddlers and kids dreams.
Great Wolf Lodge
Great Wold Lodge offers a fun family-friendly environment with comfortable and roomy suites with bunk beds. Families love the fact that there are multiple attractions located all within one resort. The world-class indoor waterpark offers year-round water fun for everyone in the family. Little ones will love the play structures and spray areas while older kids will chase each other through multiple waterslide options. Arcades, indoor play areas, MagiQuest, and a build your own stuffed animal station will keep toddlers entertained with all the varieties of kids activities.
Noah's Ark
Noah's Ark, the largest waterpark in Wisconsin Dells had a bunch of options for our little one. We were surprised to find quite a few waterslides that we could take our 2-year-old toddler on. This meant the whole family got to enjoy a few activities together here. Our toddler also enjoyed the kids play area with water features and splash buckets and small waterslides. The older kids ages 5,7,9 were very much impressed with the water park and the older two were adventurous with some of their ride choices. There were very few rides that our family could not enjoy due to height and weight restrictions.
Best Activities for Toddlers and Kids

Tommy Bartlett Ski Show
Families will enjoy a late afternoon or an evening out spending time together and relaxing watching one of the oldest yet beloved shows in Wisconsin Dells. The Tommy Bartlett Ski Show has been dazzling show go-ers since the 50s. Tickets are affordable and children under the age of 4 are free if they are held on an adult's lap. Please note this show runs from Memorial Day to Labor Day, so it is seasonal. Our kids loved the funny skiing clown and all of the awe-inspiring stunts and tricks.
Knuckleheads Trampoline Park and Indoor Go Karts
Knuckleheads is a completely indoor activity center that has lots of fun features for the whole family. Everyone in the family will be able to find an activity that they can enjoy that will get them active. Toddlers will love the small pint size train roller coaster, and play area (don't forget the socks) and helping siblings win tickets in the arcade, while older children will have fun riding go karts, sprinting across the ropes course and bouncing through the trampoline park. A full-service restaurant that offers pizza, snacks, and treats will make this a great family outing.
Helpful tips for visiting Wisconsin Dells with toddlers
Most resorts offer life jackets at their resorts for young children. If you are more comfortable bringing your own make sure to check with guest services about their rules. Each waterpark wants to ensure that your life jacket follows their safety guidelines.
Many of the waterparks did not allow us to bring in outside food and drinks except a sealed water bottle. I know my toddlers don't do well without their favorite snacks and foods so bring some cash if you want to eat inside. You may want to keep a few in the car for a quick picnic outside.
All natural baby safe sunscreen is a must, even at some indoor resorts as they have roofs that allow UV rays to pass through. Pack your favorite sunscreen or plan ahead and send your sunscreen to your resort from Amazon so you don't have to worry about it on the airplane.
Wisconsin Dells was made for families. There is a great opportunity to make some amazing family memories in this town. Some great wholesome family fun. It can be a great escape for the winter holidays as well with lots of fun and festive activities indoors and outdoors to keep all ages of the family occupied. Lots of families like to flock to Wisconsin Dells in the summer for multi-generational family fun as well.
Whatever season you decide to visit Wisconsin Dells with your toddlers and families, what is your favorite thing to do?
Our visit to Wisconsin Dells was hosted, but as always our opinions are our own.
Pin This: