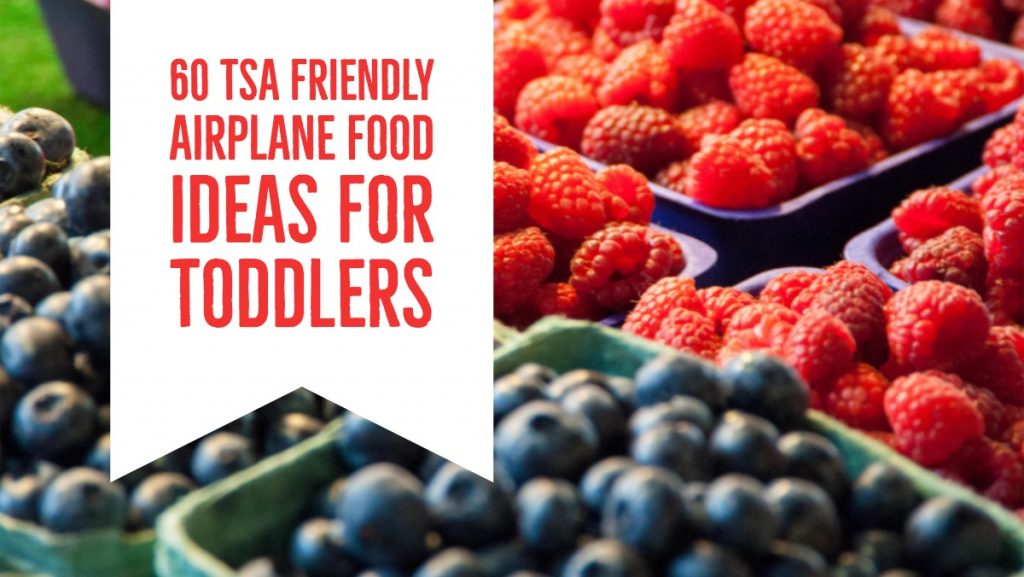 I am frequently being asked about airplane snacks for kids. Parents are looking for healthy food options that one can get through security for their toddlers and children. It's no secret that airport food is not only overpriced but usually unhealthy. Last time we were in JFK, I bought three orders of chicken nuggets that were supposed to be 5 pieces for about $4.50 each and they stiffed us a nugget in each tray! Needless to say, I was upset.
It's also best to avoid anything too sugary to feed your kids while stuck in a tight place for an extended period of time. Although I am an advocate of the emergency sucker for out of control meltdowns, I try to avoid super sugary foods and offer foods high in protein and fiber instead. I cannot tell you how many times I have been behind parent after parent who feeds their kiddos sugary treat after sugary treat only to look frazzled and confused when their toddler is jumping off the walls!
See Related Posts:
25 Easy Ways To Keep Your Toddler Entertained On An Airplane
Dos and Don't for airplane travel with kids
Diaper Bag Packing List for airplanes
Monsters Don't Ride On Airplanes kindle book
If you want to keep things cold for a bit consider packing a frozen Gogurt or something similar in a cooler type lunch sack. These have worked great for us in the past and really helped us serve up some healthy options on the plane.
Airplane Snacks for Kids
If you are running low on ideas here are some to jump start you (some have links to recipes):
String cheese
Crackers and cut up cheese
Grapes
Apple slices
Peanut butter sandwiches
Lunchables
Whole grain crackers
Gogurt- frozen (can be a little messy but a favorite)
Powdered milk- add to water when ready
Carrots
Whole grain Goldfish crackers
Graham crackers
Uncrustables peanut butter and jelly sandwiches (thaw by the time on the plane)
Less sugar fruit snacks
Banana
Banana chips
Raisins
Crasins
Pretzels and peanut butter dip
Crackers and peanut butter
Applesauce pouches (some come with sweet potato and squash in them)
Dried apricots
Dried mangos
Teddy Grahams
Mini rice cakes
Orange slices
Small yogurt cups (under 3 oz)
Freeze dried strawberries
Blueberries (in container so they don't get smashed)
Raspberries (in container so they don't get smashed)
Sliced strawberries
Whole wheat bread
Carrots and ranch dip
Salsa and tortilla chips
Quesadilla (kids won't care that it's cold)
Pizza slices (again kids won't care that it's cold)
Turkey sandwich
Ham sandwich
Dry cereal
Oatmeal packet and ask for hot water from either Starbucks at the airport or on the airplane for coffee
Bagel, peanut butter and raisins
English muffin, ham and cheese
Pepperoni slices
Popcorn
Pecans
Pasta salad
Nutrigrain bars
Peanut butter Cheerio bars
Turkey wraps
Thanks for checking out our list. Hopefully, you have some new ideas of good airplane snacks for kids. Let us know in the comments about your ideas and useful tips!
(This post contains affiliate links)
Pin This: