Recently we visited Wisconsin Dells and had a blast as a family seeing shows, visiting water parks, attractions, and restaurants. Even with all of the fun we had as a family one of our stops still keeps the kids talking, Knuckleheads Wisconsin Dells.
Knuckleheads kept everyone in the family busy and having fun for hours. We practically had to pull the kids away at the end of the evening.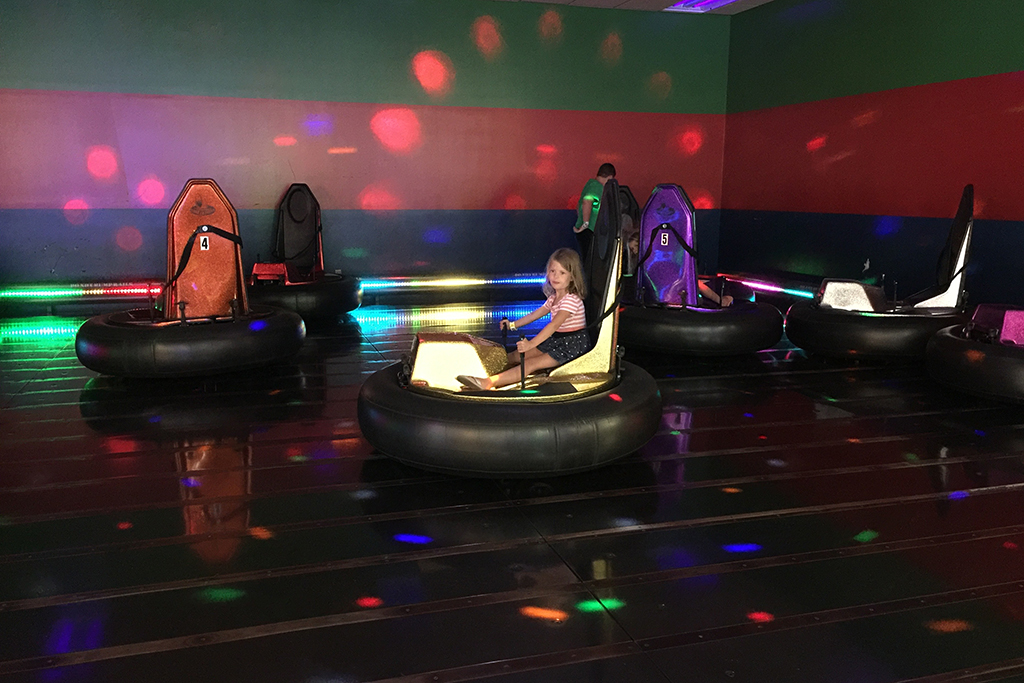 When you first get to Knuckleheads it can be a little overwhelming because there are so many options of what you can do. There are different areas of the indoor amusement park and different prices for different activities. No worries, the staff at the front desk will help you get set up away quickly. We found them very helpful in explaining all of the options. They even knew what pass to get our toddler, who wasn't tall enough to ride all of the rides.
Since there are a bunch of different options of activities for families, we'll break it down in this post:
Budget Tip: Keep a lookout for Knucklehead coupons. Oftentimes you can get a Groupon or other deals online. Checking online and in Wisconsin Dells' circulars could save you some cash!
Rides & Arcade
Carnival Rides
These rides were a hit for our kids, especially the younger ones that didn't get to enjoy the ropes course or the gocarts. They had a handful of rides from kiddie rides up to a rollercoaster that went a lot faster than it looked. There is a 4D movie, a jumping pillow, and a giant playground to enjoy along with all of the rides.
Gokarts
Drivers can race on an indoor course that features a state of the art control system. The carts are electric so they don't have fumes and if there is a pileup all carts are slowed so staff can help out. This made us feel better as some of our kids were driving and don't have much experience. Even the smaller kids were allowed to ride with an adult and they had a blast being passengers.
Arcade
The arcade is full of brand nice games that will please every age. Brand new touchscreen games sit alongside ski-ball and other arcade classics. Like many arcades, many games earn players tickets which can be redeemed for prizes. The arcade is spread out on the main floor and gives people plenty of space to look around a play.
Ropes Course
A full ropes course is available to those that are tall enough. We didn't have time to explore the course but we saw a bunch of folks that did. The course offers a good view of the rest of Knuckleheads and had a lot of obstacles to run through.
TIP: Don't dress in skirts if you're wanting to climb the course. Closed toe shoes are also a must. Also, the course only runs at specific times, so plan ahead.
Trampoline Park
Who doesn't love to jump around? Their trampoline park is awesome and has quite a few features to make it extra fun.
Open Jump
The main feature of the trampoline park is the large area designated to jump to your heart's content. Their space is large and gives plenty of room for all ages and sizes to jump.
Dodgeball
Workout your arm as you blast your opponents in a quick game of dodgeball. Adding the trampolines gives this classic a fun twist and is sure to be entertaining.
Basketball Hoops
Play a pickup game or host a dunk contest on the basketball hoops. Everyone has a monster vertical when hopping on trampolines! The rims are padded to make dunking safe.
Stunt Bag
Basically, this area allows you to go big without the risk of a bad landing. Try the craziest tricks you have and land comfortably on their huge airbag. I love this feature as it allowed me to be as crazy as a stuntman without an ER visit.
TIP: Knuckleheads does require special grip socks be worn on their trampolines and have them for sale on site.

Bowling
As if the trampoline park and rides weren't enough, you can also get your bowl on at Knuckleheads. They feature a full alley that keeps the kids in mind. Lane bumpers and lightweight balls are available.
They have 10 cosmic lanes all of which are cosmic lanes. The alley also features fun music, a bunch of big TV's to watch the game and a bar/grill and party rooms.
If you're looking to spend some time in Wisconsin Dells with kids or with your family, look no further than Knuckleheads Wisconsin Dells. You can find Knuckleheads hours and current pricing here.
Have you been to the Dells? What were your favorite activities?
Wisconsin Dells CVB hosted our Knuckleheads visit, as always our opinions are our own.
Related Posts:
2018 Top Ten Best Road Trip Destinations In The United States
8 Reasons To Visit Fort Wayne With Your Family
10 of the Best Family-friendly Things to do in Niagara Falls with Kids
Pin This: