For a while, we've anxiously awaited a recent stop on our cross-country RV travel adventure and you may be surprised to learn it was Fort Wayne, Indiana. We knew there were lots of fun things to do in Fort Wayne with toddlers. We also knew our older kids would love our time there too. As much as we were anticipating enjoying this midwestern jewel there were definitely some fun surprises that made us fall in love with the city even more.
One of our favorite parts about traveling fulltime as a family is exploring places that often get overlooked by the rest of the country. Fort Wayne, Indiana is one of those cities. It has a wide variety of kids activities, outdoor and indoor playgrounds, and some of our favorite family memories.
Another aspect that makes Fort Wayne so unique is that it is truly an affordable destination. I was blown away by the cost of the attractions which were only a fraction of the cost of many of the museums and attractions we visit in small cities.
Things to do in Fort Wayne Indiana

Science Central
Not only is this just a large and fun Science museum, but it also is essentially a giant indoor playground for kids. We love hands-on museums and they get bonus points if they are fun for both toddlers and bigger kids. Because we homeschool our kids we love when places are educational. If we can sneak in learning in a fun activity when we are traveling we are definitely interested.
We spent the better part of the day exploring Science Central and learning about all different modalities of Science. Our oldest absolutely loved the planet presentation that took place with a giant 360 projector. I think we all learned something about our magnificent solar system during that presentation. The toddler area at Science Central was a favorite for our two-year-old. He loved floating boats in the water, seeing the inside of a piano, and playing on the playground.
One of the most unique features to this Science museum than others we have been to was the giant slide. This was a two-story slide (only available to older children due to height restrictions) that was actually quite thrilling (you better believe mom took a turn). All in all my kids kept calling it the best museum they have been to and mom and dad were happy they learned something.
Botanical Conservatory
A great place to enjoy an afternoon as a family and learn about different forms of landscapes and gardens. We enjoyed walking through the tropical and desert landscapes. My older girls gawked over the various plants and flowers and marveled at the sheer magnitude of some of the leaves. We made sure to point out the names and worked on comparing and contrasting the different plants.
The toddler absolutely loved learning about bees and watching a real-life beehive. He and his sisters enjoyed acting as a worm and crawling through tunnels and down slides. Besides walking through the various gardens and water features the children enjoyed the kid's activities and the play garden near the entrance of the conservatory. Storybooks featuring gardens and vegetables, a playhouse with toy fruits and vegetables and plenty of coloring sheets were enough to make these kids happy and give mom a break for a few minutes.

Take a Canoe on the River or Relax on a Canal Boat
If you have older children you may enjoy renting a canoe or kayak and exploring the river and all the beautiful scenery and bridges along the way. We managed to take our kids ranging from the ages of 8-2 in two different canoes and enjoyed spotting turtles, singing songs, and marveling at architecture along the way. Renting gear from Fort Wayne Outfitters made this trip a breeze as everything is ready for you right on the riverfront.
If renting a canoe sounds a little stressful with toddlers around, then you may enjoy a ride on one of 1840s replica canal boats. You can enjoy the river scenery without having to juggle oars while making sure the toddler doesn't fall out. The Sweet Breeze canal boats are reasonably priced and are a fun activity for the whole family.

Catch a TinCaps Baseball Game
We truly feel like it's not summer unless you've had the opportunity to attend a baseball game. If you happen to be in Fort Wayne during baseball season, then I strongly urge you to catch a game. Having been to many a minor league game we were impressed by the prices and also how much Fort Wayne loves their team! The best advice here is getting there early to get your tickets, especially if it's a fireworks night. The ballpark tends to sell out on those nights and on weekends.
The whole family really enjoyed our evening at the game. The TinCaps do a great job at keeping the crowd entertained and having fun. If you can, try to go on Family Feast night where many items on the menu will only be $1.

Splashpads, Playgrounds and Biking trails
One of the best things you can do as a parent is to get your kids active and spending time outside. Fort Wayne makes this very easy with its wide array of parks and outdoor activities. Downtown you will find lush parks with attractive fountains and sculptures. Our favorite was Headwaters Park. All along the riverfront there are parks, places to canoe or kayak, or sit and enjoy a picnic. We were also impressed by all the biking and hiking trails and the kids appreciated the splash pads on a the hot summer days.
Vera Bradley Outlet Sale
It's no secret that every April people flock to Fort Wayne for its annual outlet sale. Don't fret if you can't come that time of year, you can still treat yourself to a deal at their store. This is a great place to sneak away during nap time for some alone time or bring the toddler in a stroller. Take home the perfect souvenir from a fun family getaway.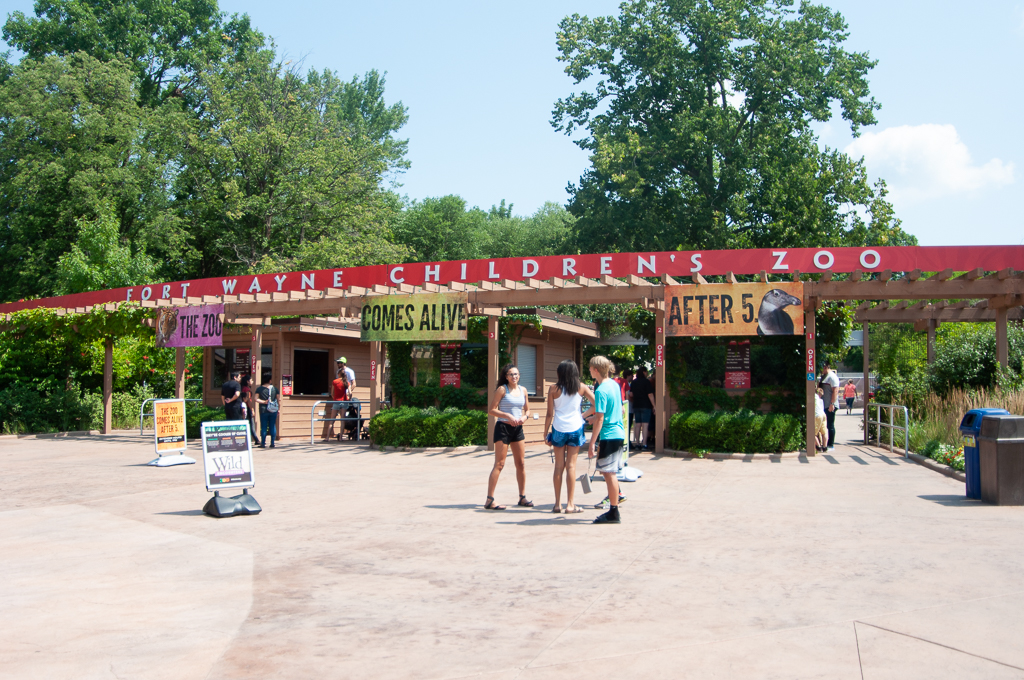 Fort Wayne Children's Zoo
By far our favorite place to bring our kids was the Fort Wayne Children's Zoo. All of our children love animals and they all enjoyed the variety of exhibits (especially the farm exhibit for some reason) but toddlers and zoos just have a special connection. There is nothing like watching the magic in a 2-year-old's face when he sees a monkey for the first time. The kid's loved the hands-on stingray exhibit, walking through the African Safari, spotting zebras, and hearing different South American birds sing.

Art Murals
Art lovers will really enjoy Fort Wayne and it's commitment and love of public art. Located throughout the city are numerous varieties of sculptures and murals and the movement is continuing to grow. I highly recommend getting a map off the Visit Fort Wayne website and spending an afternoon driving the city to locate these fun murals. They make for great photo ops but the drive will be fun as well.
One of those surprises that Fort Wayne is filled with beautiful neighborhoods. The kids and toddlers marveled at aged but lovey houses and dreamy old-fashioned architecture. They often liked to pick out their favorites. It's a great way to explore the city and teach art appreciation at the same time.
Where to Stay in Fort Wayne

Johnny Appleseed Campground
We personally visited Fort Wayne on our extended RV trip and stayed at the Johnny Appleseed city park and campground. The campground was priced extremely well and offered some great amenities. It was a quiet refuge that was safe and comfortable. The bathrooms and showers were some of the cleanest we have experienced on our travels. They have a special pin pad entry and are only available for guests staying at the campground.
The kids loved the playground and biking trails (please note the playground is located a short distance from the campground). We also loved the opportunity to have an impromptu history lesson as the grave of Johnny Appleseed is just a short walk from the campground.
Family Friendly Hotels
There are many family friendly hotels located throughout the area. Most include complimentary breakfast and access to a pool. If you want to be in the downtown area near the TinCaps, Science Central and the Botanical Conservatory then the Courtyard by Marriott may be a good choice. Otherwise choosing any of the area hotels that are in your budget will be a great choice as nothing seemed too far away in this easily accessible town.
Coming Soon in 2019
A boutique hotel that was designed by Vera Bradley herself! This stunning hotel will be located right on the newly designed and renovated riverfront with easy access to all river attractions. We will continue to update this post as more details are released.
Our visit to Fort Wayne, Indiana was hosted by the Fort Wayne, CVB but all opinions are our own.
Related Posts:
10 Family-friendly Things to do in Niagara Falls with Kids
Tips For Visiting Thomas Land at Edaville
8 Essential Tips For Cruising With Baby
Pin This: