Edaville Thomas Land
When you have four children and three of them are girls and the youngest is a boy, that boy is going to be dragged around to a lot of events and attractions that don't really interest him. He has spent a lot of time in American Girl stores, watching his sisters ride horses, and chasing down Princesses at Disney World.y little boy is obsessed with Thomas and Friends, so when I found out about Thomas Land at Edaville I knew this was a must visit. Of course, this has been the highlight of all of his two years- riding on real-life Thomas The Train.
Obviously, the main event for our family was visiting Edaville was Thomas Land. We thought it was well thought out and a lot of value for your ticket. Our son who was 2.5 at the time thoroughly enjoyed riding on real-life Thomas, watching Percy, Emily and Gordon in the show and riding on other rides featuring various Thomas & Friends characters including Toby, Harold, and Cranky. It really was a dream come true for him. His sisters had a great time too, even though they aren't as involved with Thomas and Friends. Even though he is only 2.5- he still continues to chatter on about Thomas Land and asks us daily when we will get to go back.
Thomas Land at Edaville Vlog
History of Edaville, MA
Edaville is located in the heart of cranberry central in Carver, Massachusetts just outside of Cape Cod. It is easily accessible by freeway and would make an excellent day trip from Boston or surrounding areas. The park itself is ideal for kids under 12 years old with the sweet spot being between 2-8 years of age. Parents will delight in watching their kid's excited faces as beloved characters from Thomas & Friends come to life in Thomas Land or marveling at extinct creatures in Dino Land.
Edaville Theme park was created by Ellis D. Atwood on his 1800 acre cranberry plantation. He built Edaville railroad and offered sightseeing rides to tourists looking for a closer peek at the plantation and the cranberry operation. He then expanded the offerings by adding a few small rides and attractions. It has since evolved into a fun family theme park. Families have been enjoying family-friendly amusements at Edaville since around 1946. The park is now owned by Jon Delli Priscoli.
Edaville Hours and Tickets
Parking is always free, which is a welcome change of pace from other theme parks we have been to. Hours vary, so it's best to check an updated schedule on the park's website when making plans. Ticket prices for Edaville range from $35-$37 for a one-day ticket or you can choose a two-day ticket for $64. They sometimes offer specials that include a souvenir and a ticket so make sure to check their website to see if it would be something you are interested in.
Edaville Christmas and Special events
Thomas Land and Edaville are known for their Christmas and holiday events. Edaville Christmas has great reviews and is something we would like to go back for. The park hosts a festival of lights around the holidays which includes over a million lights, events and activities, and of course access to all of their rides. It is a great holiday tradition in the northeast.
Tips and Tricks for visiting Edaville Thomas Land with toddlers and young children
Pack a refillable water bottle so you can make sure to keep hydrated all day long. Also pack sunscreen, snacks and your video camera.
Plan extra time for a meet and greet with Thomas, Percy, Gordon, and Emily. Little fans of Thomas and Friends will enjoy getting their pictures taken with their favorite characters.
Get there early to beat the heat and the lines! Edaville is a popular destination in the summer and Christmas time, so if you can be there when it opens.
Head straight to ride Thomas the Train. It will make your day go a little smoother as you will be able to navigate crowds and heat a little easier.
Have you ever been to Thomas Land at Edaville in Massachusetts before? What was your favorite part?
Pin This: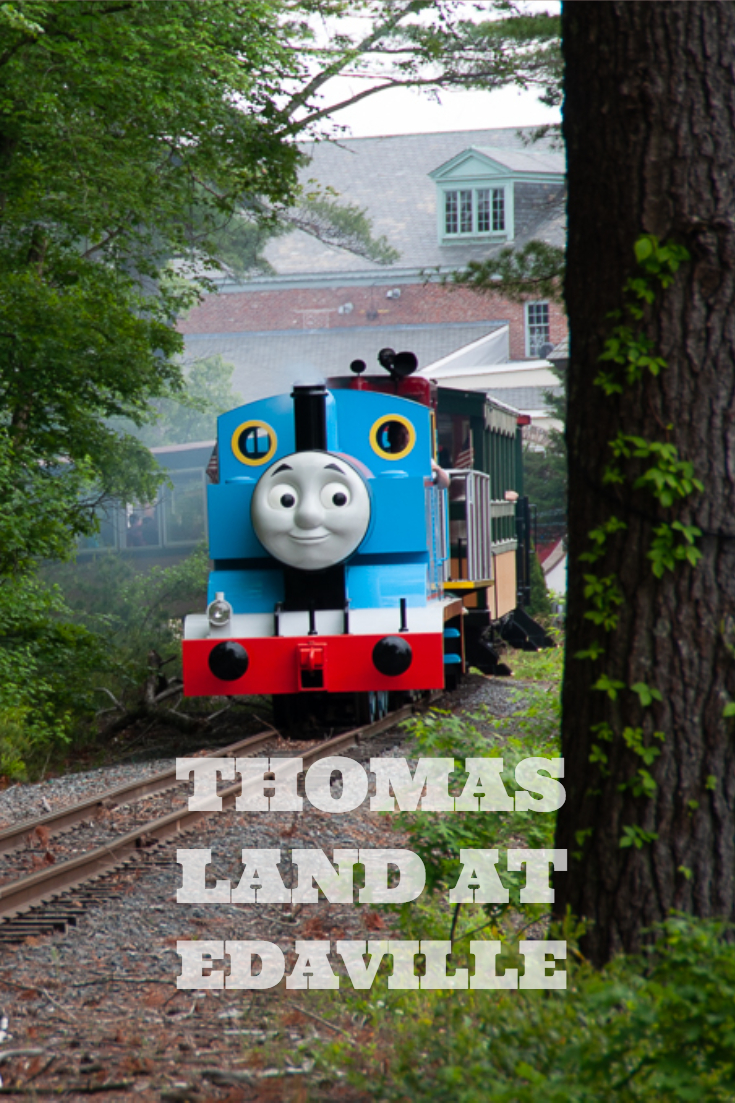 Related Posts:
American Girl Doll Of The Year 2017 Review
Tips For Visiting Dollywood With Your Family
We were hosted by Edaville Theme Park to write about and feature on our YouTube channel Princess Clubhouse. All opinions are our own. This post may contain affiliate links.