When I was growing up, I remember watching a show on the Travel Channel about the Mall of America. It has stuck with me and ever since then I've felt the need to visit the Mall of America. I couldn't wait to take my kids on every single one of the Nickelodeon Universe rides and explore all the fun. Who knew there were so many Mall of America activities? There just seemed to be something so unique about a mall with almost every store you can think of inside AND an entire theme park in the middle.
Here are some of our favorite Mall of America activities and tips for families: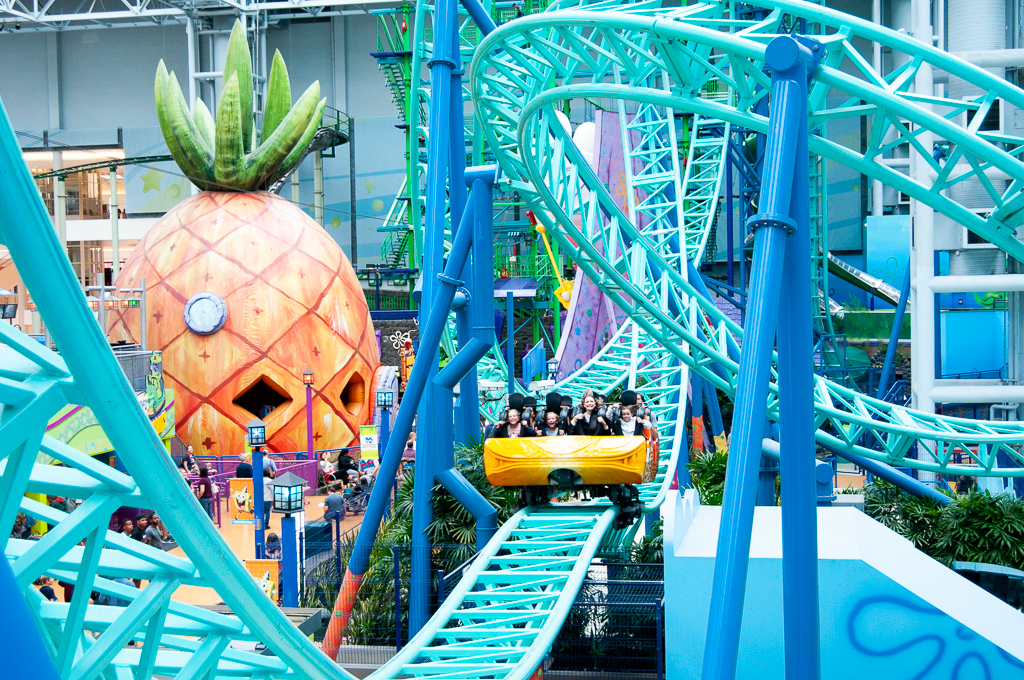 Nickelodeon Universe Mall of America
There is no possible way that you can go to Mall of America with your kids and walk through Nickelodeon Universe without riding any rides. Nickelodeon Universe is definitely the highlight for most families in the mall. You can choose to purchase a set amount of tickets to ride the attractions, which will limit the number of rides your kids can go on, but the best value is to purchase unlimited all-day rides wristband. My kids started when the mall opened, we took a break for lunch and a few other Mall of America activities but they were back at it until the mall closed. We had to save our shopping for the next morning because they loved Nickelodeon Universe just too much.
A few great selling points about Nickelodeon Universe, the Mall of America theme park, is it's entirely indoors, so being that it's in Minnesota you can enjoy this mall any time of year. It makes for a great winter getaway for families. There are also rides for kids of all ages including- toddler sized. A lot of the roller coasters even my five-year-old could ride, and there were quite a few rides that the entire family could enjoy together.
When you first get to the park and get your tickets or wristbands, you may also want to check the three different character meet and greet stations to see who is going to be out and at what time. My little kids loved meeting Sponge Bob, Ninja Turtles and some of the Paw Patrol characters. The theme park staff are great at line control, so you don't have to wait long and you are able to get pictures along with the ability to purchase some really great photos taken by staff.
Another tip about Nickelodeon Universe is that you will find a lot of the kid favorite stores right in the area, including American Girl, Nickelodeon and Lego.
Other Mall of America activities
Don't just limit yourself to shopping and Nickelodeon Universe, besides the theme park in Mall of America, there are other great options and activities for families to enjoy.
The Crayola Experience
The Crayola Experience at Mall of America, sometimes referred to as Crayola Factory Mall of America, is a great choice if you have kids who are obsessed with crafts and creating. This is an attraction that you would want to devote 2-3 hours to. There are a variety of stations and activities for kids (and kids at heart). You can see how crayons are made, make your own crayons, design and create various pieces of art and just let your imagination shine in many ways.

Sea Life Minnesota Aquarium Mall of America
Sea Life Minnesota Aquarium Mall of America is another great attraction that every age in your family will enjoy. It's also great for the educational side of family travel too. Located right in the Mall of America this is not your average aquarium. There are many hands-on stations and features that will get your kids excited to learn about aquatic life. We also appreciated that we felt the value for the money was spot on but you wouldn't spend more than an hour or two at this activity so it was a great compliment and break to shopping and the theme park. Our favorites were the jellyfish, seahorses and of course sharks.

Amazing Mirror Maze
I'm just going to say it, but this is such a fun and unique attraction that you have to experience it for yourself. Of all the things we did on our Mall of America family vacation, this is by far the one they talk about the most, next to the rides at Nickelodeon Universe of course. What we loved is that we were able to do it all together as a family and create a lasting memory.
Truthfully, it's a fairly short activity if you don't get lost. Although short, it's a lot of fun and something that will be remembered for a long time. When we went through there was not a line so we were able to multiple times. Once was enough for me, but the kids and Reid wanted to beat their time and went through a few more times. The maze itself is not huge but the mirrors make it more difficult than you think!
Best Mall of America Stores for Kids
Of course, there is plenty of great shopping for everyone. They have pretty much any store you can think of that would be at a typical mall. There are plenty of additional options that our kids were seriously looking forward to as well.
The Lego Store
Mom and Dad can take a break and watch their little ones build with hundreds and hundreds of legos. Our kids would have stayed for hours if all those exciting rides weren't calling their names. There are seriously tubs and tubs of Legos out to play with along with plenty of play areas. The kids also loved looking at all the intricate Lego creations displayed around the store. Lego lovers will delight at the specialty lego sets and custom Lego figurines. You won't have any problem filling your own Lego bag.
The American Girl Store
This is a destination all on its own. Especially if you have American Girl loving kids. Bring in your own dolls for a new hairdo and outfit or check out the accessories and playsets. Of course, if you have little girls, then a stop at the restaurant on the second floor is a must. Even if you don't want to eat a full meal it is worth a stop for dessert. The dolls are given their own chairs and place settings at the table. It is so cute. There are several items including cupcakes where there is an extra small cupcake brought just for the doll. It's a really fun place to visit, especially for birthdays.
Nickelodeon Store
The Nickelodeon Store was another favorite among our kids. Here you can find almost every character or show represented in some fashion or the other. We had a fun time looking through stuffed animals, T-shirts, Ninja Turtle backpacks and other really fun things they wanted. It was a great place to stop in while kids were waiting for a ride or if you wanted a break from the crowds.
Where to stay:

Radisson Blu
We absolutely loved staying at the Radisson Blu Mall of America. We loved it so much the kids did not want to leave. In fact, our two-year-old cried as we walked back to the valet to pick up our car. The pool, the restaurant, and the food are all great but that isn't the best part. The fact that the Mall of America entrance is on the second floor of the hotel is priceless. No dealing with mall parking and you can sneak back little kids to the room for a nap. Additionally, anything you buy at the mall can be sent up to your room. It's heavenly all around. We didn't even see our car after we parked it because we had no desire to leave. Everything we needed was all there!
This Mall of America family vacation definitely lived up to all of our expectations and even more so. We had a good time and were able to make some great memories. I highly recommend this as a great way to escape the Winter blues or summer heat. Have you ever been to the Mall of America before? What was your favorite activity to do?
The Mall of America hosted our visit, but as always our opinions are our own.
Pin This:

Related Posts:
7 Reasons Why Radisson Blu is the best Mall of America Hotel
How To Help Kids Sleep Better When Traveling (or anywhere!)
10 of the Best Family-friendly Things to do in Niagara Falls with Kids