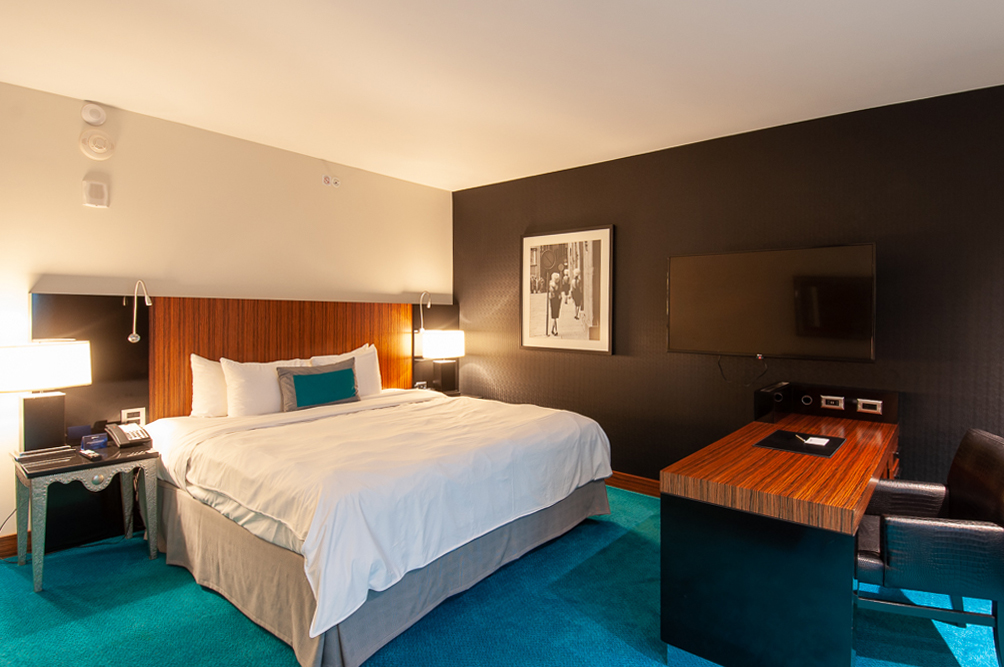 You know you have found the perfect mix of family-friendly and luxury when upon checkout your toddler is throwing a mild tantrum because he doesn't want to leave. This is the true story that happened after our stay at the Radisson Blu Mall of America. When it comes to planning a family vacation at the Mall of America, as far as we are concerned you can't get better than the Radisson Blu.
So by now, I'm sure you are wondering what makes the Radisson Blu stand out above the other hotels near the Mall of America?
Here is our list of seven things that made our kids fall in love, and us too!
Family Amenities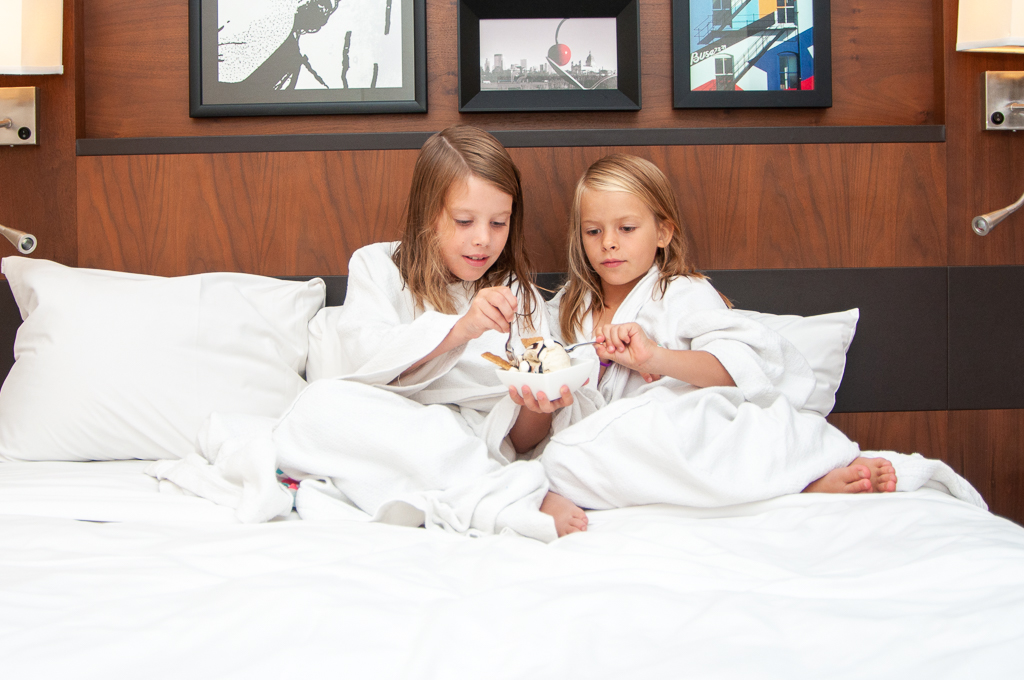 The Radisson Blu does not skimp when it comes to family-friendly amenities. They're constantly coming up with new ways to help kids feel welcomed and pampered. During our recent stay, the kids were delighted with the Fort Blu package. This really fun and unique offering allowed the kids to camp indoors. It includes their own child-size tent, a lamp that illuminates stars, a Curious George camping book, and a s'mores ice-cream sundae. My youngest daughter insisted she sleep in the tent each night we were there. It's safe to say that if that were the only thing special about the hotel, it would have won them over purely on that basis.
Other great family amenities include the Blu Kids Club package which allows children to have their own Blu Passport. This encourages them to visit various parts of the hotel and Mall of America and earn prizes!
Another fun little family amenity that shows that Radisson Blu cares about the little touches include child-size slippers and milk and cookie turndown service (included for an additional charge).
Indoor Pool
An Indoor pool might not seem like such a great amenity to some, but to us it is. When you have four kids who love all things swimming and the weather is not willing to cooperate, an indoor pool will definitely save the day. The Radisson Blu Mall of America indoor pool was heated to perfection, not too hot and not to cool. It was the perfect length and width for kids, but also an adult could enjoy getting a few laps in. Disney Jr. happened to be on one of the two televisions in the pool area and my kids loved that they could splash around and still see what Doc. Mc. Stuffins was up too.
After a long day at the mall or traveling, the indoor pool will be a great way to unwind as a family, especially if the weather is freezing outside.
Kid Friendly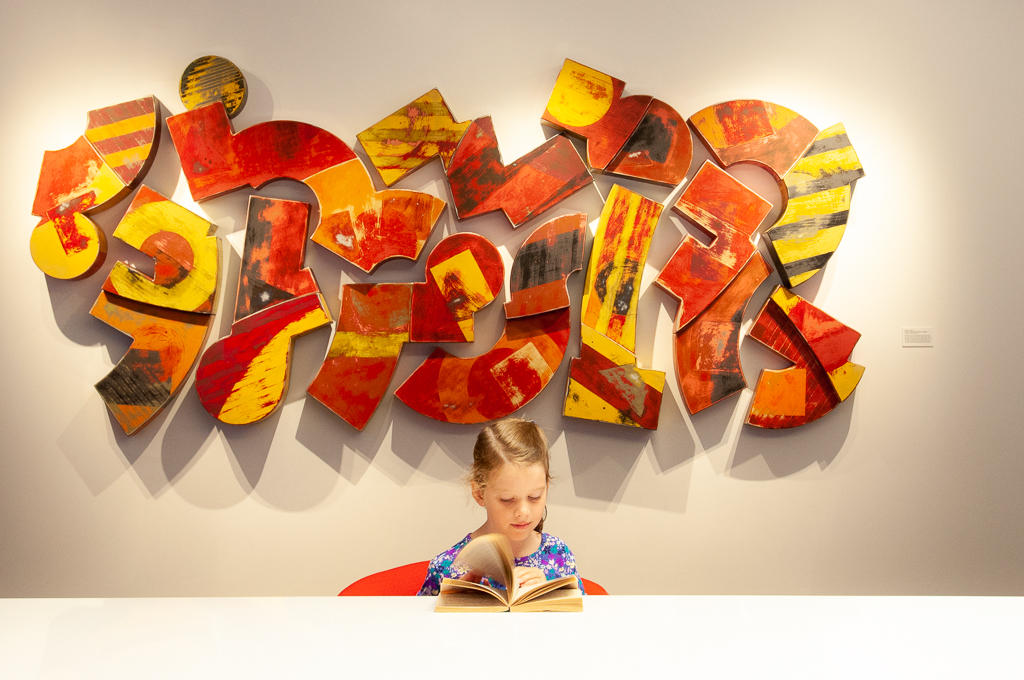 Business Lounge and Breakfast cater to kids. As a work from the road mom, I absolutely appreciate a good business lounge. I especially appreciate business lounges that welcome kids (within reason of course). That is why we were thrilled to see that Radisson Blu took that into consideration with not only allowing children access but also catering to them with tiny bites and snacks that littles would enjoy and even including a firecracker mocktail. The business lounge and enhanced continental breakfast are only included with certain room types and packages. Check when you are booking that this is included because it was a great way to start our morning and relax in the evening.
Connections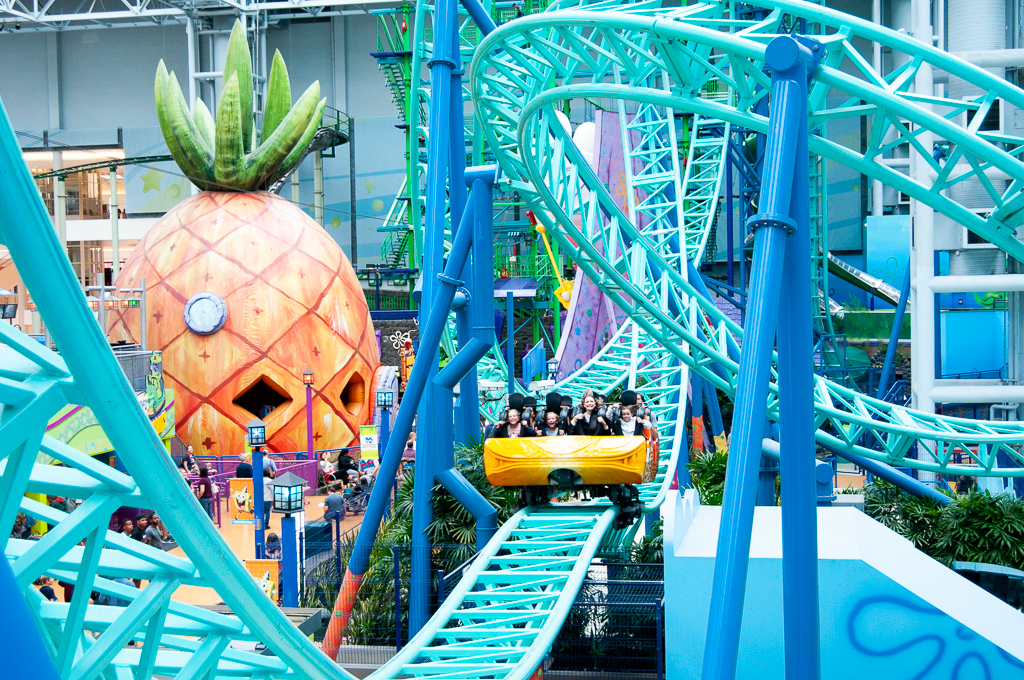 The second floor is connected to the Mall of America via SkyWay which is an absolute huge perk of the Radisson Blu. One that we enjoyed immensely. It's so convenient to wake up, eat breakfast in your room via room service or the lounge and then head down to the mall. No dealing with parking, traffic or long walks. It's also really convenient that when kids get tired and need a break or a nap. You can quickly come back to your room right after shopping or riding your favorite Nickelodeon Universe rides.
Shopping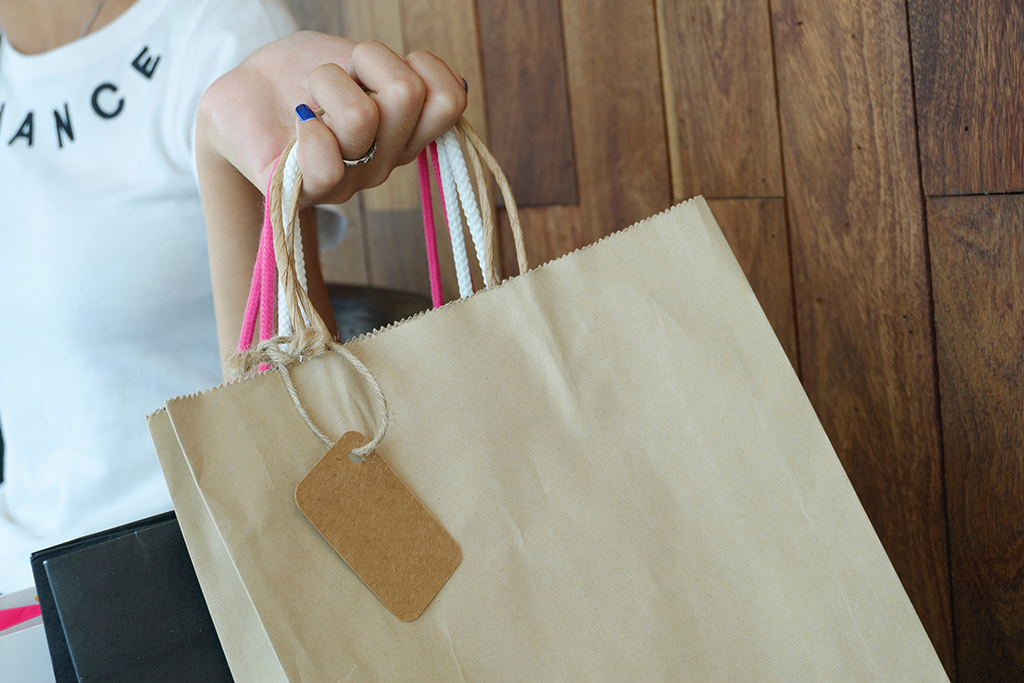 You can literally shop till you drop because whenever you purchase things from the mall you can take advantage of package pick-up.  Your shopping bags will literally be delivered right to your room. Shop as much as you like and not have to lug things around at restaurants are all the fun family-friendly activities you will enjoy. Shopping with a family of 6 can become fairly overwhelming with all the things to carry, so this was huge! Plus it was fun to come back and see all of our stuff there waiting for us!
Atmosphere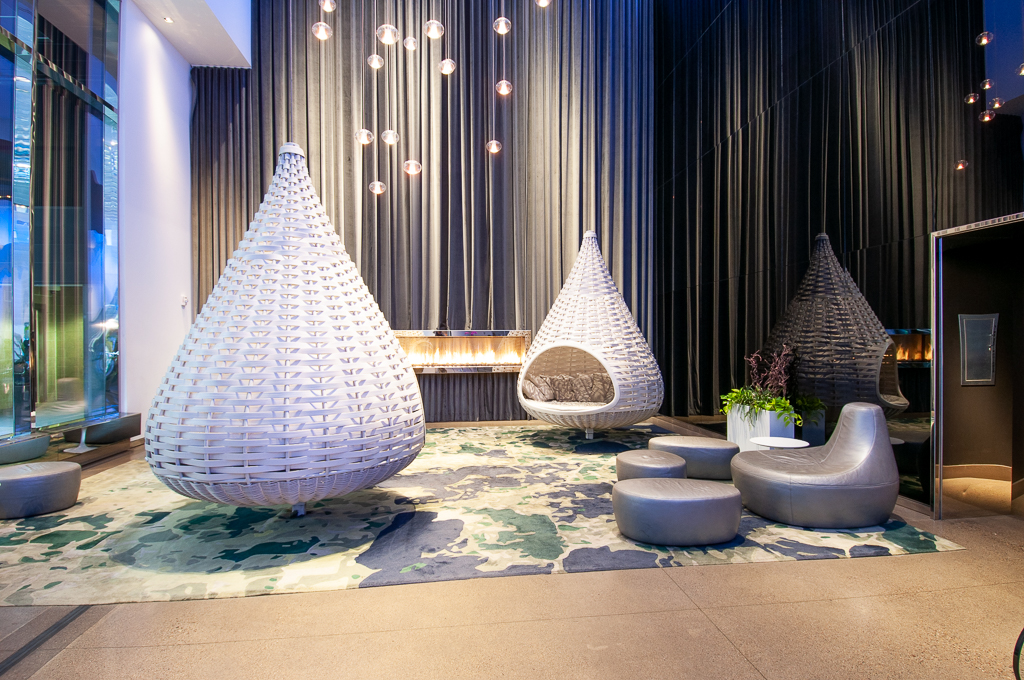 We loved all of the fun little nooks, crannies and surprises that were everywhere at Radisson Blu MOA. The big hanging chairs in the lobby next to the fire were irresistible. My oldest daughter begged to curl up with her favorite book all cozy. While my younger three loved the fun chairs and decor. The hotel hosts bees on the roof and has facts and photos of them on the second floor. They make for a fun place relax and add excitement to a new place.
Mom and Dad Perks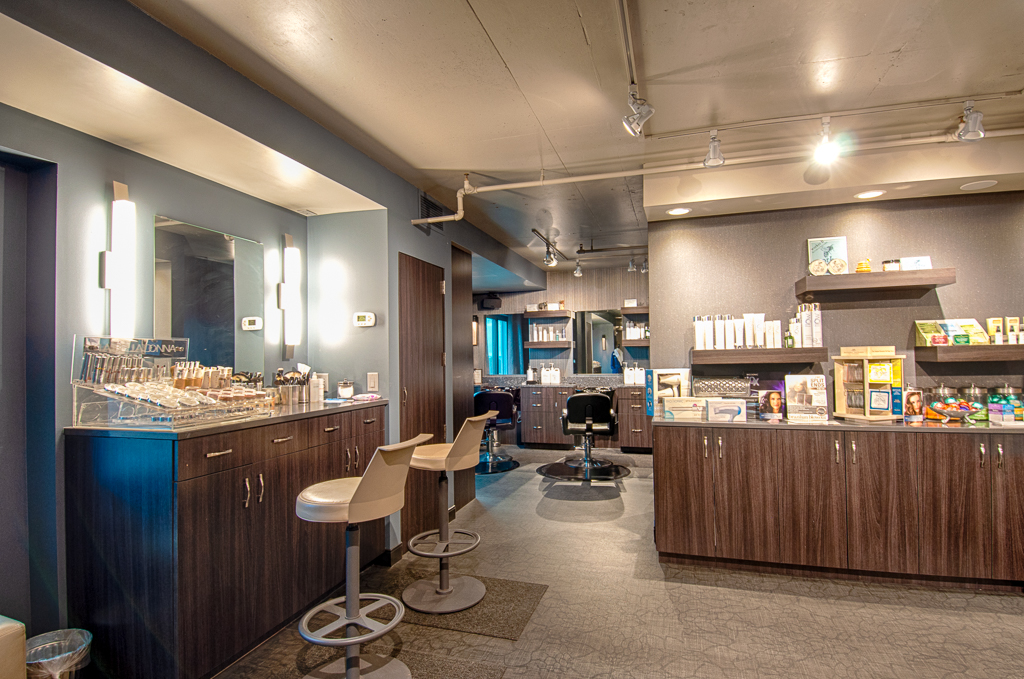 Mom and Dad get to relax and enjoy their time too. Kids aren't the only ones who will be pampered and catered to during their stay. Mom and Dad can enjoy an impressive fitness center and spa, or sneak away for a drink at the FireLake Grill. The spa services available at the Radisson Blu were fairly reasonably priced and easy to get into. If one of the parents is willing to take the kids on a few rides at Nickelodeon Universe, the other could easily sneak in a massage… and maybe a facial.
Radisson Blu MOA Room Tour
Have you ever considered a Mall of America vacation for your family?
Radisson hosted our stay at Mall of America, but as always our opinions are our own.
Related Posts:
Guide To Wilderness At the Smokies Hotel and Indoor Waterpark
7 Essential Mall of America Activities for Kids
A day at Mall of America and American Girl Store
Pin This: