This post is sponsored by Sleep Buddy but the thoughts and opinions are my own.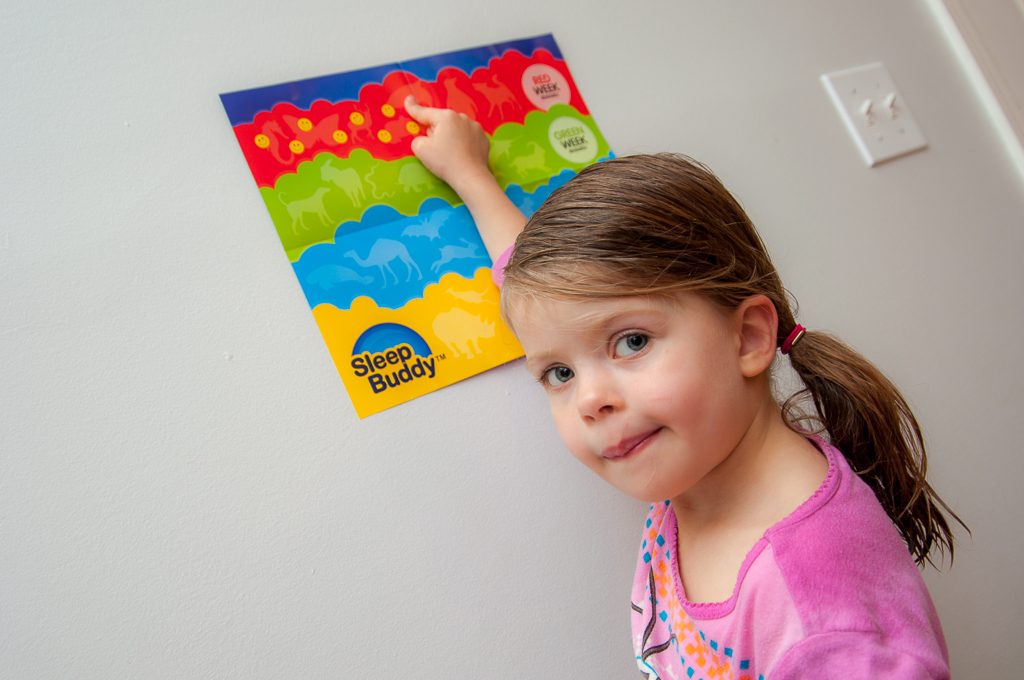 Sleep and I are best friends. There is nothing I enjoy more then a thorough restful night full of sleep. Of course that all changed the instant I had children. Their happy place seems to err on the side of lets get the least amount of sleep possible, wake up super early and drive our parents crazy. Truthfully we have been blessed with kids who have done pretty good with sleep, but there are those nights where they wake up an hour or two earlier then they should.
Considering I have a job where I teach English early in the morning to kids in China and I need my bedroom to be a child-free zone, I was intrigued by the idea of Sleep Buddy.
How to help your kids from waking up too early:
Sleep Buddy, in essence, is a way to train your child to get the full amount of sleep that is desirable for his or her age. It's a nightlight that has a gentle blue or amber hue and goes off when it's time to wake up. It's a great option for kids who can not yet tell time but tend to get up in the morning a little too early. My four-year-old is notorious for this feat.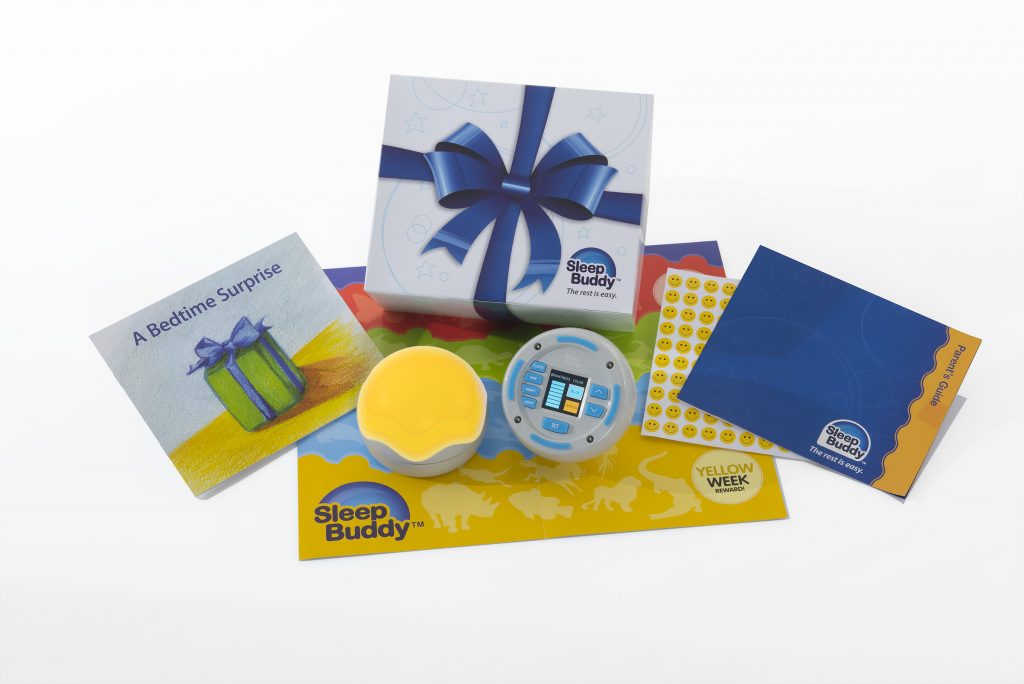 You can purchase Sleep Buddy from Amazon here.
The kids had fun and were excited to open their new "present". The Sleep Buddy comes with a cute storybook that explains the Sleep Buddy and how it works in a fun way the kids can understand. It also comes with an incentive chart to track kid's progress and a parent usage guide full of great tips and advice as well as functional information on how to operate the actual Sleep Buddy.
The 2.5-year-old did not quite understand the concept of using the Sleep Buddy. He still woke up at 7:30 am hollering for his sisters to come get him out of his crib, but the other girls who currently temporarily share a room with him until we move into the RV (where all four of them will share a room as well) reminded him the Sleep Buddy was still on and to be quiet, so I'm for sure taking that as win. In the morning they each got to add a smiley face to the chart. When they fill up the week they get to pick a treat at the grocery store.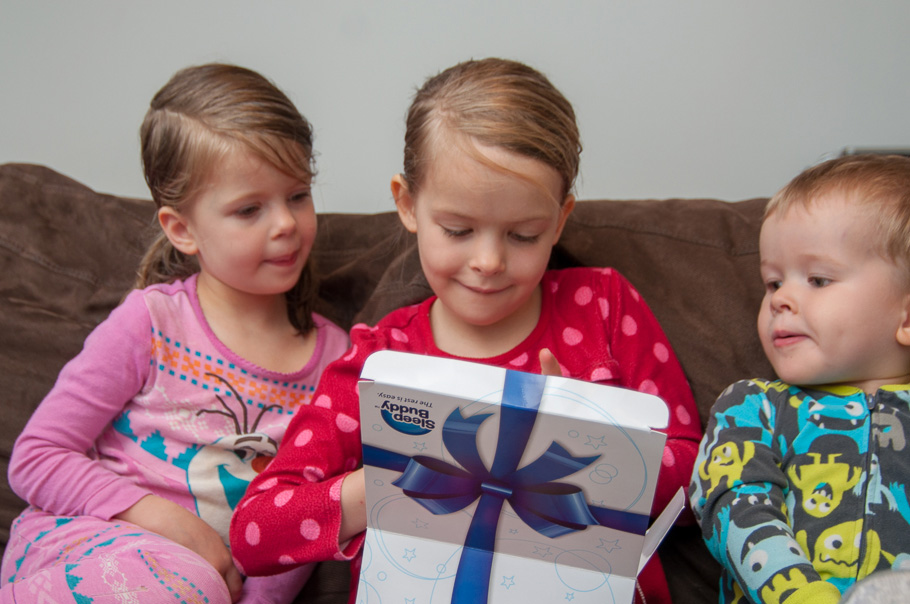 We have only done it a few nights so far, but we are happy with the results. The soft glow of the Sleep Buddy is just enough light for comfort and just enough darkness to lull them to sleep.
We are by no means sleep experts in this house but we do have four children and travel regularly with them. Sleep is sacred in our home and we respect it as a means of keeping everyone sane. So here are a few of our other tips and tricks we have learned over the years on how to support sleep naturally because a well rested mommy is a happy mommy.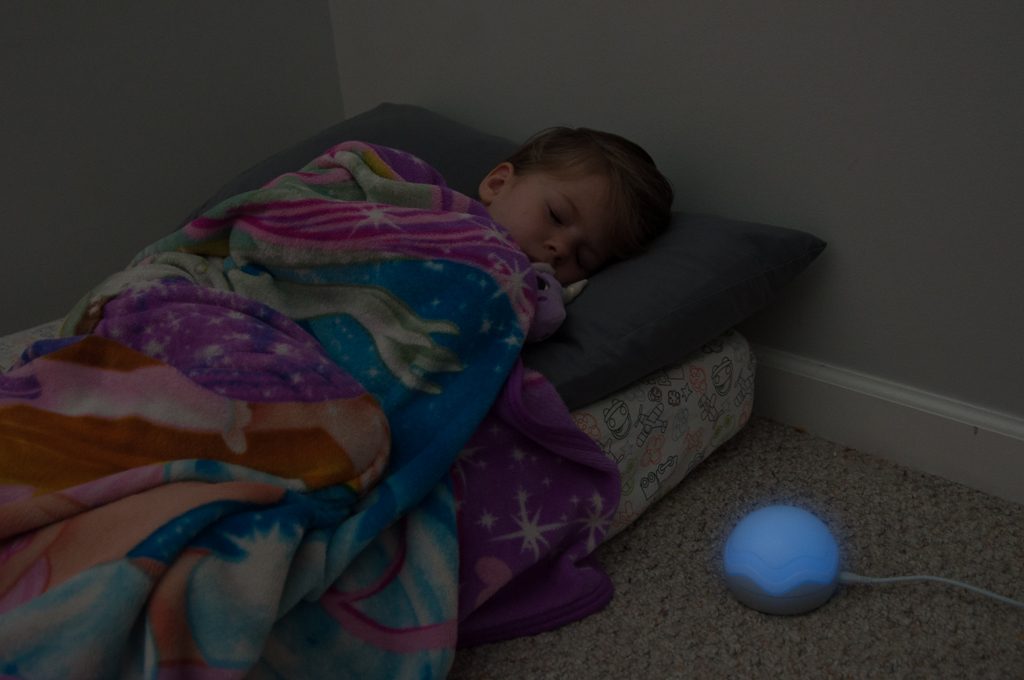 Four ways to help your kids get a better night sleep:
Use essential oils for natural support. We have had adverse effects when using other non-natural options and since essential oils are kind of our "thing" of course we are going to give them a shout-out in our sleep helping post. Lavender, Cedarwood, Roman Chamomile, Ylang Ylang (or the combo of them all in the Serenity blend by doTERRA) are a few of our favorites. Of course please don't just go and buy essential oils from Walmart, they will be watered down and full of synthetics. You can purchase our favorites here from our shop and get them shipped directly to you with no hassle.
Limit screen time in general but for sure an hour or so before bed. Less screen time the better overall for mental health in kids (and adults) but studies have shown less time before screens right before bed helps in overall sleep.
If you have a bed-wetter then restrict liquids after 6 pm so they will get a better night's sleep without having to wake up in the middle of the night.
If you are traveling for the first time with small children or babies make sure to grab some items from their at home bed to help them soothe and be comfortable in a new place. I like to grab my younger children's favorite blankets, stuffed animals, or glowing lights (hello Sleep Buddy!) to help set the stage for a peaceful night's sleep.
What are your favorite ways to train your kids for healthy sleep habits?
Pin This: