When we first got married Reid would always talk about how he dreamed of bringing his family to South Dakota one day. South Dakota?? Why on earth would anyone want to visit South Dakota I wondered? Let's talk about traveling to Italy, France, and even New York, but South Dakota?  I knew Mount Rushmore was a huge family travel destination in South Dakota but I had no idea why anyone else would want to visit what I believed was a midwestern wasteland. I quickly learned the error of my ways as we visited South Dakota on our recent trip as we passed from Minnesota to Yellowstone. In fact, we were originally supposed to stay in Rapid City, South Dakota for five nights and we kept extending our stay. First to 7 nights, then 10 nights and finally 14 nights. So, what started as a short stay ended up as a two-week jaunt. We could have easily stayed two months because there were many other things we didn't get a chance to see including Wind Cave National Park, Crazy Horse Memorial, Sturgis and more. We definitely could have spent many more days biking, hiking, and exploring in the Black Hills.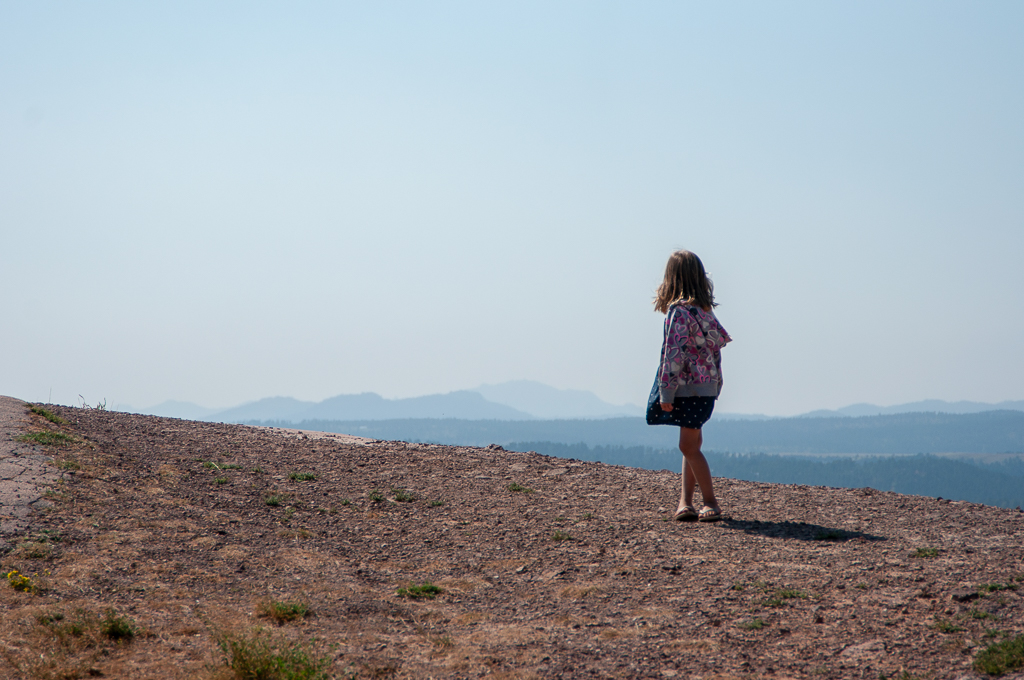 I really truly believe that everyone should visit and experience the beauty that South Dakota has to offer at least once in their lifetime. Not just the iconic Mount Rushmore (although that is a big part of it) but also the natural beauty and landscape that almost seems out of place. Knowing what I know now, I would not wait as long as we did to take my children there. I believe that they made memories in South Dakota that will last a lifetime.
Related Posts:
8 Reasons To Visit Fort Wayne With Your Family
Best Mammoth Cave Tours For Families and Toddlers
5 reasons why you should visit Grand Teton National Park
Here are our 10 must-see things to do in South Dakota for families:
Buffalo at Custer State Park
I do want to say that Custer State Park is one of the most magical places we have visited together as a family. It features tons of gorgeous scenery set amongst the Black Hills of South Dakota. There is a lot to see and do, you could spend a whole week exploring the pigtail bridges and windy turns. Driving through the narrow tunnels with our large dually truck is still one of my favorite memories. Everyone was nervous, except Reid, who ate an ice cream cone while he drove through. If you asked any one of my girls what their favorite part of visiting Custer State Park was they would all agree it was seeing the Buffalo. When we first got into the park we made sure to ask the rangers where they had seen the Buffalo recently. They were quick to tell us that they were on the wildlife loop down by the pens. It takes a little bit of time to drive through the park and we were starting to get discouraged by the lack of wildlife. Then, all of a sudden as if like magic there were hundreds of Buffalo surrounding us. Literally, on all sides, even on the road. We pulled off the road and rolled down the window and sat there for a good 45 minutes marveling at the sights and sounds of these magnificent creatures. Never have my children been so quiet!
Burros at Custer State Park
My oldest child is more than a little horse crazy. So, when a family friend informed us about the burros on Needles Highway, we knew it would be a must. They are friendly little animals who love to approach the cars and beg for food and lick windows much to the delight of my children. There is a strict rule in Custer State Park about feeding wild animals. It's a most definite no-no. So this seems like a bit of a grey area to me, but they technically aren't wild animals, they're feral. But we came prepared anyways with snacks that we knew would be good for the donkey-mule mixed animals. We brought organic oats, organic apples, and organic carrot sticks. We did see an official park volunteer feeding them organic corn chips so it did make me feel better. They were very friendly and my kids laughed as they stuck their heads in the truck for snacks.
Hike Sylvan Lake Custer State Park
One of my all-time favorite things to do with my kids in National Parks and State Parks is to take short family-friendly hikes. Especially ones that have fun things to do and see along the way. The Sylvan Lake trail is perfect for young kids. It's about a mile around the lake and the scenery changes as you go along. You can walk up to and peer over the dam, spot fish in the lake, hike over rocks, see a small waterfall and pass through narrow rock tunnels. Of course, the beauty of the Black Hills that surround the lake trumps it all. The scenery simply can't be matched. At the end of the hike, we grabbed some Blue Bunny ice cream bars from the Sylvan Lake general store for the perfect after hike treat.
Storyland Playground
Ok, so this is where I had the ultimate mom fail. I want to note that this park is only open from Memorial Day to Labor Day. I did not realize this, so I got my kids all excited just to disappoint them when we arrived. We did take a really good look from the outside and it looked amazing for kids, especially if they're young. It's free and has fun play structures and playgrounds throughout the park all fairy tale themed.
Dinosaur Park
If you visit Rapid City, you must visit the Dinosaur Park. You will likely only spend an hour here, but please note there are many steps up to the dinosaurs. The view from the top is worth it. My kids loved climbing over the many different dinosaurs and we loved to see the view of the city and the Black Hills in the distance. It was a fun little detour as we headed to the South Dakota School of Mines and Technology to tour the Museum of Geology which is another fun free thing to do in Rapid City that is educational.
Mount Rushmore During the Day
Mount Rushmore is on our South Dakota bucket list twice. The reason for this is because there are two unique experiences that I believe every family should experience together. The first is seeing the monument in the daytime, doing the mini hikes around the sides, and participating in the junior ranger program available here. The nice thing about Mount Rushmore is that they know you will want to visit the monument more than once on your visit so when you pay for parking ($10 for cars) it is good through the end of the year. Which means you can come back several times and not have to pay for parking again.
Mount Rushmore at Night
Check the park's website for times, but every night there is a program that ends with the illumination of the Mount Rushmore monument. It starts with a short talk by a Park Ranger, then you watch a short informative video on the monument and the four presidents that are featured. In the end, they light up the monument and invite all past and present serviceman and veterans to join on the stage for the flag lowering ceremony. Our favorite part was the applause and cheering from the crowd for the veterans. It was a sweet and tender moment that especially touched my nine-year-old.
Badlands National Park
I'm not sure pictures or words will ever do this National Park justice. I feel like it needs more hype and more attention because it is just beautiful. A lot of the scenery reminded me of the Grand Canyon but seemed to me to be a lot less crowded (we were there in September so I can't speak for the summer months). It was easy to drive through and you could spend a couple hours or a couple days there- however much time you have to spend. Drive the loop and stop by to see more Buffalo, stare at the adorable prairie dogs (just remember to not feed them or touch them as they carry diseases that are not good for humans), and take in the breathtaking scenery. I will say there were a few stops and locations that made me nervous as there are dangerous cliffs so keep a good hold on toddlers and young children's hands. There are also a few fun short hikes that would be good for families including the Fossil Trail hike.
Minuteman Missile National Historic Site
If you have time, it's worth it to stop by the Minuteman National Historic Site. Throughout the US in various locations during the Cold War were located underground missile sites. South Dakota and North Dakota were hotspots for these sites as was Arizona. My dad was actually stationed in one in the 1980s during the height of the Cold War when my sister was born. Obviously, due to that connection, it piqued my interest, but I think it's a great stop for any family as it's an important piece of history. If you have young kids then stop by the visitors center, located in Jackson County right between Rapid City and the Badlands. If you have older kids and more time sign up for an underground tour of a missile site.
Free water at Wall Drug
You will definitely know you are getting close to Wall Drug long before you actually get to the small town of Wall. It became a fun game for the kids to spot the Wall Drug signs off the freeway leading up to the iconic roadside attraction for many miles. Truthfully, I thought we should probably just skip it but the kid's insisted and it was a fun distraction on our way to Rapid City, North Dakota. Wall Drug was made famous for its long tradition of offering free cold water and 5 cent cup of coffee for thirsty and weary travelers. Now it has a cafeteria-style restaurant, fun things to climb and take pictures of, arcades and gift shops galore. My kids were in heaven. We also enjoyed looking at the historic and beautiful pictures of Native Americans. If you have a minute you can stop by the visitors center for the National Grasslands which is right up the street from Wall Drug. We learned a lot about the grasslands of South Dakota during our short visit as well.
South Dakota is a beautiful and historic place. It is the perfect spot for a family summer road trip and one that every child should have the opportunity to visit in their lifetime. I personally still cannot believe it took me that many years to see all the state has to offer in person. Would you ever take your kids to South Dakota?
Pin This: