One thing is for sure, we are a water-loving family. I grew up going the lake and Hilarye quickly fell in love with the water as we dated. We wanted to share our love of wakeboarding with our kids and get them some wakeboard lessons. However, being in an RV we're not currently boat owners. We had never even considered cable wakeboarding as an option but when we heard about West Rock Wakeboard Park we headed straight over. Who knew that we would have so much family fun at Rockford wakeboard park.
What You Need to Bring
Nothing! West Rock has everything you'll need to begin wakeboarding. You won't need to buy or bring any equipment to get started. We don't have anything wakeboard with us on the road, so we literally showed up in our swimsuits. West Rock supplied the board, bindings, lifevest, and helmet for us to ride. I was half expecting it to be old and beat up gear, but it was nice and new. I was impressed to be riding such nice gear as a loaner board.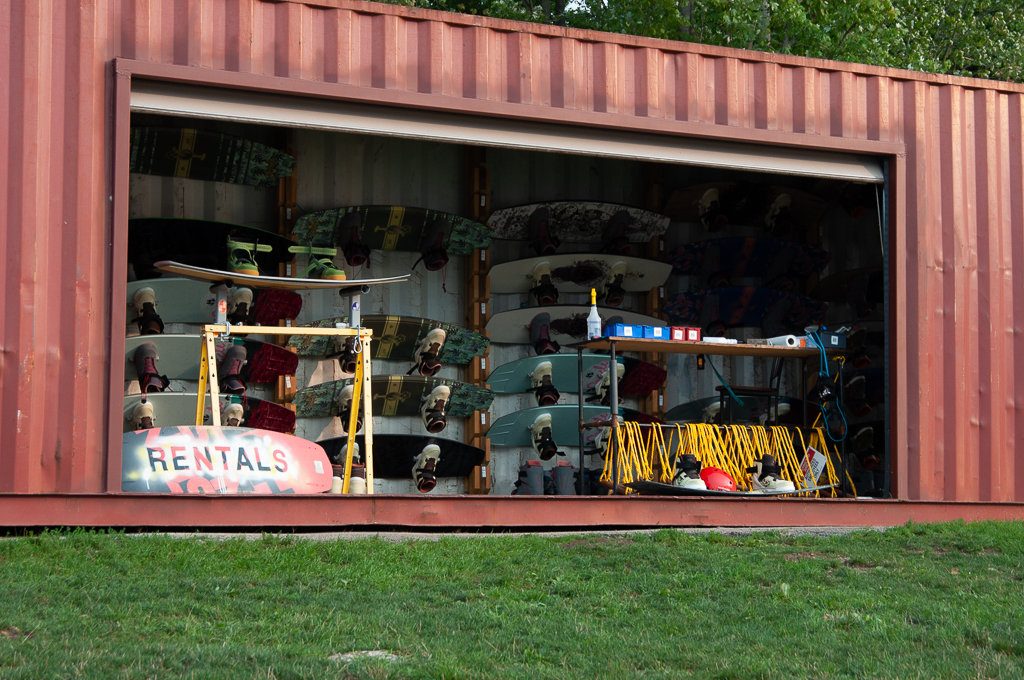 Wakeboard Lessons
We really wanted our kids to learn how to ride this summer. Although they've taught lessons to kids as young as 4 we decided just to bring our oldest for lessons (she was 8 years old at the time). We know our kids and felt that she was the only one quite ready to hit the water.  West Rock is at the edge of a city park which has a giant playground in sight, so our little ones were able to play as we switched off cheering on our oldest in her lesson. It was nice to have this feature so we could still focus on the lessons and have our littles entertained.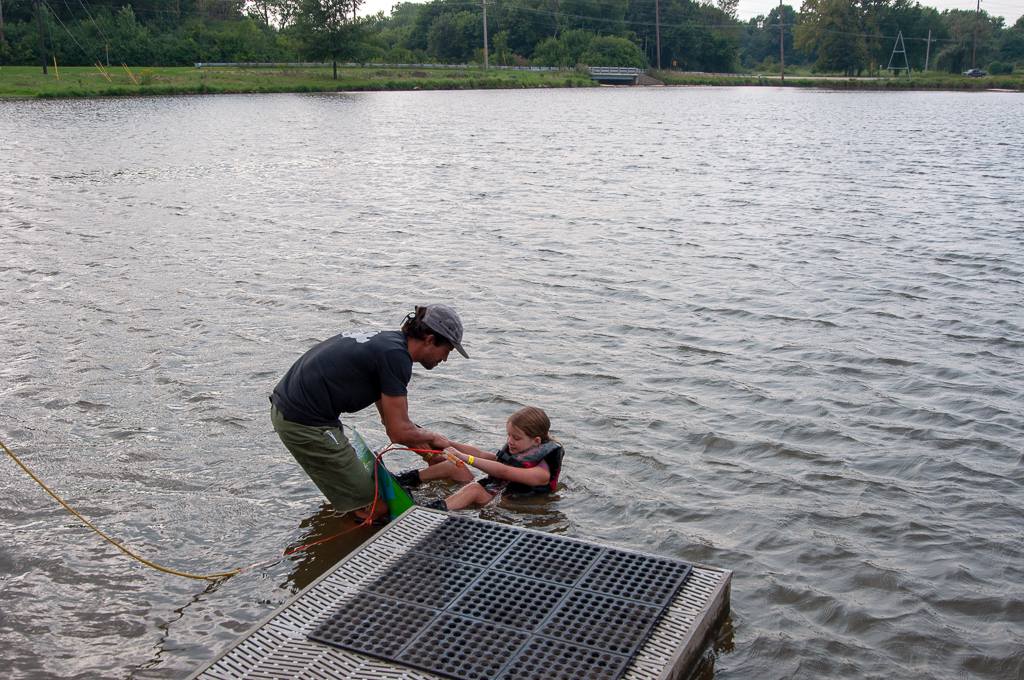 The wakeboard park owner personally taught our daughter her lesson. Lessons begin next to the full cable park on a two-tower system, the full park has a four-tower loop. Although we've taught dozens of friends and family to wakeboard behind a boat, his instructions surpassed anything we've ever done. He was clear with exactly how our daughter needed to move and what had to happen before she stood up on her board. She got very close a bunch of times and fell a lot before she got up but her teacher was super patient. He made sure she was having fun the entire time. When she started to get tired he gave her a break and pulled her back and forth on the cable riding a boogie board sized trainer.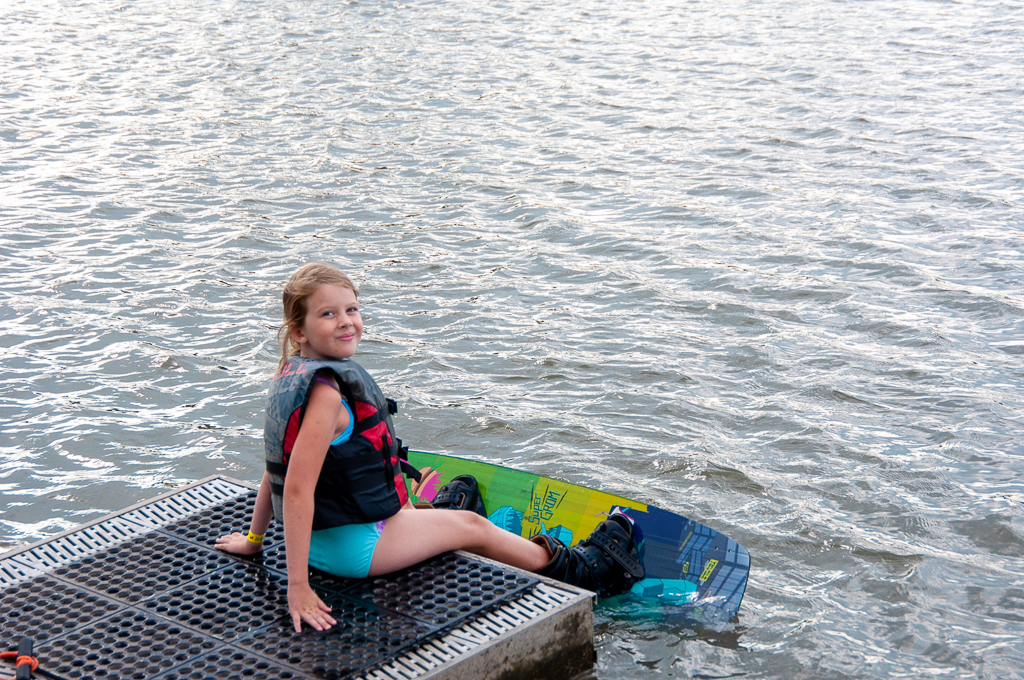 After some rest, she was back at it and continued to get comfortable until she was able to consistently stand up on the board. I'm convinced if we gave her a few more lessons she would be able to go back and forth on the cable. She loved her time in the water and although she wished she got the hang of it quicker, she told us she wants to have another lesson soon.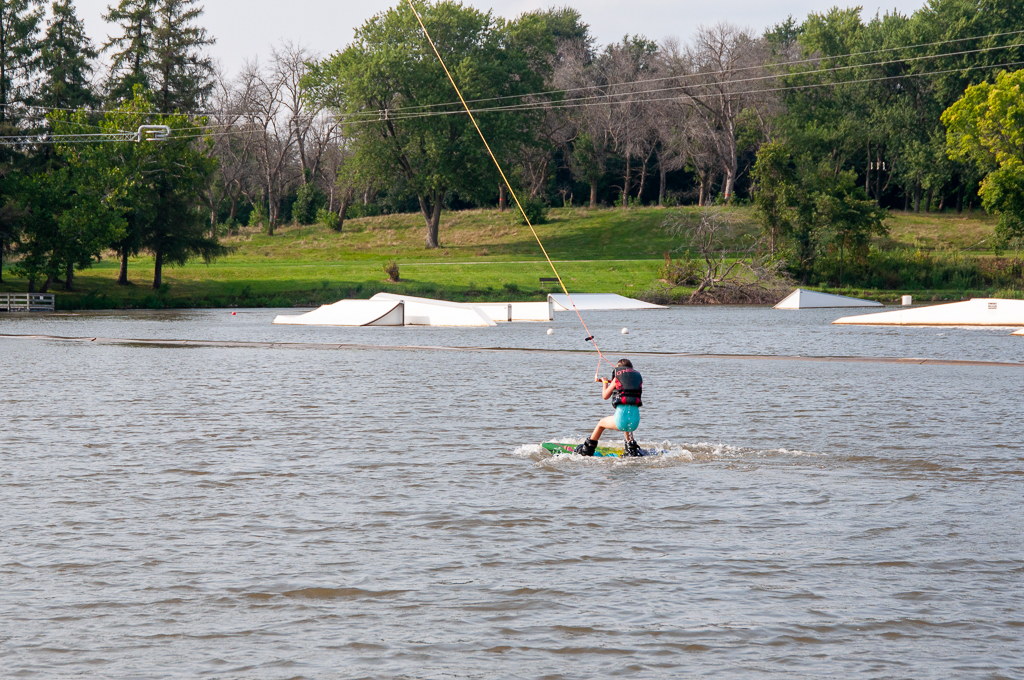 For those wondering how it is to learn behind a boat vs on a cable tow, I think cable is the way to go. There is a lot to be said about being close to shore for the lessons. It allows a better stream of communication with the instructor. The cable system is also controlled by the instructor so if something isn't right he simply stops it and corrects the problem. In a boat, any instruction comes along with a stopping of the boat, a loop to get the rope back to the rider and another full start. It takes a lot more time and energy to get going. Often a new learner behind a boat will tire before they really get the hang of things. Sometimes it takes multiple trips to the lake to get someone riding.
For all of these reasons we now recommend cable wakeboarding when you're starting out. Taking wakeboard lessons at a cable park has a lot of added value. Did we mention that you don't have to own a boat or know someone who does? That is awesome!
Wakeboard Park
West Rock wakeboard park was started and is currently run by an avid wakeboarder and an early adopter of the sport. He is a great teacher and truly has a vision for cable wakeboarding in the midwest. He's done a lot to get the Rockford wakeboard community excited and he even personally gives wakeboard lessons when he is available. The other staff and instructors at the park are friendly, patient and great teachers as well.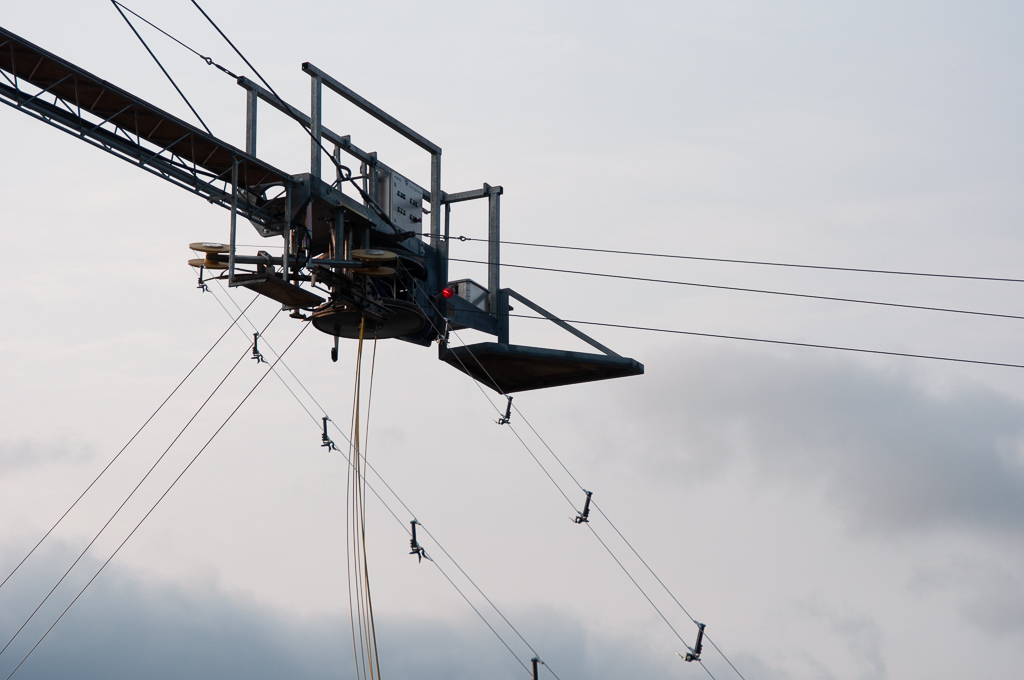 This year the park upgraded from a two-tower single cable system to a full cable system. It has four towers and essentially does a big circle around the lake. They also added a ton of features with the expanded park. The obstacles include multiple kickers, ramps, and rails for all skill level of riders. If you're not into hitting jumps or obstacles you can always just ride the wakeboard cable and practice. When we rode we saw all levels using the course as they saw fit. There isn't any sort of judging on skills and relaxed vibe made everyone comfortable to ride there.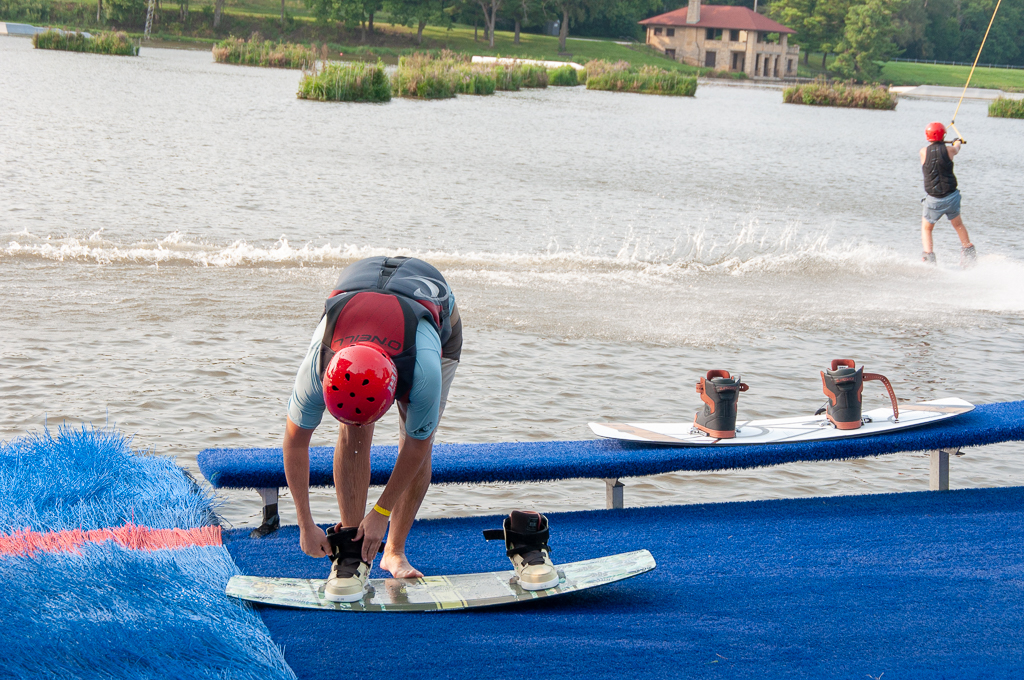 Upon arrival, I was quickly fitted with the right gear and led down to the two cable system. They had me ride a few laps on that just to get comfortable with the cable and the rental board. Once I felt a little better I was directed to the full cable system and the wakeboard park. After a quick instruction on the full cable system and the safety rules, I was off. It was my first time riding a wakeboard park and first time cable wakeboarding at all so there was a small learning curve. You have to learn where to turn and cut to make sure you can turn through the park smoothly.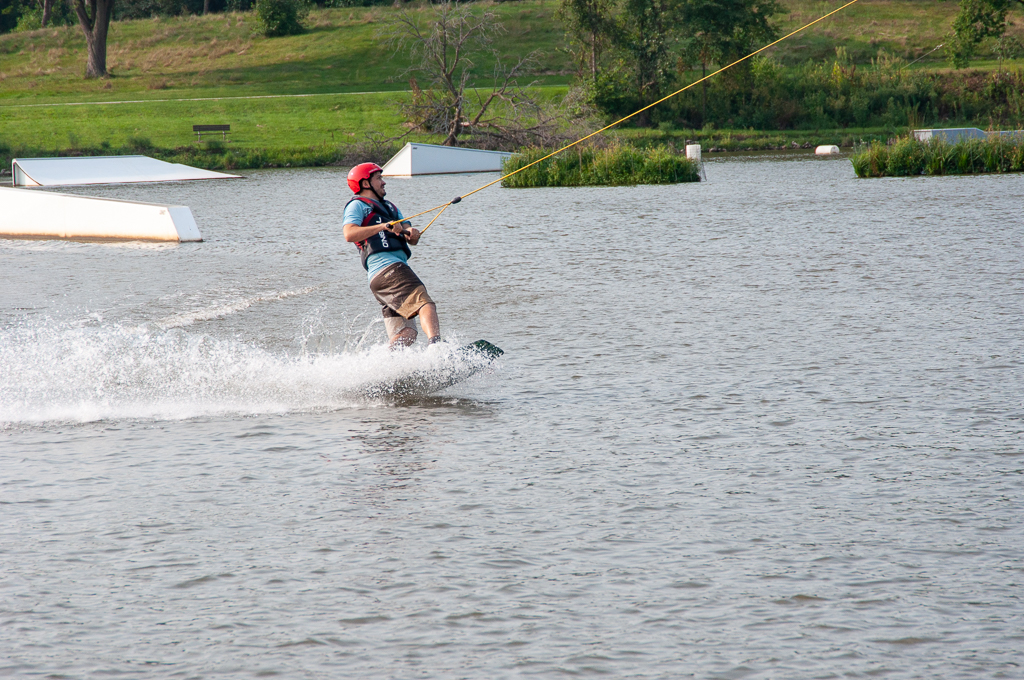 There are a lot of little differences between a cable pull and boat pulled ride, but after just a lap or two I felt pretty comfortable and was starting to get braver. I asked the cable operator the best rails and ramps to hit for a beginner wakeboard park rider and went off. To my satisfaction the first rail I rode I transitioned smoothly on and off the rail.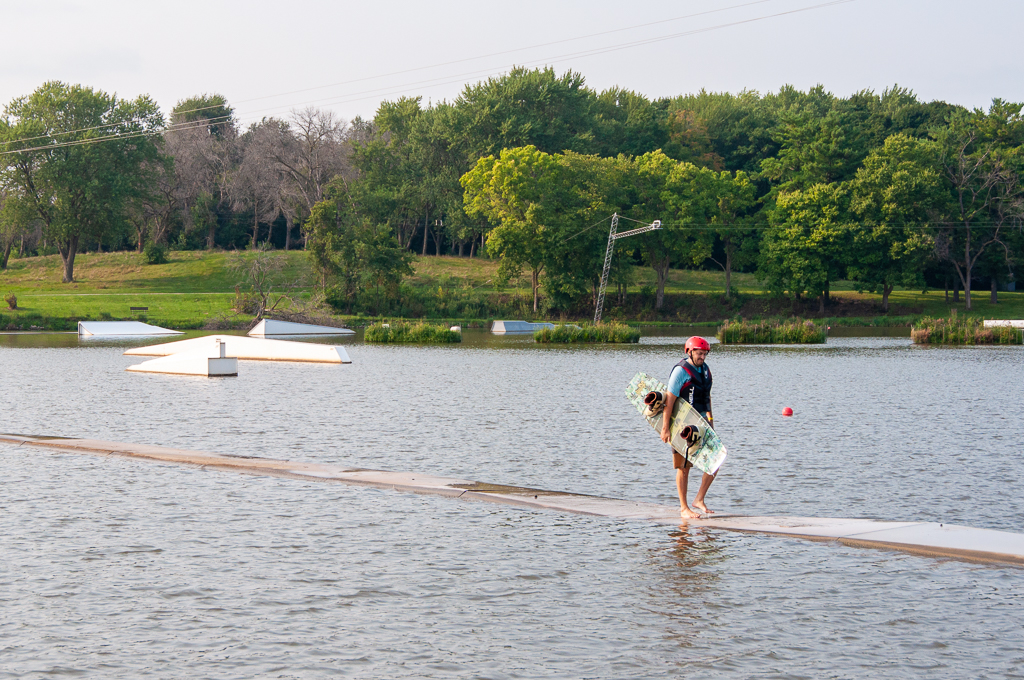 As my time went on I began to try more obstacles and ramps and did fall a few times. Hilarye got a few pictures of me on the "walk of shame" (our term not theirs), the floating paths that lead back to shore. Basically, when you fall you have to swim to the paths and walk back to the start to get back in line. The better you ride the less you have to swim and walk.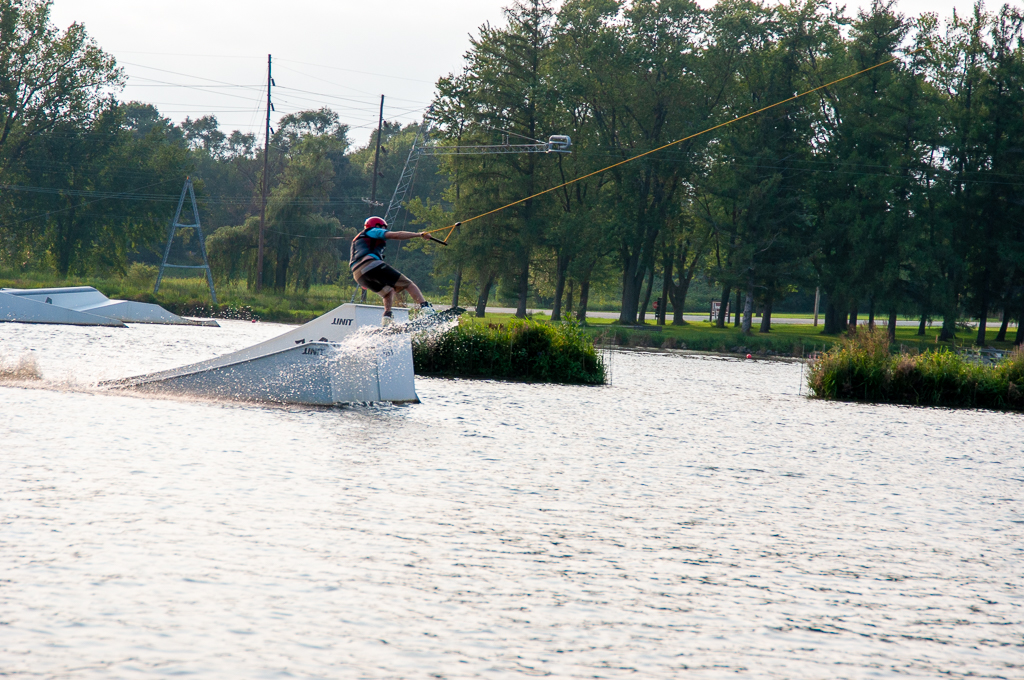 After a few hours of riding, I was spent and called it a day. By that time our daughter's lesson was over and the kids were done watching daddy lap the lake, although they enjoyed it for a while. Our afternoon at West Rock Wakeboard Park was a blast and now I'll be looking for more cable parks on our trip around the US.
Related Posts:
Family Friendly Utah Ski Resort: Snowbird
8 Reasons To Visit Fort Wayne With Your Family
10 Family-friendly Things to do in Niagara Falls
Pin This: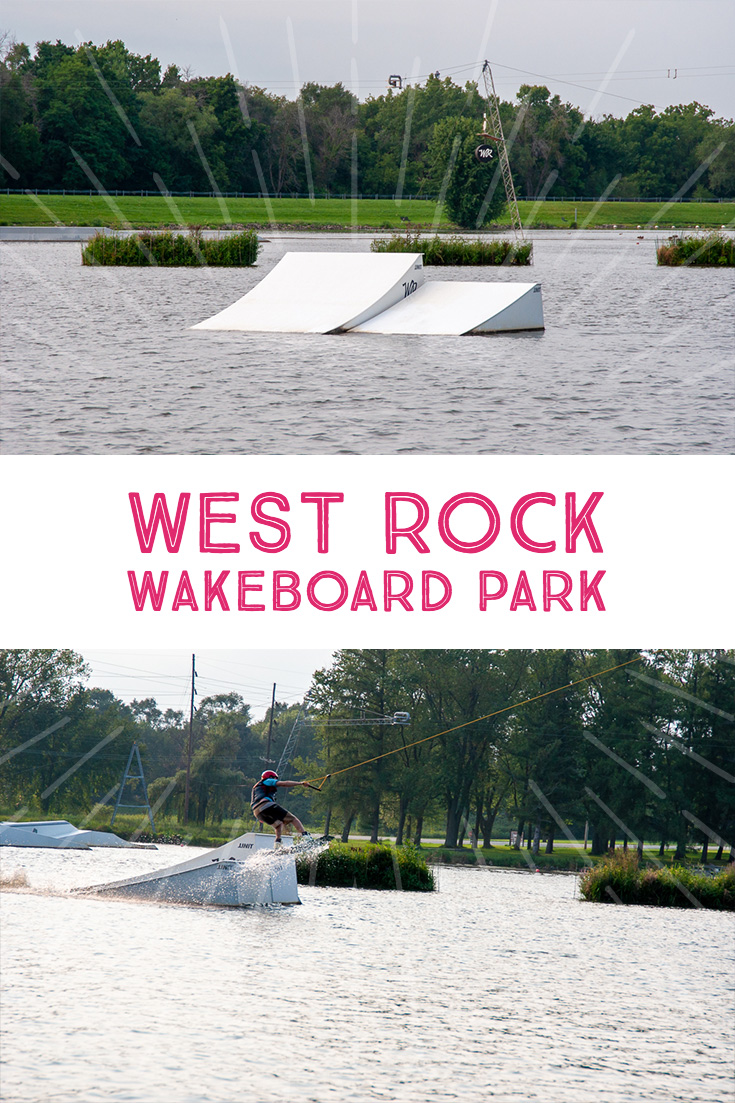 West Rock hosted our riding session, but as always our opinions are our own.