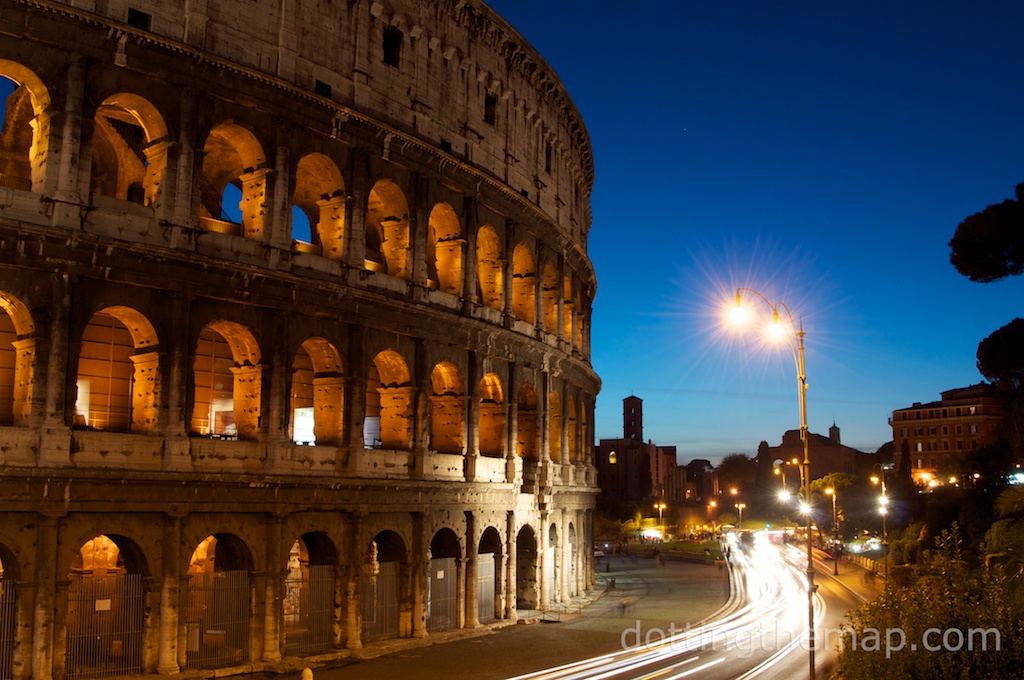 It's been awhile since we visited Rome, Italy but it's been fresh on my mind lately so I thought I would do a post with our best of our best tips for visiting a beautiful and historic part of Rome. What's great about Rome is that the city is in layers. Everywhere you go you will run into something historic and beautiful. What we consider old and historic in the United States (1700s-1800s) is actually  considered new in Rome. It's amazing and mind-blowing to know that centuries and centuries past there may have been some significant historic event happen right where you are eating lunch.
Here are some of our all time favorite tips for traveling to Rome: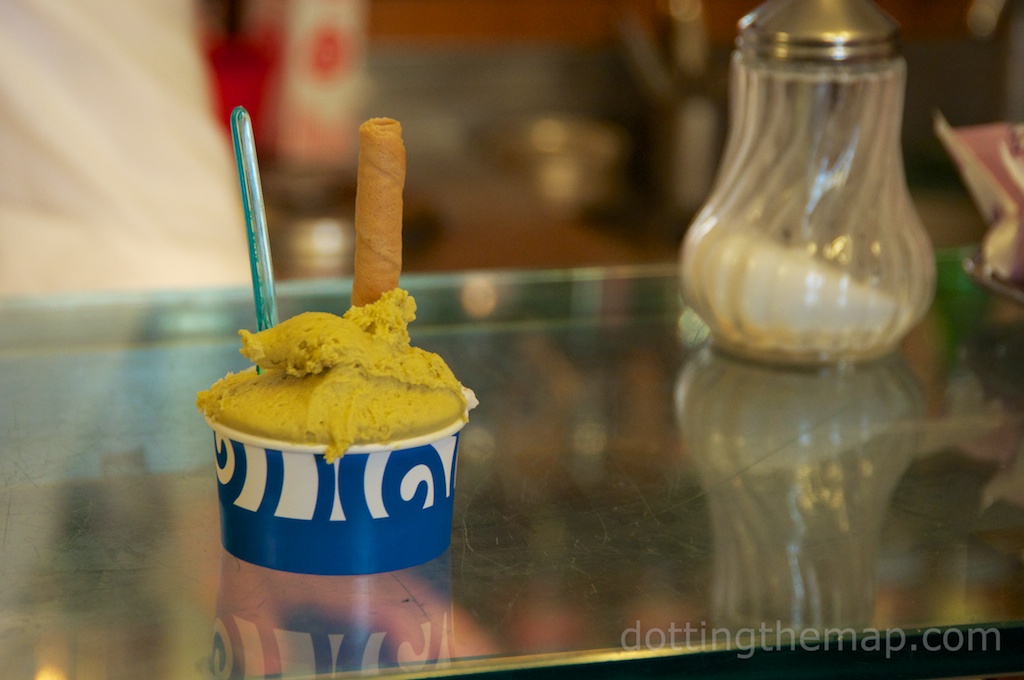 How to find good gelato. Ok lets just start with the most important thing ok? Who doesn't go to Italy expecting to get amazing gelato. But please take note that not all gelato places are created equal. In fact there are a lot of impostors out there just waiting to prey on tourists. If the gelato place has a giant neon ice cream cone sign in front of it, it's probably not real gelato. If you look at the gelato and the colors are very strong and vibrant (i.e. banana gelato is neon yellow and pistachio is neon green) it's probably not real gelato. If the gelato is stacked in the containers in big heaps and mounds it's probably not real gelato (it should not be above the container), and lastly if it's in a high trafficked touristy location there's a good chance it's not real gelato. Also, we've been told that you are supposed to be able to ask for whipped cream without any additional charge and should be able to get two flavors of gelato regardless of size (at real gelato places). Ask your tour guides, any locals or do some research on best real gelato places near where you will be staying. Most likely you will just stumble upon them and eat there for lunch, breakfast and dinner.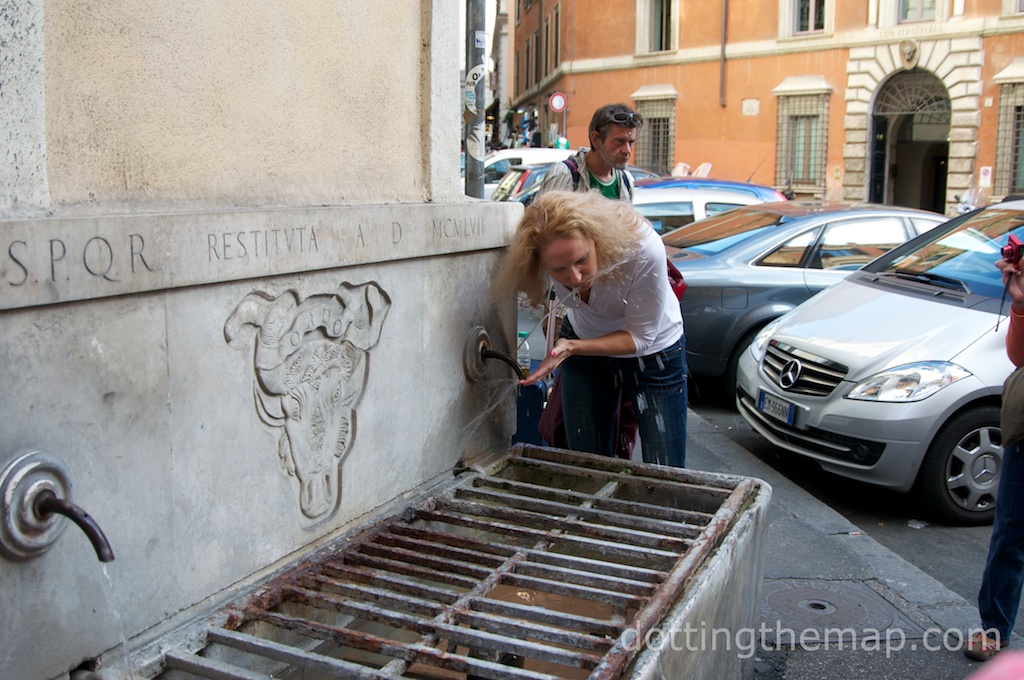 Drinking water. Did you know that most fountains in Rome run potable drinking water? It's likely you will see people filling their water bottles at some of the statuesque fountains. They also have these cool drinking fountains and faucets that you put your finger on and you can take a drink. There will be a sign on the fountain if it is non potable. Speaking of water make sure that you carry an umbrella. We went in mid-October and used it several times of day.
Avoid gypsies and street salesman. You will see them at all highly trafficked touristy areas. They will be insistent. Avoid them and keep your belongings on you secure. They will try to force roses on you at the Spanish steps but don't even speak to them. They are very crafty and sneaky. Also, you may see some women with small children trying to beg for money. It's a sad sight to see, but giving them money means they give the money to their rich handlers who drive nice cars and have nice jewelry. It's heart breaking and hard but don't support this.
Art is everywhere. There are things to see and enjoy at every turn. Every church in Rome is open to the public. A few cost to get in but most are free and sometimes it may not look to be special on the outside but once you step in you will realize how extraordinary it really is.
Plan ahead for popular spots. If you plan to hit the Vatican, Colosseum, or Borghese Gallery. Save yourself some time and purchase the tickets and tours ahead of time or get the Roma pass which will help you skip ahead in line (not Vatican) and also a 3-day metro pass.
Take a food tour. What better place to experience a food tour than in the food capitol of the world? Most people come to Rome or Italy specifically for the food. We took a tour with Eating Italy Food Tours on our first day and we were so glad we did. It was amazing. The food was so good we came back a few days later and went to some of the places again. Not just a food tour but we also got to see some off the beaten path sites and had a lot of fun. You can read our write-up  on the tour here.
Take a walking tour. We loved all the tours we did with Walks of Italy. We did a total of three tours with them and loved every single one. We did an early entry to the Vatican tour and got to sit in the Sistine Chapel when it was almost empty. We did a highlights of Rome tour which covered the Pantheon, Spanish Steps and a bunch of other places. We also did a Rome Catacombs tour which might have been our favorite tour altogether. The tour guides are knowledgeable and friendly, the tour sizes are small and intimate and most offer extras like gelato or something fun during the tour. I know so many people are against being parts of tour groups and I can understand their feelings, but these tours and our food tour totally changed my perspective. I loved being able to join a tour and then go off on our own.
We loved Rome, Italy and plan to return someday to see more of  what this cultural hub has to offer. Like I said earlier, Rome has layers and so you need to plan time to savor and appreciate it. What are your favorite travel tips for Rome, Italy?