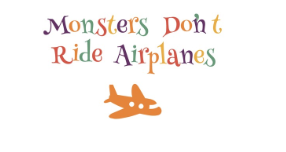 Vulnerable and naked. These are two words I never thought I would use to describe my campaign going live. I thought I would feel excitement and happiness to finally take this step forward and get my dream going to reality. But now I feel like I am giving a speech to the world and not wearing any underpants. Aren't you supposed to be picturing the audience naked? I'm stressed and I may break out in hives in any moment. What if I fail? What if nobody thinks my book idea is as awesome as we do?
So here I am, streaking through the internet and shedding my virtual layers so you can see my next project. A children's book. The number one complaint I hear from parents traveling with children and the evil glares I get from passengers on airplanes is that traveling with children is difficult and pretty much awful for those around you. I wrote this fun and educational book to teach children how to act on airplanes and hopefully spread cheer and create unity to the travel world. It follows monsters on airplanes and shows everything they do wrong and shows why they aren't allowed on airplanes.
My number one problem I am facing is: I can't afford to pay an illustrator for the book. My funds are tapped out into other projects we are working on. But we still feel passionate about this book to move forward. We will be self-publishing the book through iTunes and Amazon, which is great because parents will be able to read the book to children before their trip and even as a refresher on the airplane if needed. The funds we are trying to raise will go toward paying an illustrator, a designer to package the book together and marketing.
You should back my book if:
a) you are a parent with kids who travel on airplanes or will in the near future.
or
b) you travel on airplanes and dislike when there are unruly children on board.
So that's about everyone right? And if that's not you, will you send this link on to someone who might be interested?