This is a sponsored post written by me on behalf of TownePlace Suites by Marriott®. All opinions are 100% mine.
TownePlace Suites by Marriott® has partnered with The Container Store® to help their guests be organized during their stay to bring the amazing elfa® closet. No more boring hotel closet, now you will have a customizable closet with lots of options to keep you organized on the road. Features include shelves, closet rods, and hanging drawers. This is great for an extended stay at the hotel which TownePlace Suites® is perfect for being an all suite hotel with full kitchens and free breakfast.
Packing can be rough especially when you have to pack for yourself and three children AND keep yourself organized while you are on your trip. It can be overwhelming. More often than not I have to pack for me and three kids in one little carry-on suitcase. Talk about stuffing and rolling! The best part is once I get to my destination I have to find a way to keep my stuff organized since keeping it in my suitcase is likely not an option.
We visited our local The Container Store® to help us in our valiant efforts to keep organized on our longer trips. There is nothing worse than having an unorganized chaotic scramble in the morning when you are trying to head out to your day at the theme park and not be able to find hair brushes, socks or sunscreen!
Here are my top three tips for keeping organized while traveling with children:
Keep toiletries organized. As I mentioned before it's a headache to have items loose in your suitcase or floating around your suitcases. Having it all in one place including toothbrushes and medicine means you know where it is and it's out of little hands reach. We love hanging toiletries bags such as Resort Hot Iron and Essential Organizer we got at The Container Store®. It is so nice to hang it up on the hook or the shower and have it be out of the way. It works especially well on cruise ships.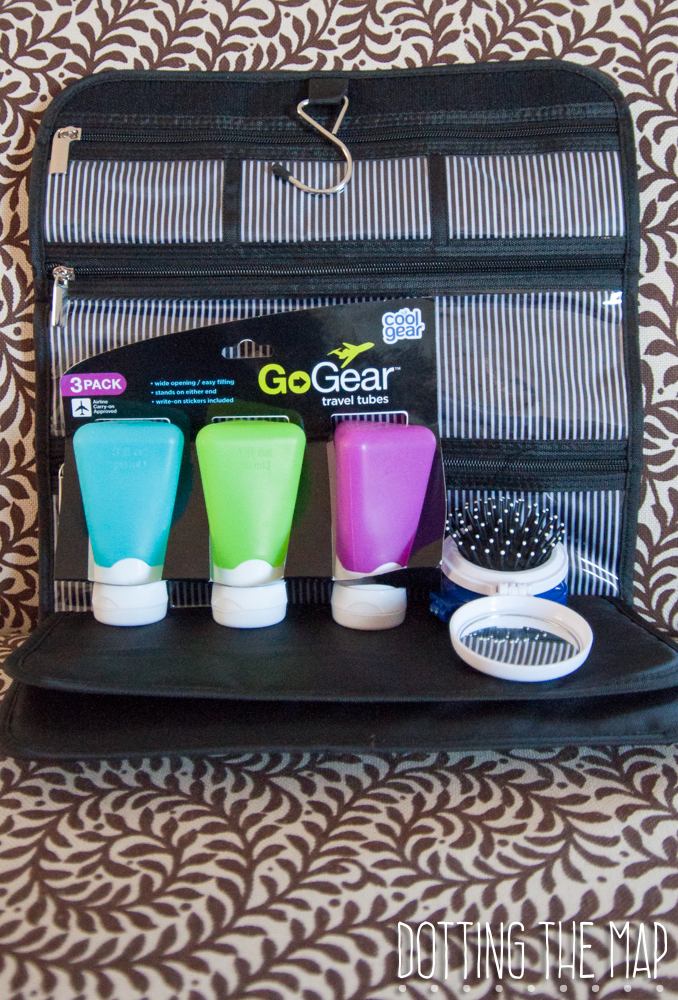 Keep like items grouped. It may at first glance feel like keeping everyone's clothes separated would be more beneficial but really it helps so much to keep all the jammies together, all the socks together, all the swimsuits together so you only have to rifle through one area to get everything for everybody. I have seen complete outfits packed together in Ziploc bags and I think that works so well too. Easy grab on the go.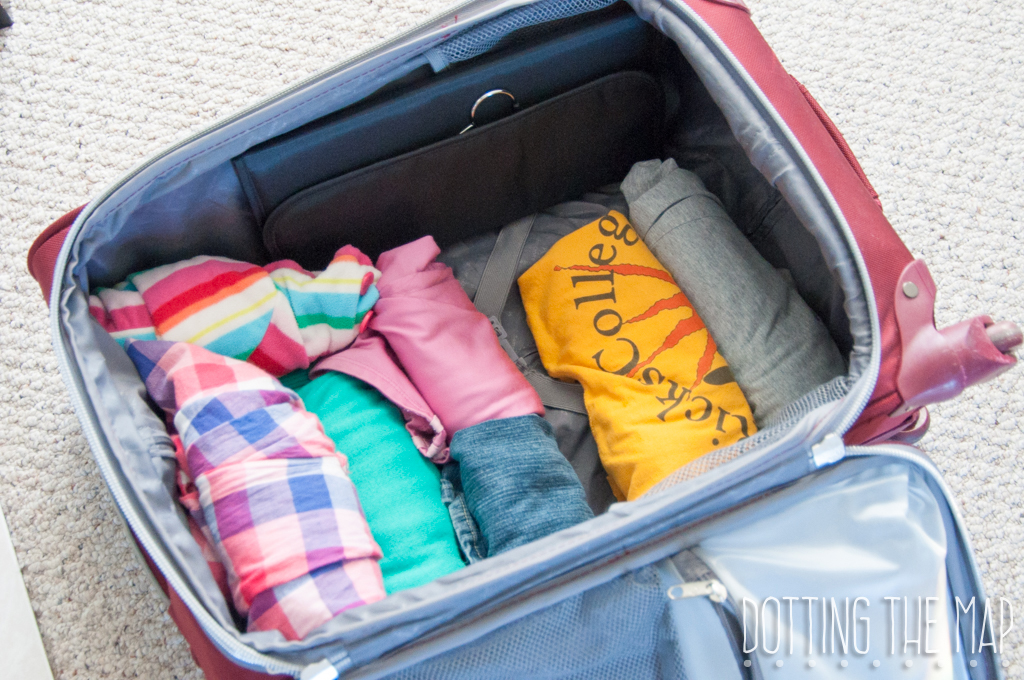 Roll don't fold. If you are all packing in one suitcase it will save so much space to roll. It takes more work and you may have a few wrinkly pieces at your destination but sometimes it's just the price you have to pay for more space.
Other tips to help save room while packing: get a folding hairbrush like the one pictured above. It will save space and is easy to slip in pockets and diaper bags for on the go hair fixes (can you tell I have all-girls?). Also we hate buying over-priced sunscreen at our sunny destinations so we always pack our own. We also have a specific brand we prefer that is difficult to find. The GoGear squeeze bottles let you fill and reuse and are TSA regulation size. All products that are pictured above and can be found at The Container Store®.
$100 TownePlace Suites® Gift Card Giveaway:
TownePlace Suites® is giving away a $100 gift card to put towards your next stay. To enter simply leave a comment and let us know how you stay organized on extended-day travel. That's it! Easy!
Must be 21 years or older to enter and be a resident of the United States.