The holidays and gift-giving season are upon us. It's true and there is no hiding from it.  And while there is a plethora of holiday gift guides and wish lists out there to clutter up your google readers and mailboxes, we at DTM thought we would throw another one your way). This one however has actually good gifts that most people in our age bracket (20-40 years old) could appreciate. All these gifts featured are with the heavy traveler in mind, but really they could be for everyday use as well.  These are all also gifts that we would really appreciate seeing under our tree this year (hint-hint) and none of them are paid endorsements and no I am not a amazon affiliate- if any of them happen to be amazon links.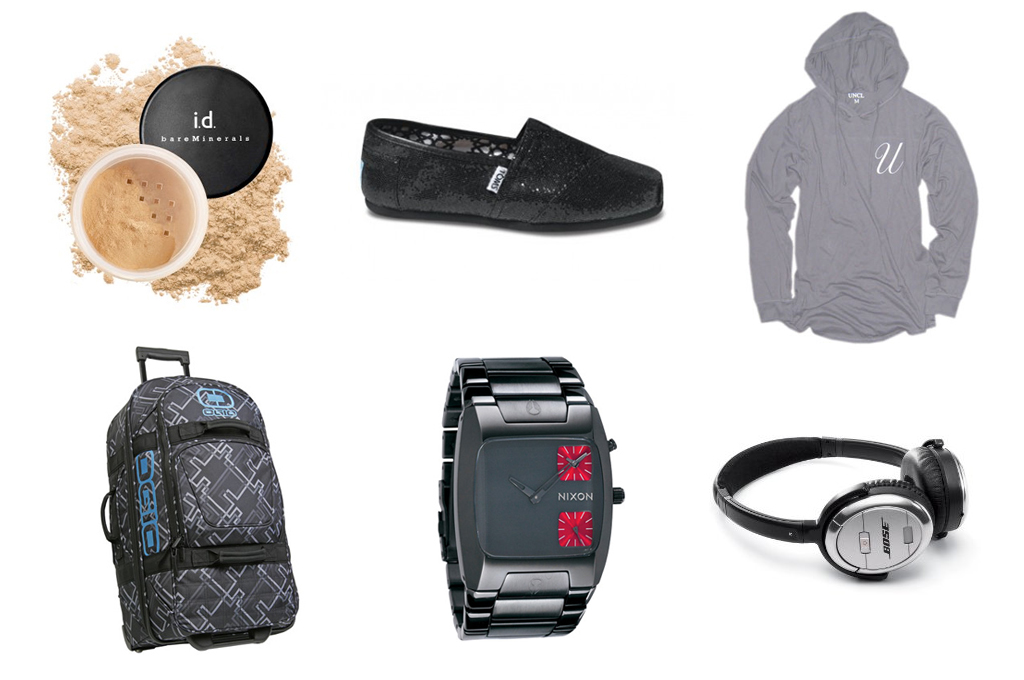 Going from left to right, starting at the top and working our way through the bottom:
Bare minerals foundation makeup. Ok seriously there is no better makeup out there. I have used this for almost three years (and am really overdue for a refill) and it actually has improved the quality of my skin. It's makeup that if I'm on a 12-hour flight, I don't feel greasy when I get off the plane. It's amazing. I used to hate traveling with it, but now they have finally caught on and included click and go tops to keep the minerals from spilling everywhere when you open it.
Toms shoes in Black Glitter (women's). This is the gift that keeps on giving. If you aren't familiar with Toms shoes business model, for every pair of shoes purchased, Tom gives a pair of shoes to a child in need. Besides that feel-goodness they are really cute and comfy shoes. Plus super easy to slip on and off which is important when getting through the lines of security.
UNCL Hoodie and Pants in light grey. These are some seriously comfortable loungewear. So soft and comfy, you will be begged to be cuddled with while wearing these. We included them on our list because they are lightweight, stylish and easy to stash in a carry-on to change into while on a long jet-lag inducing flight.
Ogio Terminal travel bag in Black Pipedream.  We love this bag, not only does it look awesome but inside is an organized wonder featuring two oversized packing panels, interior mesh dividers, suit straps, and neoprene lining. Anything that makes us more organized while we travel is a plus.
Nixon Banks Watch in gunmetal. Stylish and functional. This watch includes dual time so you can keep tabs on your home time zone while gallivanting in a new one. We believe Nixon watches are drool worthy and we will each own one, one of these days. Once we sell more ads and after our trip to Costa Rica, Thailand, and Israel.
Bose headphones, Quiet Comfort 3. Can we really make a gift guide for the traveler without including a set of Bose headphones? They are pretty much a necessity. I can't believe we have been on over 150 flights in the last 2 years and neither of us own a set.  Especially while being frequent passengers on an EMB turbo-prop.
If you need our mailing address to send us these nice gifts email me at editor@dottingthemap.com. Otherwise happy shopping! Hope your holidays are safe and full of fun!