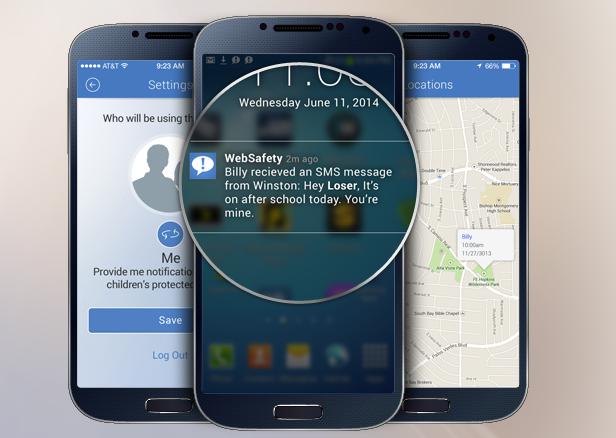 I for one love technology. I love being able to be up on the new and latest and ride the wave of progression and have personally seen how technology can bless lives. But on the flip side I have also seen how if used improperly it can destroy lives and innocence. Knowing this and the fact that almost every child has access to an unfiltered smart phone or tablet I was stressed about my children using our technology but also being surrounded by peers who have access to these things and circumstances where I can't control what is seen. Honestly every parent should be concerned about this fact and the truth is smart phones are being passed down to children at a younger and younger age with very few controls which means by one innocent google search they can be exposed to a myriad of images and indecency.
So you can understand that when I attended Type-A Parent Conference and met with the wonderful people of Websafety I was very excited about their product.  The brand new WebSafety App (which launches today!!!) gives parents access to analytical tools that will alert to certain behaviors and patterns while children have access to their smartphones and tablets. The version being launched today will send real-time alerts about alarming activities on children and teen's Androids smartphones or tablets (An iOS version will be launched early 2015).
The analytics will track certain amount of time spent on apps, it will look for certain keywords to pop up in social media, texting and chats including swear words or pregnancy and will alert about cyberbullying, online predators and sexting. The app also helps filter internet searches with a database of over a thousand porn sites.
Sadly these are all issues that face our children and teens today. And while we can't hold their hand of every minute of the day and look over their shoulder at every text and social media comment we can do our part to protect our children. This is real stuff friends. I am so grateful to the Websafety folks for believing in and developing patented technology and investing in our children's future. I personally spoke with and shook the hand of the CEO of Websafety and his intent and heart is in the right place. This is a great product that will change the lives and futures for a lot of children and teens. I hope you take the chance to look into it.
Please visit Websafety's Website  for more product info, how it works and pricing modules. The price is really affordable.
This is not a sponsored post. I am not being compensated for this at all- just a product I am really excited about.