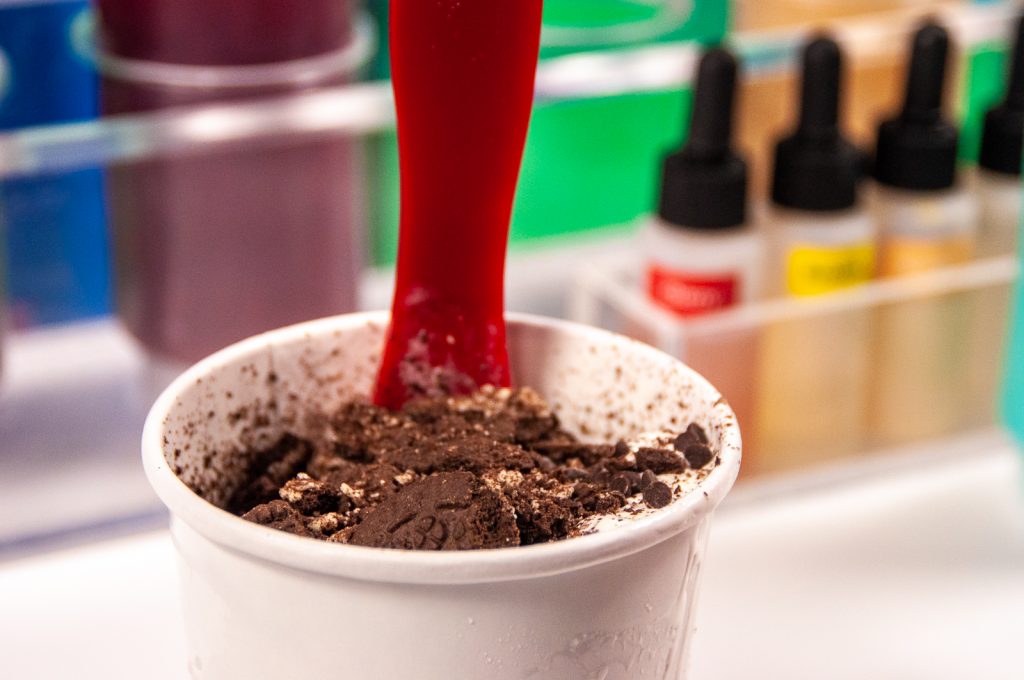 When I heard about Turkey Hill Experience in Lancaster County, I knew it would be a must for our family to visit. Since we homeschool, we are naturally drawn to educational experiences for our kids. On top of that, we love to attend factory tours and watch how things are made. We knew we would be visiting Hershey Experience and Chocolate World, but truth be told Turkey Hill Experience far exceeded our expectations for value and fun. Not only did we get to learn how ice cream is made and have all you can eat ice cream but we got to make our own unique flavors in the Turkey Hill taste lab.
Turkey Hill Experience Packing List
Nothing! They have everything for your activities there. If you have a baby you will still want the typical diaper bag essentials.
You may want to skip lunch because you will want room to eat as much ice-cream as you can!
Turkey Hill Vlog
Turkey Hill Ice Cream Factory
Truth be told, Turkey Hill Experience is not an ice cream factory. It's an interactive experience that allows guests to learn the history of the Turkey Hill company, learn the process of how ice-cream is made and try out many of the Turkey Hill flavors of ice-cream and tea.
Fun fact: Turkey Hill was started by Armor Frey, and the name Turkey Hill originated from Frey who during the Great Depression was a dairy farmer and used to stand at the top of Turkey Hill to sell his milk every morning.
When you first enter the main building you will come into the gift shop and ticket center. There you can choose which tickets you would like to buy. There are two main ticket types. One for just the main exhibit which gets you the sweet tea tasting and ice cream tasting (aka all you can eat ice-cream) and the interactive exhibits. The other option is for the Taste Lab, which in my opinion is a must. Please note that you if you plan to come in busy months like the summer and holidays, you will want to book the Taste Lab in advance. There are only a certain amount of slots available in the day, and they tend to go quickly. You will want to reserve your spot online.
Turkey Hill Experience
After you get your ticket and if you have time before your Taste Lab session you will want to wander the main exhibit. It starts with a history of Turkey Hill and the family who started it. From there, you can learn about the process of making ice-cream starting with milking cows and ending with packaging fresh ice cream. The exhibit is a hands-on fun for kids and adults alike. My girls loved running around and trying out the deep freezer, spinning the cream, and adding in pretend toppings. Younger kids will enjoy this too. My little ones loved the ball pit and slide. It's a great place to explore with the family before or after your Taste Lab session.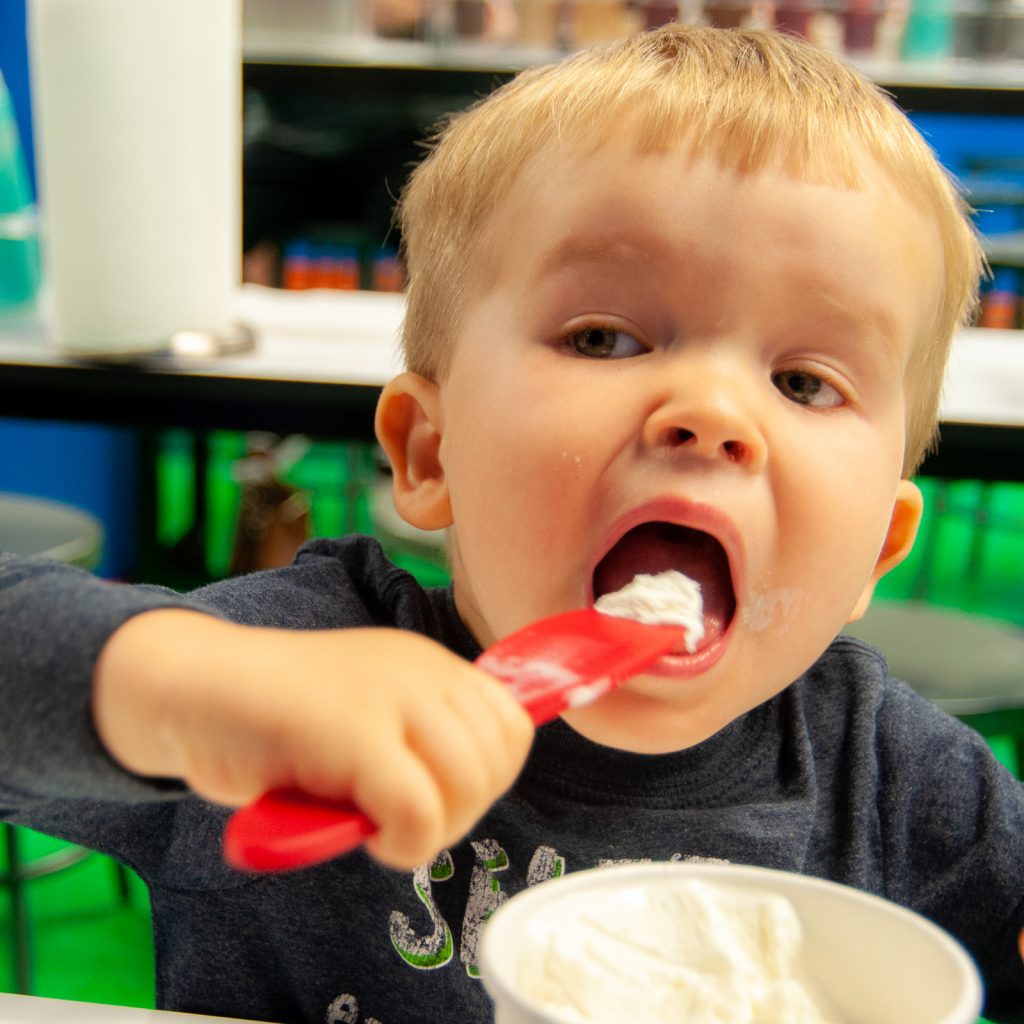 Tea and Ice Cream Tasting (all you can eat!)
The highlight of the experience for many is the tasting areas. Included in the main exhibit is the Turkey Hill Tea tasting area where you can relax in a rocking chair and taste all the flavors of iced tea offered. We don't drink tea but we enjoyed the two flavors of lemonade they had available. It was refreshing after all the running around my kids were doing!
Towards the back, you will find the ice-cream tasting room. Here they have about 10-15 flavors available for you to sample. Samples are dished into small bowls with sample spoons. The samples are unlimited and delicious so make sure you come hungry.
Turkey Hill Taste Lab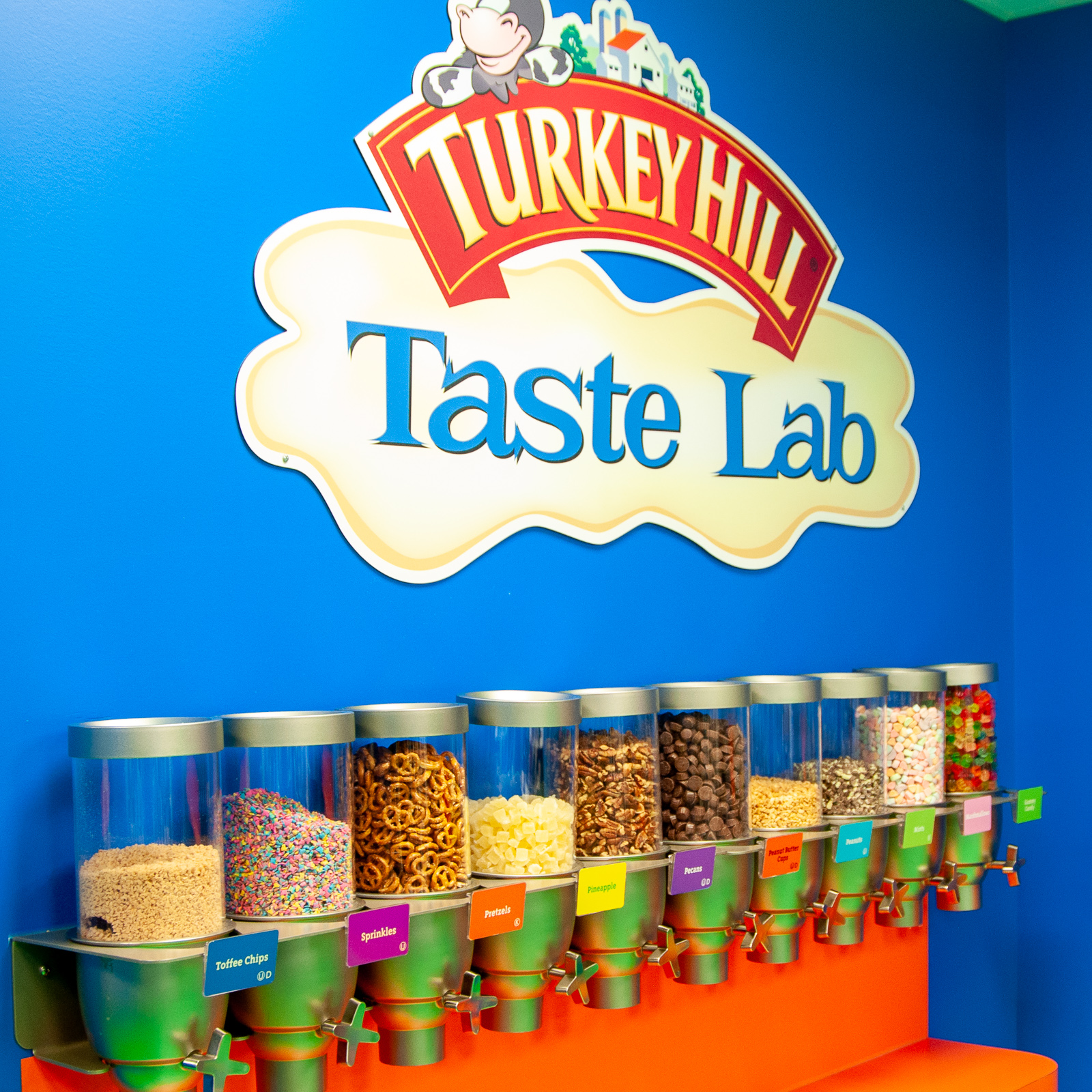 By far the highlight of the Turkey Hill Experience was our visit to the Turkey Hill Taste Lab. The value of this experience was worthwhile and my children will talk about this one for years to come. In the Taste Lab, you are taught firsthand how ice-cream is made and flavored. To add to the experience, each person is given a pint of vanilla ice-cream and allowed to make their own unique flavor concoction.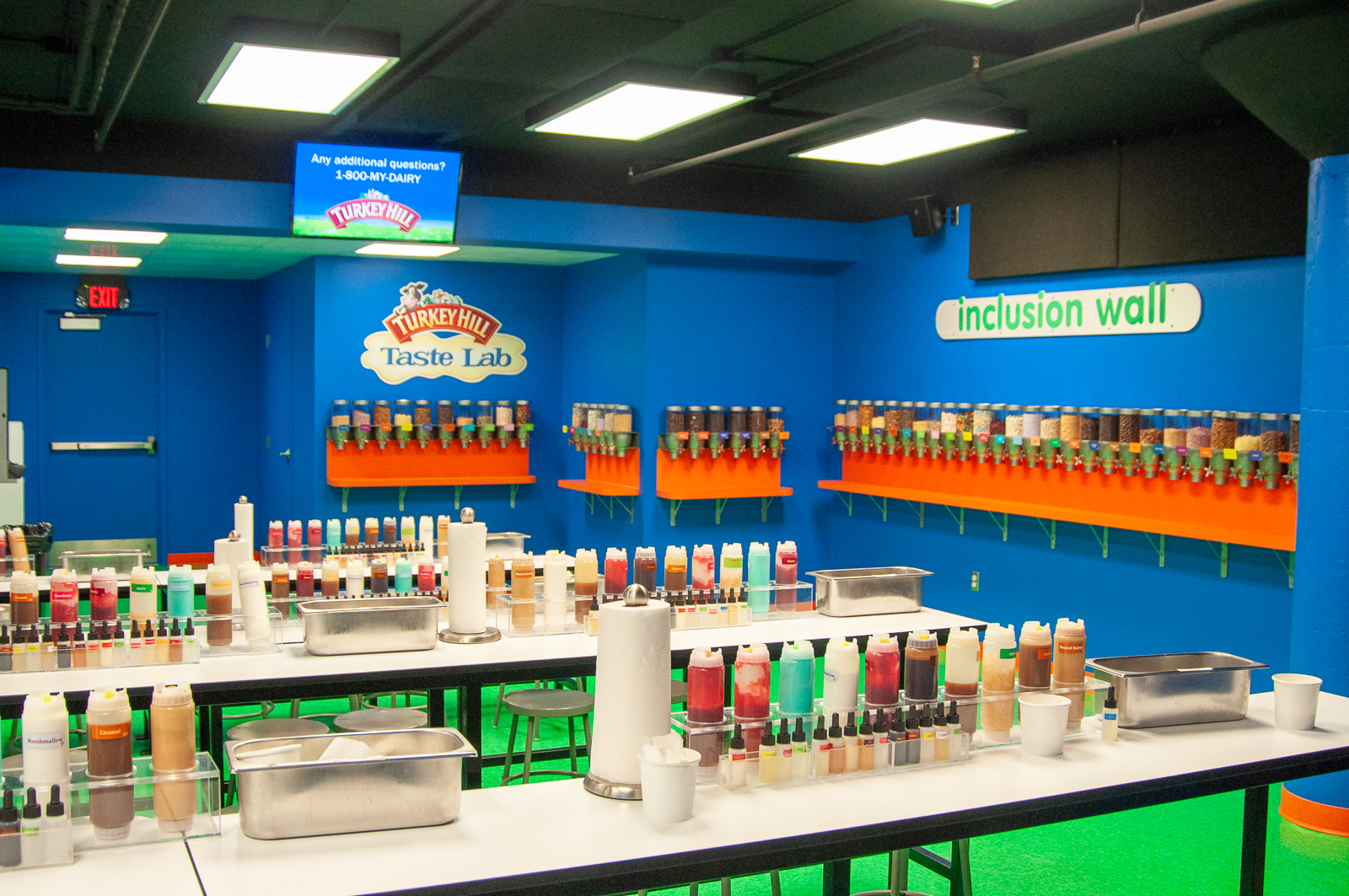 First, you will be able to flavor the ice cream base. I chose plain old vanilla but of course, my children chose cotton candy, mint, chocolate and cherry. The instructors walk you through the process step by step and you almost feel like a food scientist. After the flavors are mixed you are then directed towards the mix in stations. Here you will find all sorts of goodies like chocolate chips, marshmallows, cookie dough, nuts, chocolate cookies etc. After mixing everything together you can add a variety of toppings to complete your masterpiece. While an educational presentation on the production of Ice-cream is shown you'll be able to enjoy your ice cream creation.
Of course, if you haven't had enough sugar at this point, you can return back to the exhibit hall and continue to fill up your belly with additional ice-cream and sweet tea.
Turkey Hill Experience Review
As a mom of four kids, I'm really big on value. A few days before our trip to Turkey Hill we were in Hershey, PA and I would have to say that I truly believe Turkey Hill was a better value for the price. It was cheaper, interactive and of course delicious. If you are visiting Lancaster County, PA that this is something you need to add to your list. Whether you have children or not, if you enjoy ice cream you'll love it!
Have you been to Turkey Hill Experience in Lancaster County, PA? What was your favorite part?
See Related:
Coors Brewery Tour in Golden, Colorado
Pin This: