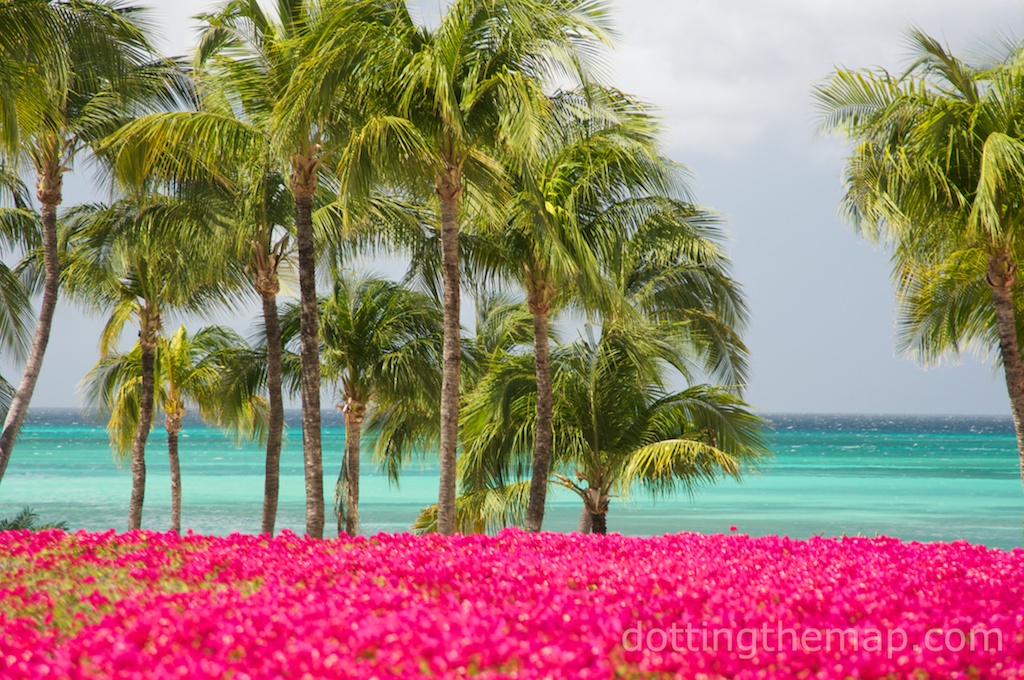 We recently had the pleasure of visiting our first Caribbean island as a family. We packed up all three kids and said adieu to the cold miserable winter weather and hello to the beautiful warm weather and waters of Aruba. I have been dreaming of this trip for months and really it was quite perfect. The girls enjoyed running back and forth from the crystal clear beach waters to the deliciously cool pool water. It was a family vacation that will soon not be forgot.
For those who may be planning a trip to Aruba in the near future for the first time here are some great tips for your vacation:
The entire island is only 19 miles long and 6 miles wide. The entire island can be seen in one day by car. Which makes a great destination for families of small children because getting to the resorts and back to the airport takes 20 minutes, not hours like other islands.
Cab fares are pre-set by the government of Aruba. They have no meters. It cost us between $25-$28 each way for up to five people. Also taxis are not uniform and come in all different sizes and shapes. But you will know they are a taxi by having the signs on top.
No need to change currency- pretty much everywhere you go accepts (and usually prefers) US dollars. And they take all major credit cards (a lot of places I noted accepted American Express).
Most citizens speak four languages on the island. Dutch, Spanish, Papiamento (native language) and English. So you don't need to worry about things getting lost in translation.
Tap water is completely safe and drinkable. In fact we thought it tasted better than bottled water. Aruba has one of the largest saltwater desalinization plants in the world. The process removes salt and other minerals from saltwater to make it viable for human consumption. Aruba's water ranks as some of the best water in the world for quality and taste because of this process, and in fact they actually bottle it and sell it. This just makes visiting Aruba that much easier when you have small children and one less thing to worry about!
The downtown area referred to as Oranjestad reminded me of a typical cruise port with lots of shopping, restaurants and nightlife. There was also another strip of shopping and restaurants close to the Hyatt in the high-rise area of Palm Beach.
The general rule for resorts are that unless otherwise noted Palapas or either paid for or first come first served. Check with your resorts policy. At the Marriott they were paid for and the Hyatt you could either pay for them or wake up at 6 am and claim one. We usually did ok finding shade from a palm tree or claiming an abandoned one at the end of the day. Another rule of thumb is if you see a chair with a towel it means it's claimed. This goes for beach and pool. Also worth noting is that all the beaches are public but each resort has it's own set of chairs. There always seemed to be plenty of supply of chairs that you should help yourself with.
A nice feature of flying out of Aruba is that they do customs before you get on the plane. However, it can take awhile to get through. After you get your boarding pass you go through security. Then you go through customs. Please note if you check bags you will be required to pick them up and then take them through customs and recheck them. After customs you go through security again. Yes, we were slightly confused as well. We think it's because you pick up your checked bags. Not so fun when you have three children in tow.
A good packing list for your trip (adjust for children and number of days):
– swimsuit
– coverup
– sunglasses
– LOTS of sunscreen
– flip flops
– a few nice outfits for nighttime to either go to the casinos, shopping or enjoy restaurants
– beach bag
The only real "downside" I saw was Aruba is definitely an expensive island. It's catered more to the luxury crowd and hotels run really expensive. We stayed at the Marriott Stellaris and Hyatt Regency both on points but the normal rates at the Marriott start at $500 a night and Hyatt $700. There are some more budget friendly places and  a timeshare or vacation rental may give you a better deal but the lowest rate per night we saw started at $200. We really wanted to stay at a resort on the beach and get that whole experience but next time may look into a timeshare option.