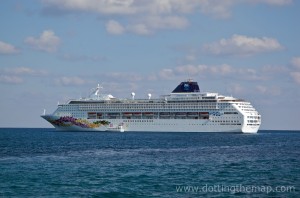 What used to be about getting from point A to point B has evolved into one of the most exciting and sought after vacation opportunities in the country. According to CLIA (Cruise Line Industry Association) 9.57 million Americans set sail on a cruise vacation in 2007. Now I know why! What better way to relax, experience new things, places, and foods then on a floating resort! Cruises are relatively inexpensive too! For a fraction of the cost of what the airfare/hotels/and meals would cost to visit all the locations on your cruise, you're able to do so and not have any worries. All you have to do is share the memories with your loved ones.
However, a lot of people fear the unknown when when it comes to cruising. Do you ever wonder why most people who have been on cruises continue to go on cruises year after year- while others don't even give cruising a chance? All the good you have heard about cruising is true. I experienced it first handedly and will share some of my recently found knowledge with you. Things that I wish I had known before cruising for the first time. I also had the chance to sit down with the Hotel Director on the Norwegian Sky to get tips from a seasoned professional.
Fillipo Bertuzzi (originally from Italy but transplanted to Spain when he was young) has been with Norwegian Cruise Line for seven years. He is head over the hotel division of the boat which includes guest services, housekeeping, food and beverage, entertainment, and all the crew. When asked the most important tip for first time cruisers he stated that it is all about the attitude you bring on board. If you come in relaxed and looking to have a good time you will have an enjoyable and memorable vacation. Choose people you'll have fun with to join you on your cruise. If you bring someone you have problems with outside of the ship aboard and hope the problems will disappear on your trip, they most likely will not because now you are in a small confined space and problems seem to magnify. You owe it to yourself to have a good time, especially after all the time you spent saving for your vacation. I just have to add that this is completely true and true with everything in life- the experience is what you make it. So make it memorable.
Fillipo also adds that one of the biggest mistakes first time cruisers make is that if something is wrong they don't tell anybody. He often hears first time cruisers on the way off the ship saying something was wrong with their room. This frustrates him because they love to give good service and their job is to fix problems, but in order to fix problems they need to know about them. They are there to make sure your cruise is enjoyable and problem free.
When asked what one thing many guests overlook on a cruise, Fillipo answers the genuine hospitality of the international crew. Which I would also agree with wholeheartedly, never have I met some of the kindest people all in one place! Everywhere we went crew would say hi or stop to ask us if we had fun at the port. Let me ask you what other vacation have you been on where the staff was this friendly? It's a whole different level of hospitality then the rest of the travel world.
Some of the most important concerns most first time cruisers have are the concerns of seasickness- this one vulnerability that has the potential to destroy your entire vacation, right? Fillipo suggests this could be a mental setup of some guests, that many people come in with the mindset that they are going to get sick. He suggests pop a couple motion sickness pills and you will be fine. I have to agree with him. I am sure there are some people who do get legitimately sea-sick and for those I am sorry. That cannot be any fun. I myself was worried about that- so I took precautions and took Dramamine half an hour before we set sail everyday and I was totally fine. I would recommend that to anyone because it'll give you assurance you'll be out by the pool not locked in your state room.
Lastly another fear of many first time cruisers (including me) are the fears brought to us by the media such as Titanic/Poseidon/Missing People/Quarantined ships. Fillipo points out that more accidents happen in cars than do cruise ships (he compares it to the safety of flying) and Hollywood is a great thing but it is just Hollywood. No matter what safety is the number one priority in all areas of the industry. Some examples include the health survey taken before you embark, and hand sanitizer readily available anytime you get back from the port, step into and out of any restaurant, or other various locations throughout the ship. Really for us germaphobes it was a beautiful thing. Also, the boat is equipped with plentiful life boats (more than enough for crew and passengers) that have food and water in them. These aren't your normal life boats these are nice looking vessels. Really you may have a few fears waving around your head but after you embark, those go out the window and all you are thinking about is that amazing buffet.