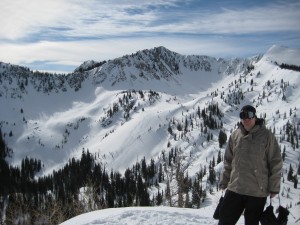 Sometimes living in Utah we tend to overlook the mountains of our great state. While people from around the world flocking here to get a taste of our fresh Utah powder, we're complaining about all the snow we have to shovel off of our driveways.
I have a friend from out of state that happens to be one of those flocking to Utah. Actually, the highlight of his year is his annual trip to the Wasatch Front. So naturally when he came into town a few weekends ago our plans were centralized around the mountains, more specifically, Solitude Mountain Resort. Solitude is a local favorite that prides itself with short lift lines and plenty of terrain to enjoy.
After taking some warm up runs on freshly groomed, wide open trails, we headed to the more adventurous edge of the resort and found some hidden powder stashes left untouched from the previous week's storm. The snow was great, the staff was super friendly, and due to a bad fall by my friend, we found out first hand that the ski patrol and on mountain clinic were great too.
Solitude truly has a wide selection of terrain and although the mountain has plenty of runs that suit the beginner or intermediate skier, it has some steeps that are sure to give even most advanced skiers an extra dose of adrenaline. If the in-bounds terrain isn't enough of a challenge, Solitude offers a program called Backtracks, a guided tour that takes you out of the resort's boundaries and into the untouched Wasatch back country.
Seriously, the hype that surrounds utah and it's claim to the greatest snow on earth is true. Visit www.skiutah.com to schedule your trip and check out Solitude and Utah's 12 other world class ski resorts.