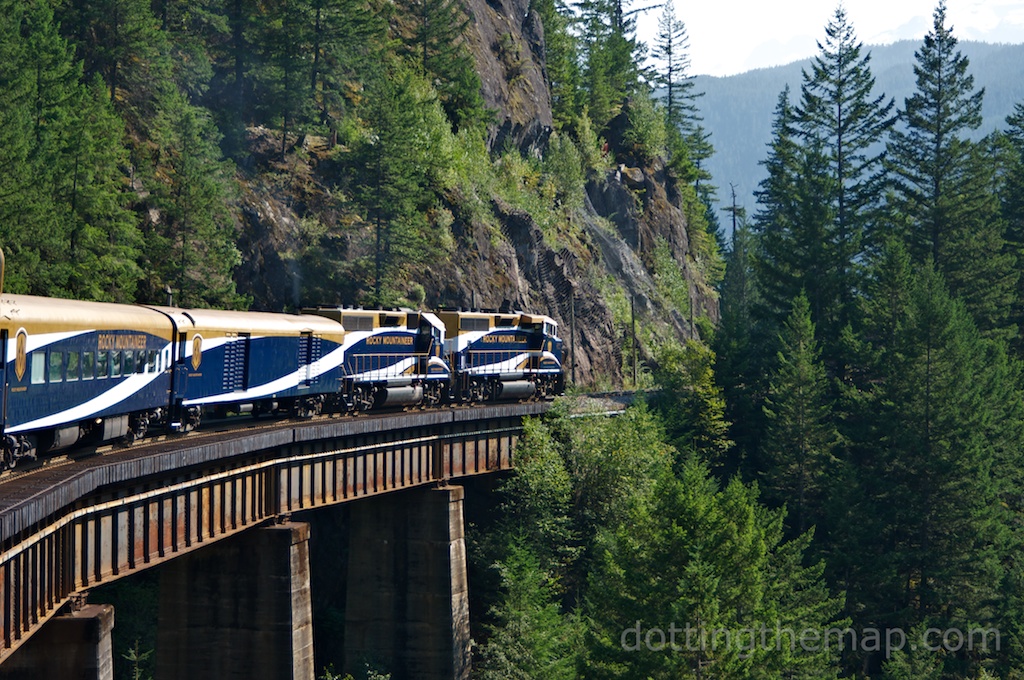 We had the unique and fun opportunity to take the Rocky Mountaineer train back from Whistler. We were all pretty excited about it and knew it would be one of the highlights of the trip. If you aren't familiar with traveling from Vancouver to Whistler then you may not know it is one the most beautiful drives on the earth. If you do in fact drive it is an hour and a half on the Sea to Sky highway. It follows paths of beautiful coastal bluffs and then transforms into views of mountain ranges, lakes, waterfalls and rivers.
Taking the train is even better because you can enjoy the views at a slower more relaxed pace while someone else is doing the driving.
It was also nice on the girls because they had a comfortable place to sit and relax but once they got a little rowdy or restless we could take them down to the dining car or open air cars and they could be loud and no-one would notice.
The views were amazing from the dome car. Definitely worth the extra money on a trip like this where it's all about the scenery.
As I mentioned before there is an open air car. It's a little loud and it is a little warm, but Reid spent most of the trip down there taking pictures and wrestling restless children. I made it down twice and thought it was fun.
Really, if you are going to make the trip up or down from Whistler to Vancouver this is the way to do it. I actually loved that we did a bus tour on the way up and the train on the way back. The bus tour we were able to get off and see Shannon Falls and Brandywine Falls and then on the train we were able to get in places the road doesn't take you.
Would I do it again? In a heartbeat. It brought me back a little to what it must have been like for my grandparents traveling on the train for vacations. It's a little more of an old fashioned and romantic way to travel. It's hard traveling with little kids because a lot of time your attending to their needs that you miss a lot. The train helped me to step back and be able to take care of them but take care of me too.
*Rocky Mountaineer hosted our train trip but it in no way swayed our opinions.