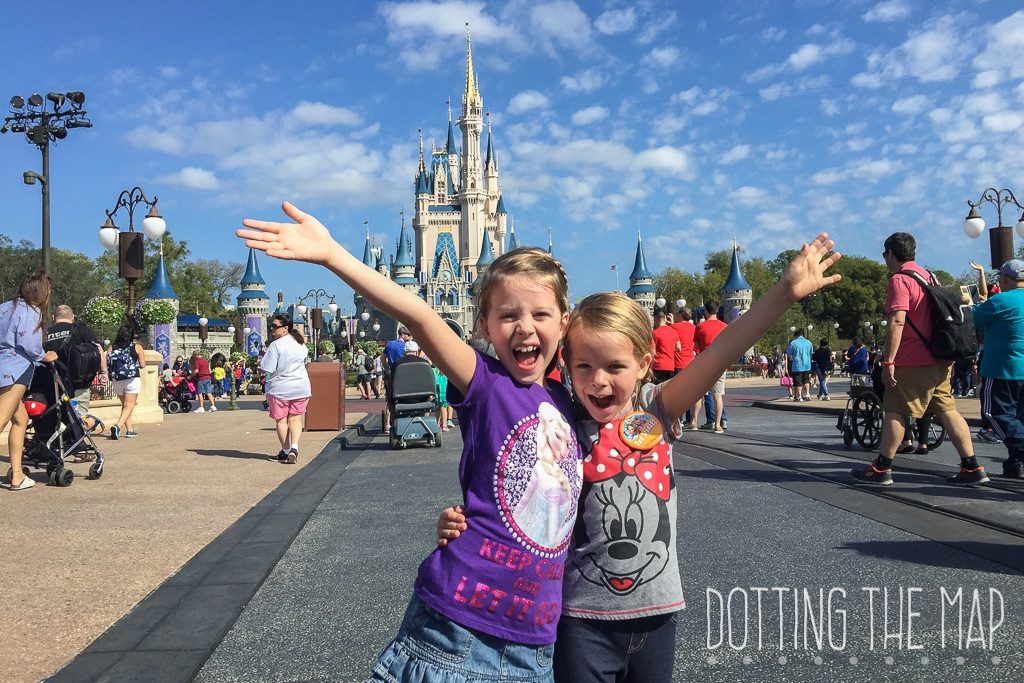 Ok, so just before you start to judge me, please know that I have been to Disneyland many, many, many times. Like more times than I can figure out in my head right now. I am from California (born and raised) so Disneyland was a given (a freaking awesome given). That I did not take for granted. But the truth is until two weeks ago I had a startling confession in the family travel blog world. I HAD NEVER BEEN TO DISNEYWORLD (GASP!). It was an embarrassing confession that I kept under wraps but you better believe I researched and spent time on blogs until I realized: I'm just going to go and figure out this DisneyWorld thing by myself. What could go wrong?
The thing is Disney World is a whole different beast then Disneyland. I totally knew that going in but I was just so overwhelmed by all the information, the idea of planning my trip and what we were going to do and eat 30 days ahead of time, and the truth is I just wanted to wing it. Because that's what you do at Disneyland!
I totally learned that you can wing it at DisneyWorld….but you are going to be standing in A LOT OF LINES. We went on a value day. Which means that the crowds were low and so they lower the price by $10. But let me tell you, it did not feel like the crowds were low, it felt like a busy day at Disneyland and I just kept thinking to myself this is a LOW day???? Thank goodness we did do somethings right and we figured out a few other things QUICK so we had such an AMAZING day and it was a total dream come true. Plus we pulled off the most epic surprise on our kids and they are still talking about it.
Here is my little disclaimer before I get into some specific tips and tricks. We went for one day (another gasp from the Disney community) and just went to Magic Kingdom. The reason for this was we were not in Orlando specifically for a Disney trip, we were there for a doTERRA Leadership Conference so we brought kiddos along and added some fun. So YES you can do Disney World in a day but you will miss 75% of the stuff because you will likely be choosing one park.
So here is some things we learned the hard way and some things we were fortunate enough to get right!
You will save money by staying off-site. There are so many back and forths on this and some people may not agree, but the truth of the matter is you will save money by staying at a non-Disney hotel. We used points to get our hotel free and it DID offer a free shuttle to Disney,  and Free breakfast. HOWEVER you miss out on value because it takes FOREVER and a hand basket to get to Disney when you are staying off-site, and if you don't have a shuttle it's $20 to park where you take a tram in AND THEN you have to stand forever in line to take the monorail, and then you stand to get tickets, and then you stand in line to go through security and THEN you stand in line to enter the park. Yeah we had no clue of any of this and it took us an hour just to get into the park 🙁 And also just because you have a shuttle you still have to take the monorail to get in so it takes longer than if you just stayed at a Disney Property. It was worth it to us because we still saved about $120, for other families the value of being onsite would override all of the hassle. (Not to mention carrying four exhausted kids out of the park at 10 pm through the monorail, the tram and then the mile to the car…)
Bring food in! I love that Disney is totally cool with this. I knew this ahead of time because of my many times in Disneyland, but for real what amusement park is cool with you bringing in a small soft exterior cooler full of Lunchables, juice boxes and cans of soda! It blows my mind every time and if you are pushing a stroller do IT! You have a place to keep it and you save time and $ at the park. The only thing I wished we had thought of were bringing in Gatorades. We learned our lesson and our oldest got a touch of heat exhaustion that could have been prevented. With free breakfast at the hotel and bringing in lunch, we were able to enjoy a nice dinner at the park together.
This is pretty well known but I always feel like it's important to include in case someone doesn't know it. Don't buy water at the park, bring a refillable water bottle or ask for free ice water at counter service restaurants. I will say this, it IS tap water and doesn't taste good. But it's free and will keep you hydrated.
Fast Passes. Ok Y'all. I struggled in this category but I learned a few things that I'm hoping to share with you so you will be more successful. Veteran Disney peeps will be rolling their eyes but if you are reading this, it will likely be your first time, so here goes. Download the myDisney experience app and purchase your tickets at least 30 days in advance and 60 days in advance if you are staying on site. If you have a dining plan this will help you make reservations and keep track of credits. Since I am a budget traveler I did not do these things. But you will want this for fast passes. Book all your fast passes for the morning because once you are done using them in the morning you can re-book fast passes throughout the day using your app on your phone. This was awesome. We had no idea of the tip to book for the morning so we had to wait until the evening to get more and stood in our fair share of lines, but if you follow this tip you will skip out on many lines throughout the day. I particularly enjoyed using fast passes on the character visits because a) they were painfully long b) they were quick ins and outs and I would have been said waiting an hour for two minutes.
You don't need much to bring with you but a couple things I wish we would have brought that you might not have thought of are a compact portable charger for your phone. We were ridiculously dumb and forgot to charge our phones the night before!!!!! Who does this??? Especially when you have a YouTube channel and need it for pictures, videos, and accessing your myDisney experience app! Ahhh! My phone died right after picking up our tickets and LUCKILY and magically (thank you Mickey) Reid's lasted the entire day but using it as sparsely as we could. We totally missed out on more pictures of our special day because of this mistake. So buy one of these before you leave! Rain ponchos are super cheap and great to bring with you because it rains in Florida A LOT and they are expensive at the park (no link because you get these at Walmart or dollar store for cheap). And a small but effective soft shell cooler will be convenient and helpful.
Good luck and the most important part is to ENJOY and have fun! And don't forget about rider switch if you have a baby in your party!
post contains affiliate links.