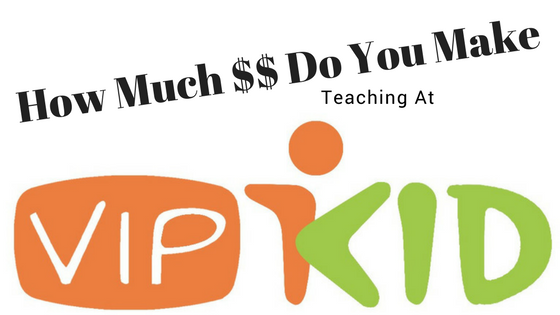 Want to make some extra cash teaching adorable Chinese children online? Use my referral code!
A few months ago I wrote a post about Getting Hired With VIPKID, why I decided to do it and some interview tips. I just signed my second contract and I thought it would be helpful for some people who are considering becoming teachers if I shared how much I make and how long it took me to get here.
Getting Hired With VIPKID What You Need To Know
First things first, I really need to stress with you if you are considering applying to VIPKID or teaching English online to Chinese children that this is not a job. You are an independent contractor. You are not guaranteed a set of hours straight from the start. So because of that it may take awhile to build up your following and students. It took me well into my six month contract before I was getting fully booked. I will go over that more in detail in a minute.
Also, please note that pay structure and scale varies. The pay ranges from $17-22 an hour based on experience and certificates and quite frankly I think how well you do on that first initial mock class interview. I got somewhere around the middle and I think VIPKID prefers we not disclose how much we make per class but I'm sure you know how to do calculations, so I will leave it there.
Pros and Cons of Working For VIPKID
And thirdly, I get asked all the time- do you like the job? So I will answer that first. Yes, I do like the job. I like setting my own hours. I like the freedom of working in the morning and it not taking away any time from my children and my businesses. I like the paycheck every month and I truly love the children I teach. They make this job fun and worth getting up in the morning. What I don't like is early mornings and early nights. As of right now I am working at VIPKID so I can actively re-invest in my businesses and make ends meet at home, the late nights and early mornings take away from working on my businesses, but this is an amazing trade off because I'm still able to stay at home with my babies and homeschool them. I also don't like if you are deathly ill and cancel your classes the day of you have to pay for every class you cancel. This is not a huge deal but one morning I taught with the flu and by class six I was visibly shaking. I probably should have cancelled.
Ok so now for what you were waiting for? How can you get paid with VIPKID? I'm going to stress that this is a part-time gig. There are people who make a full time living but they are typically living in different timezones then are available here in the US. Still if you like working through the nights you could make it work. My threshold for classes as of right now is 8 classes in a row. There are people who do 22. I am currently on the east coast at the time of this post and I begin work at 5am-9 am Monday-Saturday and teach Saturday nights from 8 pm to 11 pm (This is DST it will change an hour later when the time changes again). At this schedule I hope to make around $2,052 a month. Obviously that is dependent on being fully booked, not getting sick, or taking time off for holidays or vacations.
How much money I make working for VIPKID
And as I feel more comfortable paying myself from other business ventures I will scale back. Right now I am enjoying this schedule so this is what I foresee it to be for the next few months.
I got hired in the beginning of May. I didn't make much this month. Right after I got hired I galavanted off to England and Scotland for a few weeks. I taught I think 2  classes.

June was much better but was not seeing the bookings I was hoping for. I did however teach 47 classes and was over the moon at that paycheck. It was a huge blessing to us.
July I started feeling more in the flow and started getting regulars and felt like I had hit the jackpot. It was summer in China so I opened up both nightly and morning slots and just taught whatever filled. Never really fully booked at this point but still 87 classes is pretty good.

August was about the same as July except I took a week off to travel to Turks and Caicos and made about the same as July so I took it for a win. More regulars, more bookings starting to feel like it was a worthwhile side gig.

September I finally hit the over $1,000 mark and was so so grateful. At this point I felt like I had hit my stride, was getting fully booked at the slots I was opening and doing very little prep work before classes now.

October I opened up way more time slots then September and the pattern of going up in payment continued.

November is my current best month yet until December where I will break the $2,000 a month mark as I stick with my new schedule of working quite a few classes a week.

Updated to add December 2017- Broke the 2,000 mark!!!!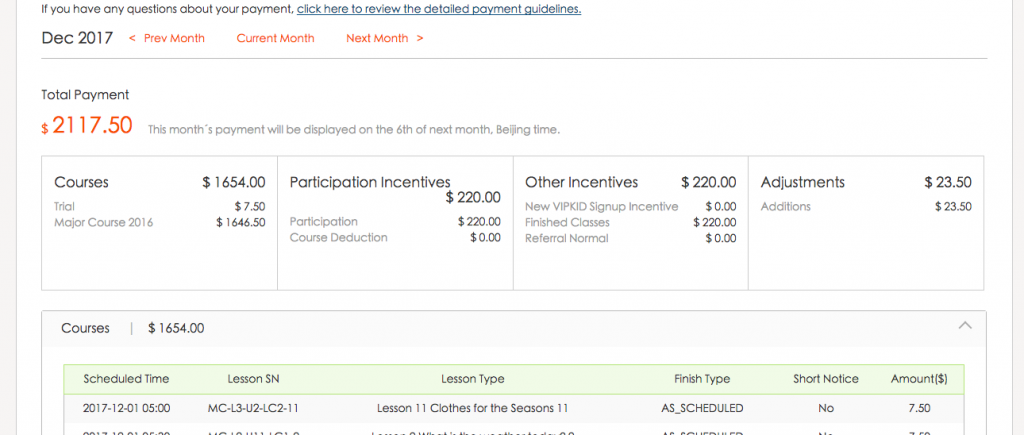 How to Make Decent Money Working With VIPKID
Here are some tips on how to get better bookings and to make good money with VIPKID that can supplement your full-time job or your entrepreneurial pursuits. Put your all into every class. If you show up and do a half booty job at teaching you won't get rebooked. Also there is a correlation to the amount of feedback you have and to how many slots that are opened to make you a desirable teacher. Parents are less likely to book a teacher who has just a few feedbacks and a wide opened teacher then a teacher with lots of feedback that fills quickly. The only remedy for this is patience, patience, patience. Please know it takes most female teachers their entire first contract to see the bookings they want. Male teachers do not have this issue as there are less of them.
I hope this information helps you if you are already an VIPKID teacher or exploring the option to become one! I would love to help you out and help get you hired! Please consider using my referral link to apply and email me via the contact page if you have questions!  If you are already hired and are discouraged hang in there as you can see it gets better! I'm so glad I stuck it out.