Las Vegas is well known as the ultimate getaway and has some of the world's best shopping, world's best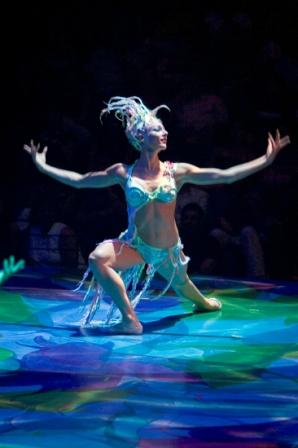 dining, world's best accommodations and of course some of the world's best entertainment. The shows come in a large variety with magicians, legendary performers, Broadway musicals and plays and of course the many different Cirque du Soleil shows.
In our most recent getaway to Las Vegas for the weekend we had the privilege of attending Mystere, a world class Cirque du Soleil show that is permanently located at the Treasure Island Hotel and Casino. It's no doubt that this was the highlight of our trip and we looked forward to it all weekend.
Mystere is actually a groundbreaking show because it paved the way for the rest of the Cirque du Soleil shows being that it was the first of its kind to be permanently set in Las Vegas. Mystere provides a mixture of acrobats, gymnastics, dance, opera, new age music and comedy all wrapped up nicely into a circus style of entertainment with it's own unique flair.
The show keeps you on the edge of your seat and really fulfills all your entertainment needs with drama, comedy and curiosity. You will never be bored and it's a show you could see over and over again and still pick up something new. The storyline is completely up for interpretation and I have no doubts that every member of the audience gained a different perspective of the meaning of the show.
It's a beautiful show that I would recommend to any and everyone. It's simple enough for children to enjoy and complex enough for the adults to gaze in awe. The hour and a half zooms by and you constantly find yourself gasping and nudging your neighbor wondering how this is even possible?
Make sure to include this or any of the Cirque du Soleil shows in your itinerary on your next trip to Las Vegas- because missing out on the entertainment is like missing out on the cake and ice cream at your birthday party- disappointing.