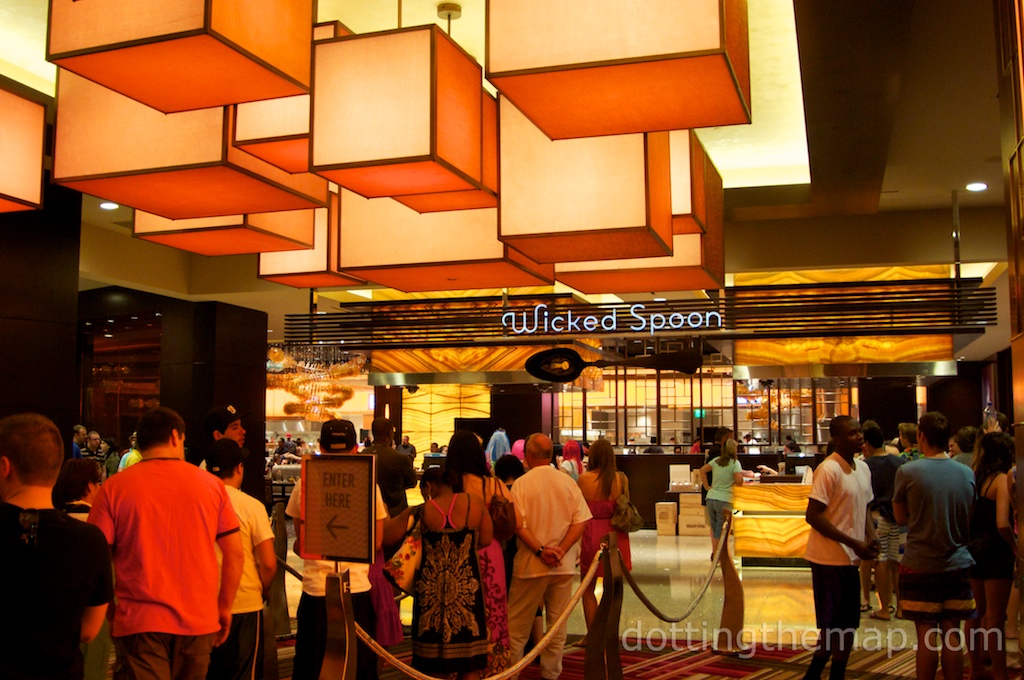 On our most recent trip to Las Vegas we had the opportunity to try out Wicked Spoon at the Cosmopolitan hotel. I was intrigued by this buffet from all the reviews and features I had read about it. It seemed funky, fresh and a new take on the traditional Las Vegas buffet.
My first thoughts as I looked around was how young the crowd seemed. I really did love the Cosmopolitan hotel and thought it seemed to appeal to a younger crowd. It's located in the chic new City Center in Las Vegas and is easily accessible by the Las Vegas strip. But seriously most people seemed to be between 16-35 years old. Although I should mention we were there for brunch, so maybe that makes a big difference.
I loved the fact that the buffet had individual servings in little pots or other unique serving dishes. For example they had little fried chicken wings in miniature fryer baskets. It made it for a different buffet experience when so many seem to be cookie-cutter and offer much of the same cuisine.
I thought the food quality was above average for buffet fare. Typically you will find buffets to be mediocre food in large quantity, which is the basis of it's appeal to most people. But I enjoyed most everything I ate. I loved the goat cheese ravioli (drool) and the angry macaroni and cheese (spicy), and of course the gelato and mini lava cakes in the dessert section.
The decor is modern and fun and while it is a rather big buffet, the way they have the room set up and divided it gives it a more intimate feel and is very comfortable.
It seemed we weren't the only ones that enjoyed the food because the line to get into the buffet was extremely long even for brunch. I would suggest trying to avoid traditional meal times and going a little early to bypass a wait.
*We were hosted by the Cosmopolitan Hotel to try out and review Wicked Spoon but it in no way affected our opinions.