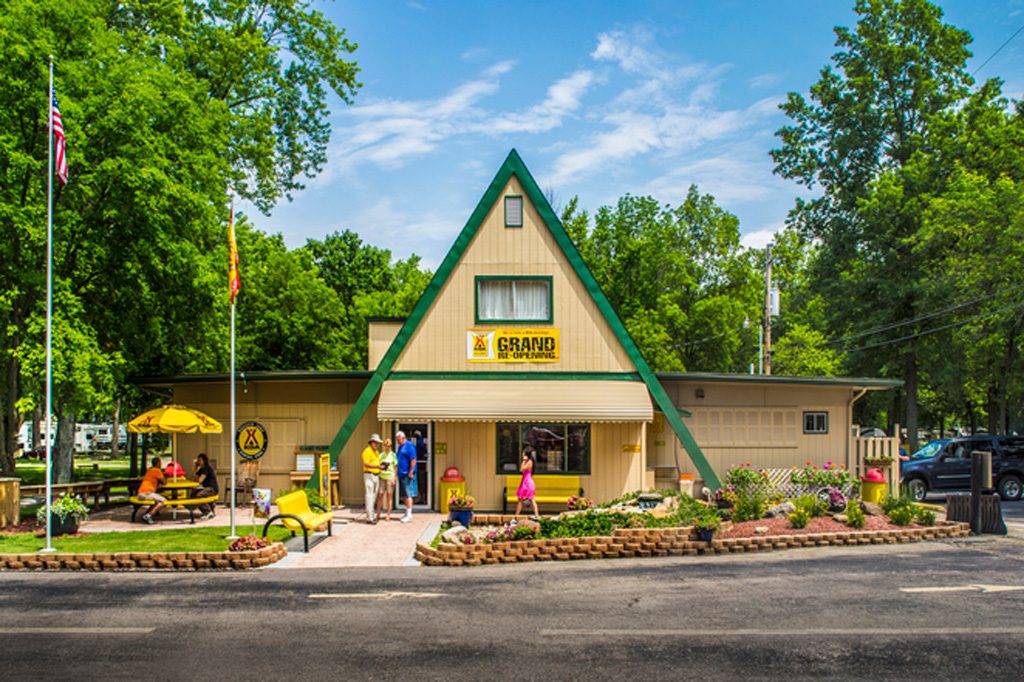 KOA Kampgrounds
KOA stands for Kampgrounds of America. It's a company that was started in 1962 in Billings, Montana. Since then it has become a nationally recognized franchise of campgrounds that mostly specializes in RVs but also has tent camping sites and cabins. There are three different types of KOA campgrounds and there are over 500 locations in the country.
The three different types of KOA campgrounds are KOA Journey, KOA Holliday, and KOA Resort. There are some differences between these main types of campgrounds but there are also some similarities. For example, every KOA campground has laundry, a convenience store, a pet area, and a playground. These are great amenities for families.
KOA Journey
A KOA Journey is just like what I described above, it's more for long-haul drives that you need an overnight stop or two. They all have pull-through sites that can accommodate 50 feet RVs, premium tent sites and are well lit so if you come in after dark it's still easy to set up. All the Journeys we have stayed at so far have also had dry cabins for rent.
KOA Holiday
KOA Holidays are designed to enjoy time with family and friends and usually have more amenities than the KOA journey. They feature premium sites often with patios and fire pits. They also have deluxe cabins with bathrooms and meeting spaces. This is a great opportunity for families traveling together as a group to enjoy time together. Some could be in RVs, some in tents and some in cabins and all can enjoy the fun amenities and experience together at the KOA campground.
KOA Resort
The last type of KOA campground is the KOA Resort. This is the option that you will find the most amenities and will truly feel like a vacation just at the campground. The amenities include all the same as the KOA Holiday but also includes resort pool, premium cabins with linens and bathrooms, and indoor and outdoor meeting areas.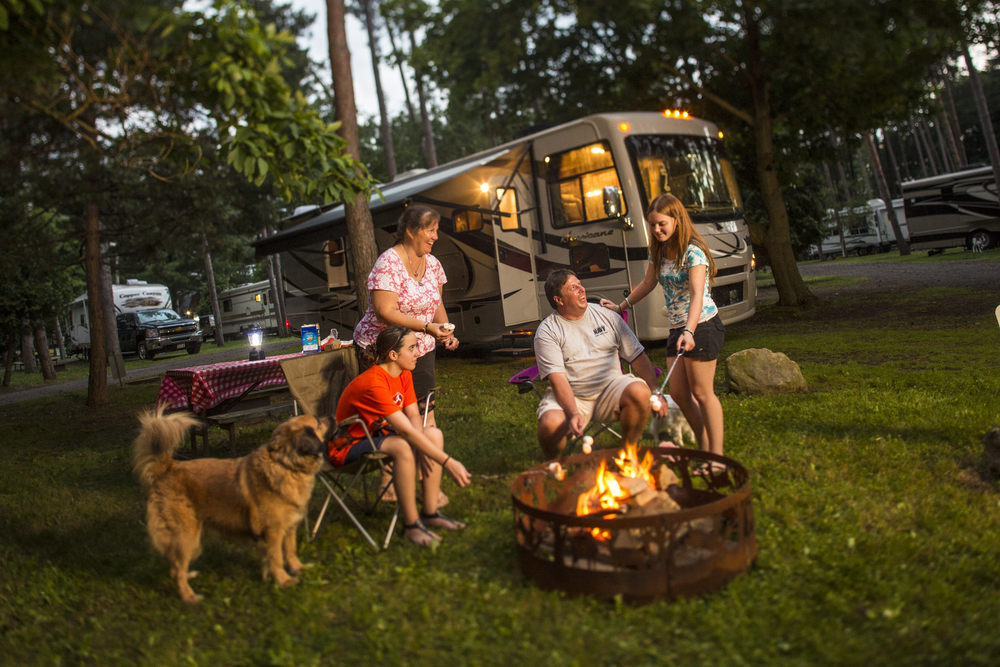 Related Posts
Tips for a Screen Free Road Trip
---
Just a little background on us- in case it's your first time here. We love to travel and we're currently traveling the country in our RV full time as a family of 6.
It's pretty typical for us to take our time when moving and traveling. When moving day comes we only like to travel for no more than four to five hours a day but really our sweet spot is three hours. We also don't like to move more often than weekly. It wears us and the kids out. On the road, we quickly learned that we like to stay a place about 7-10 days. We do this to really explore areas and also to avoid moving too often. It is a lot of work to pack up and haul our lives down the road.
So when we realized we had to get from Las Vegas to Galveston, Texas in the space of 9 days we knew we had to do a little bit of extra planning to make it a comfortable journey. This would be our longest haul in a short amount of time. We decided that it would be easiest to tackle this 23-hour drive if we broke it up into 4 or 5-hour chunks and tried to stay in a few places for at least three days each to give us a break instead of constantly moving every day.
We partnered with KOA because we had heard great things about their Journey Kampgrounds. These campgrounds are conveniently located on major highways and freeways throughout the United States and are designed to be easy overnight stops for travelers passing through on their journeys. We also tried to choose destinations that we thought would be of interest to our kids and where we could see and experience some new places along the way.
Stop 1 – Petrified Forest KOA Journey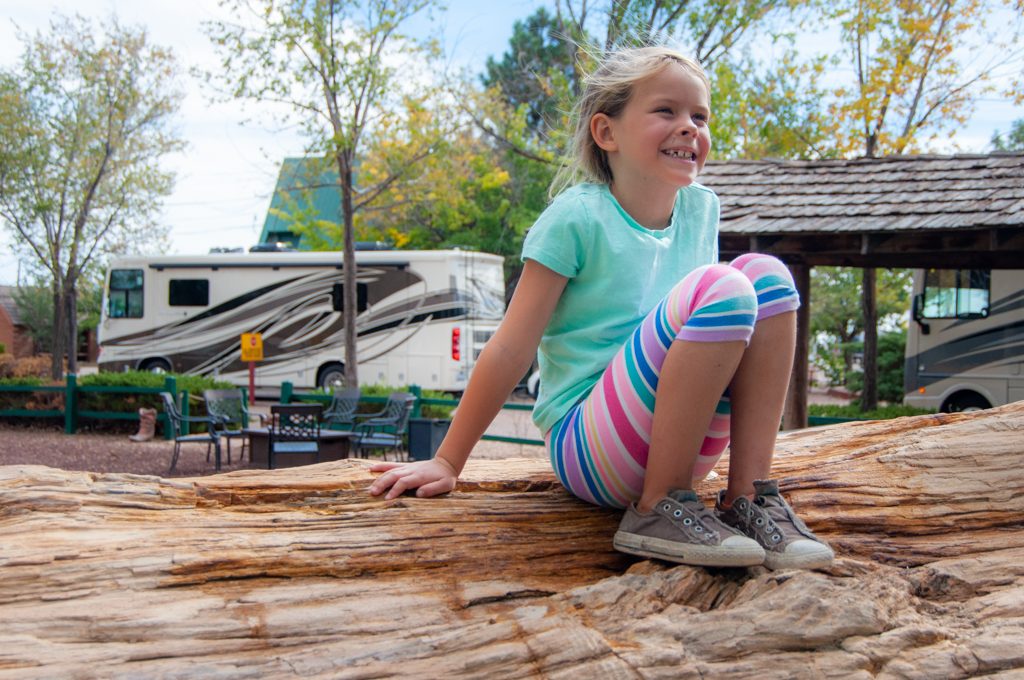 Our first stop was the Holbrook/Petrified Forest KOA Journey. You may think we were crazy for by-passing the Grand Canyon but the truth is we had just visited the Grand Canyon about 2 years ago and we didn't have as much time to give it that we felt it needed. I had visited the Petrified Forest National Park as a pre-teen with my grandparents and was interested in taking my kids there, so Holbrook, AZ was the perfect location. I'm so glad we did. This KOA was twenty minutes from the park entrance, had a great playground, and even had an on-site restaurant that served breakfast early and a late dinner. The pull through sites made for a quick set-up since regrettably we got in well after dark. We loved the sites that had patios and privacy fences.
If you haven't visited the Petrified Forest National Park and Painted Desert. It's a must add to your list. I think it may be one of the underrated National Park's but it was beautiful and the kid's loved exploring.
Stop 2- KOA Albuquerque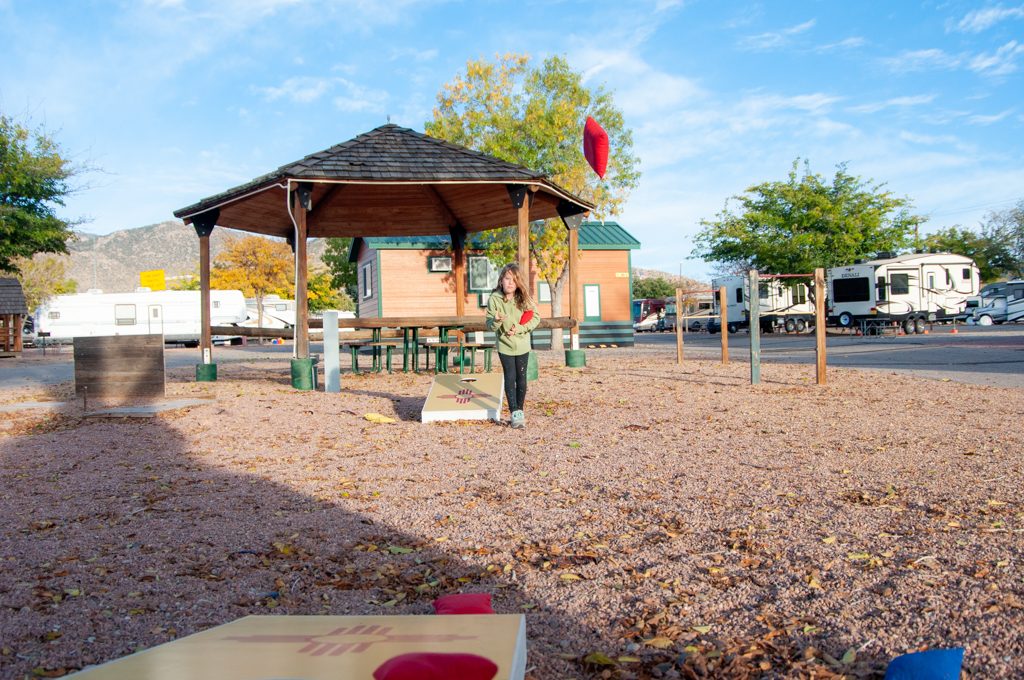 After a few days of exploring Arizona and another five-hour drive and we were in Albuquerque. We loved how the Albuquerque, New Mexico KOA was right off the freeway, had the option for patios with fire pits and nice patio furniture. The sites were paved and the campground had mini golf, a convenience store, a playground and lots of great places to relax. The showers and the bathrooms were the cleanest and nicest of any campground we have ever stayed at. It was simply superb. The close location to shopping and dining was very convenient to us . We also appreciated the security and how the campground was gated in. We never once felt unsafe.
If you have time take the Sandia Peak Tramway up to the top of the Sandia mountains. It is only a short drive from the Albuquerque KOA and the view is stunning. The kid's were surprised to see their first snow in October in New Mexico!
Stop 3 – KOA Lubbock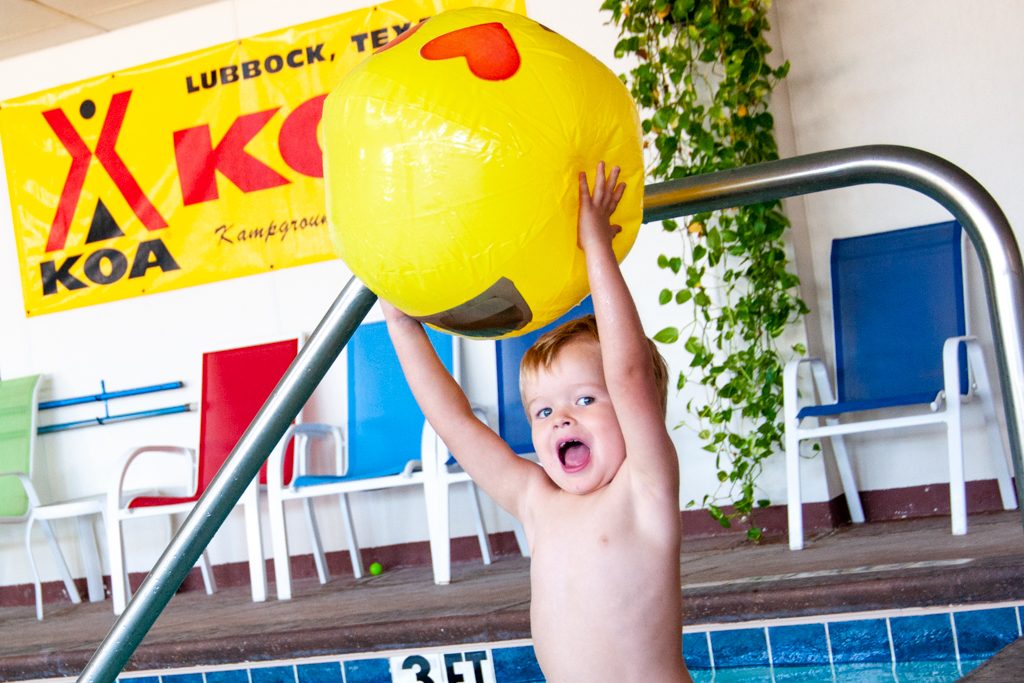 Our last KOA Journey stop before we ended our jaunt to Galveston was at Lubbock KOA in Lubbock, Texas. We may have cheated a little bit here because looking on the map we saw that it was just a quick detour and we had family in the area. We felt it would make a good stop to enjoy a little family time before the rest of our road trip. The Lubbock, KOA campground had a few surprises for us. We loved the fact that they had an indoor pool. This is a big deal amenity for travelers because no matter what time of year it is you can stretch out your legs and get some energy out in a heated pool. The kids were big fans but we saw people of all ages enjoying the pool.
---
Things We LOVE About KOA
A couple things I love about KOA Journeys for long haul RV trips with your family:
Making Reservations
Making reservations with KOA is a breeze and call all be done online. However, if you prefer to make them over the phone or you have a question it's easy to give the campground a call and they will help you out.
Trash Collection
They come around and collect trash. This is a simple yet thoughtful thing. Sure, you can haul your trash to the dumpster on your own, or you can leave it bagged up and they will take it for you.
Pull-through Sites
Plenty of pull-through sites available. Makes for easy ins and easy outs. This is amazing when you are setting up for a just a day or two especially if you happen to get in after dark which we almost always did.
Full Hook-ups
They come with full hook-ups. A nice feature for a family of six. They're not always necessary for short layovers but they sure make life easier. It's nice to run a load of laundry without having to worry about emptying tanks.
Awesome Staff
KOA's always have a helpful and friendly staff. They were always willing to bring us by firewood, help us find a good site, and even lend a hand to set up if we needed.
Camp Stores
All KOAs have convenience stores or KOA Kamp Stores as they are called. This was especially helpful when I realized we were out of mayonnaise and I needed to make up a bunch of sandwiches for our road trip the next day. Plus the kid's enjoyed using a little spending money on suckers and small candy.
Cabins
If you don't have an RV they have great cabins, some with two bedrooms that are a great price as well as tent camping sites and every KOA location has a bath house with indoor restrooms and showers.
KOA Membership
Another thing to note is the KOA membership or rewards program also known as KOA Value Kard is a loyalty program that you buy into (around $30) and receive 10% off your stays. Usually the program pays for itself fairly quickly if not within the first few nights. You can also accumulate points that are redeemable for cash off your stays as well. If you plan on staying at several KOAs throughout the year it's a great program that is well worth it.
We were hosted by KOA to experience their KOA Journey campgrounds on our recent long haul road trip. Our opinions are our own.
Pin This