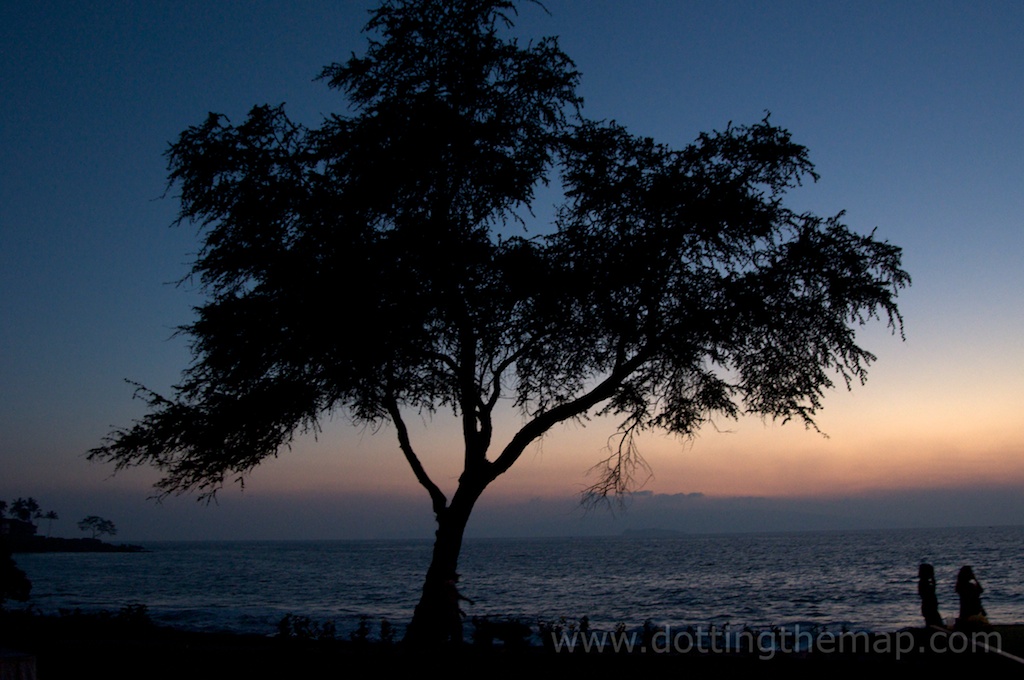 My all time hated response to when people find out what we do is: "lucky" or "I wish I could travel that much." I think this is a common feeling among travel bloggers about the reactions we get. I promise I'm not "lucky" as if this by happen chance fell upon my lap. Seven years of hard work, dedication and passion does not equate to luck (ok maybe there was a little luck thrown in there but it's initiated luck). And my response to "I wish I could travel that much," is you can! You totally can! But it has to be something you WANT and something you will SACRIFICE for.  I'll explain throughout the post.
I did not grow up traveling. I was not given the opportunity as a young child to see the world. And that's ok. Maybe it's for the better. I think it would have been too distracting for me if I had, I may not have gone to college, met Reid and things may not have worked out the way that they did. Reid however grew up traveling, experiencing the world, and got his own case of wanderlust at a young age (he can't stand that term wanderlust). It's something that carried over with him as he got older, but didn't mention it that much to me as we were dating (although his month long trip to Europe should have tipped me off). Because I had never had the taste of what it was like to leave, and experience new things I never gave it much thought. Traveling to me was as much a foreign idea as the concept of others visiting foreign countries. I just had never done it and didn't understand it, but kind of really wanted to try it.
So after a year of marriage and just before we were both to graduate college we took a trip to Washington D.C. so Reid could show me around where he served his LDS mission. And then I was hooked. It didn't help that my sister-in-law was a flight attendant and always galavanting off to awesome and exotic locations. And that's where it all clicked for me. Travel was not only doable but attainable, and I didn't need to be a millionaire to do it. So as we were applying for different jobs straight out of college you can understand that the three places I applied for were corporate jobs  for Jet Blue, Southwest and Skywest. But more about that later.
We are not rich. We have a mortgage, student loans, we live off of one middle class income, yet we travel 12 plus times a year. That averages out to be about once a month. Our special secret: we made it a priority. I know it's a whopper right? But it's true! Think about the priorities and passions in your life and then see where you allocate your extra income. We make sacrifices because it's a passion in our lives. Our priorities go as follows: Faith, Family and Travel. We don't go out to eat very often, we drive crappy cars, we have old furniture gifted to us from our parents when we got married, we budget like crazy all to feed our passion! You all do it too but your passion may not be travel, it may be motorcycles, camping, or even movies.
We put all of our bills and expenses on credit cards and use the points and miles to pay or subsidize our travel expenses. For the first three years after college, Reid worked for a regional airline in their corporate office so we were able to fly for free (oh yes, it was awesome). It's true that once in awhile we go on press trips or get free stays at hotels and the like, but I work for those! I am always the one negotiating and working with PR people and outreaching. Very rarely do they get offered to us, and we don't often get invited on group press trips. It happens, just not as often as people think.
What I am trying to get at, is that if you want to travel you have to make it happen. Unless you win a contest no one is going to hand it to you. I don't want people to think that they have to be rich or empty nesters to travel. And you don't have to live the nomad life either! We travel and yet we have a homebase (remember the mortgage?). And maybe you don't even want to travel that often but you just want to make that trip to Australia you have always dreamed of. Take the first step to make it happen!
My mom always talked and dreamed of going to England. She would talk about it often and yet she didn't even have a passport. I would always remind her and ask her how she intends to get to England if she doesn't even take the simple step of getting a passport. Her granddaughters both got their passports at 3 months old. Finally years later of me pestering her about it she applied to get her passport and the second she got it in the mail she called me sounding like a kid in the candy store. TAKE THE FIRST STEP. Don't just dream about it!
Set a plan. Put out a coin jar or set up a direct deposit to automatically take out money in an account each month. Do your research and find the best deals and educate yourself what the best deal would be. Don't just take the first one that comes along. Initiate your plan and even if it may be small just make it happen! Rome wasn't built in a day.
Travel inspires me. It makes me a better person. It makes me a happy person. I love to share it with my husband and my two daughters. It has brought us closer together as a family and keeps us connected with the things that really matter. Why we are here in this world and what we hope to accomplish. I truly wish for everyone to get the opportunity to see the world. One spectacular view at a time.
What are you going to do today to make your travel dreams come true?