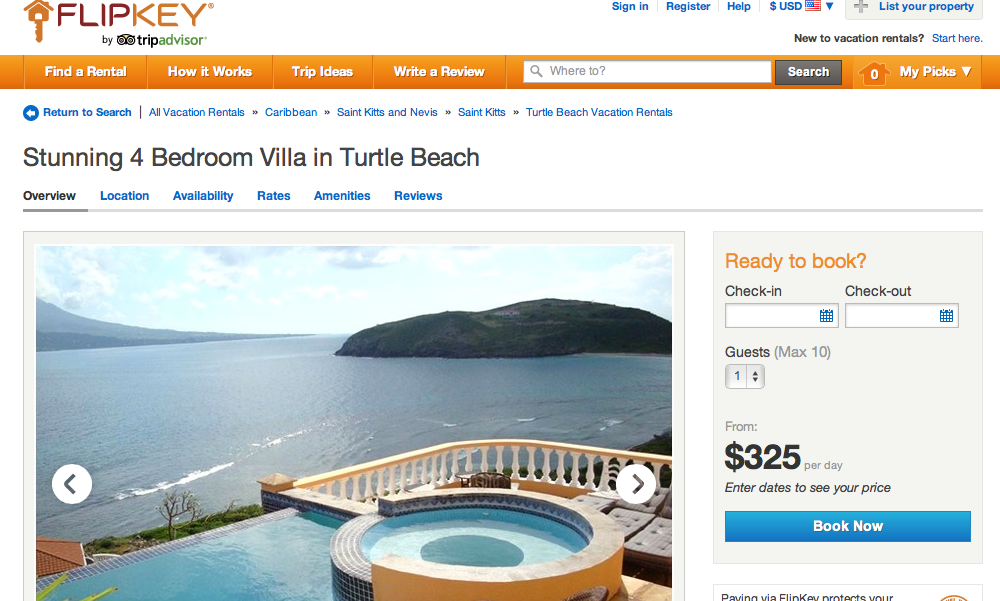 You have heard many times that vacation rentals can save you money and can be great options for accommodations for vacations. This is true especially if you are traveling and have a big family where you might need multiple hotel rooms or traveling with several families and friends. I personally love the idea of vacation rentals with friends and family because you have common space where you can hang out and spend time together but also personal space where you can escape.
For me, since I vacation with so many littles a vacation rental is appealing because most come with full kitchens and multiple bedrooms. I hate it when we are in a cramped hotel room and I have no where to warm up bottles, or make a grilled cheese and when kids go to bed- you are stuck sitting in the dark staring at the ceiling.
However, choosing a vacation rental can be so overwhelming. There are so many different sites to look at. SO. MANY. So which one is the best one to choose? That's really up to you. But personally I like FlipKey. I like it because it's owned by TripAdvisor, a site that oozes professionality and ethics. I feel like it might be more trusted. Plus it comes with a $10,000 peace of mind guarantee for your reservation if you book with them. So you don't have to worry if you get there and it ends up being a run-down shack or some form of internet fraud.
So here are some tips for finding that perfect vacation rental, because let's face it- it can be overwhelming and hard to choose.
1. Sit down and make a list of some of the amenities you would like to have. For example, if you are looking for a cabin in the woods you may want a fireplace, a hot tub, wireless internet, etc.
2. Set a per night budget so you know how much you want to spend. And please don't forget all those pesky fees that tend to pop up. Sometimes they are hidden and they are obnoxious. Cleaning fees, resort fees, tax, finders fee, who knows what else. Sometimes it can add a lot to your initial reservation.
3. Narrow down your area of where you would like the rental to be.
With FlipKey you can set the search to what you would like to spend per night, what amenities you would like the vacation rental to have, and what area. This helps a ton and gives you many great options. Sometimes too many great options, it can be hard to narrow down which ones to choose. I suggest saving your top five favorites. Then you can either email or call them directly to find out what the total of your stay would be. Also look for properties that have reviews on them. It's nice to know what actual real people thought of the place you are interested in.
After you have decided which one you want to choose and made sure it's available for the dates you are interested in- it's time to book! I suggest doing it through FlipKeys site for the protection but sometimes thats not possible and you have to book directly. That's a personal choice. Then pack for your trip and enjoy!
*FlipKey has not compensated me for this post. These opinions are all my own. However, we do have discussed potential partnerships for the future.