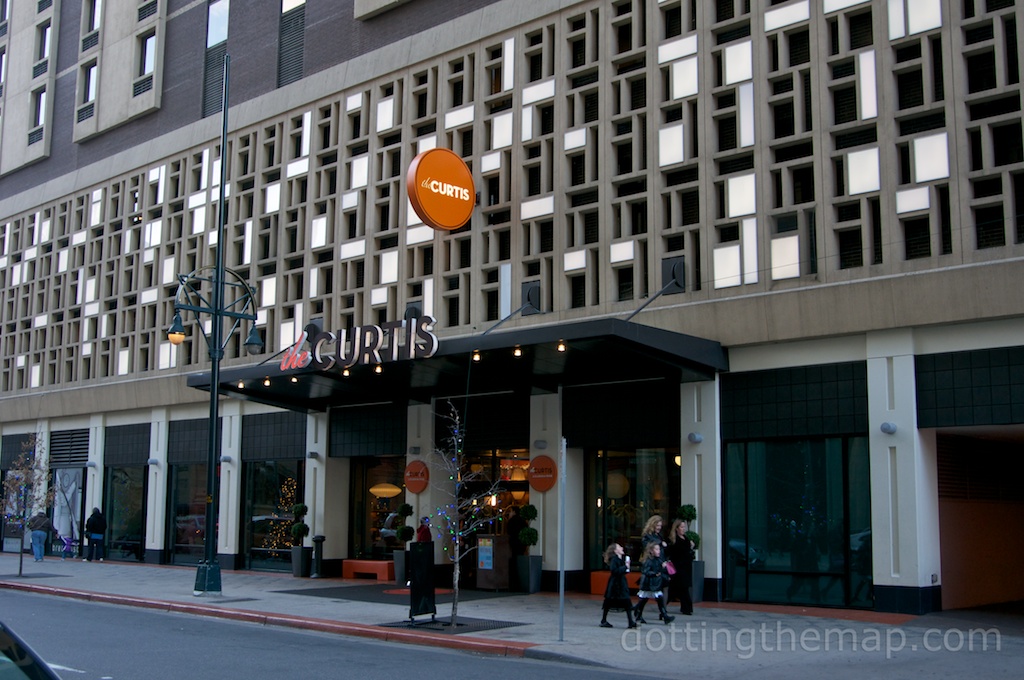 It's really hard for me to choose favorites in this world of so much beauty and luxury but we both have agreed that the Curtis Hotel in Denver is indeed one of our favorites. It has everything we look for when choosing a hotel. Personality, color, flavor and of course free warm cookies. We do tend to congregate to a more modern flair when it comes to hotel choices and that's why we adored the Curtis. Not only is it modern but it's fun for everyone of all ages.
We loved the themed floors, the location, and the super comfy beds. Reid told me I had to call them as soon as we got home to find out what kind of pillows they used. I must admit it was one of those plop into bed and immediately fall asleep once your head hits the pillow incidents. We got a corner room near the top and it was huge. We wished we had more friends in Denver so we could throw a party and show off our room. It is definitely family friendly but also a great place to wow a date.
As you know, everything is about the details for me. And The Curtis Hotel did not disappoint. I love it when hotels have high-end toiletries in their bathrooms but details at the Curtis goes beyond that. Going with their theme all things pop-culture you can even receive a wake-up call from Mr. T or Elvis. We felt like little kids exploring each floor and playing with the elevator to hear the Simpsons voices and different songs. They also have books and games in the lobby you can check out, and a fun little shop to pick up some retro snacks, drinks and trinkets. With an extensive room service menu and a lot to explore, you will never want to leave the hotel!
We not only give the Curtis two thumbs up but we also give it a definitely will stay again high five.
*The Curtis hosted us at their hotel and we loved it. Them hosting us in no way created a bias for this review.