The Winner of the Honeywell WI-FI Thermostat giveaway that was chosen at random is:
Thanks to all who entered!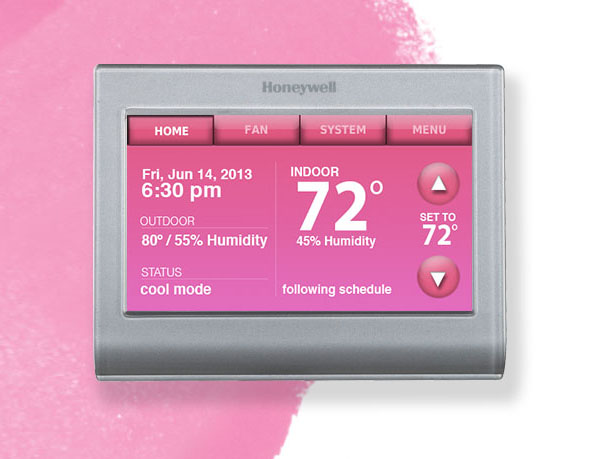 *This Is A Sponsored Post By Honeywell
We are always looking for ways to help us out when we travel or even better ways to help us save money and it doesn't hurt if it helps out the environment a bit. When we were given the opportunity to review the Honeywell WI-FI Smart Thermostat we were excited. To be able to control our thermostat while we are on the other side of the world seemed like a dream come true.
Some things we really liked about the product is the customizable touchscreen. It looks sleek and high-tech which appeals to my gadget loving husband. My girls and I loved that the screen color can be changed, of course we chose pink.  We found it very easy to connect and to set up WI-FI feature and we found the app easy to use as well.
We loved setting up a weekly schedule and since our schedule changes quite frequently we were grateful it was easy to change and set up. It's very important to figure out before purchasing this product whether or not your unit has a C wire or not, that will change the ability of whether or not it will be possible to use this specific thermostat in your home.
Our house actually uses a heat pump and we could tell a difference right away with the consistency of temperature in our home and most importantly knowing that if we are out of town and forgot to lower our AC or heating temp we can easily access it from anywhere in the world.
We are grateful for this opportunity to give away a Honeywell WI-FI Smart Thermostat to one of our readers so they too can enjoy peace of mind while they are away! Please leave a comment letting us know you want to win and why (please make sure your residence is set up to use this kind of thermostat by making sure it uses a C wire) and winners will be chosen by random on April 28th!