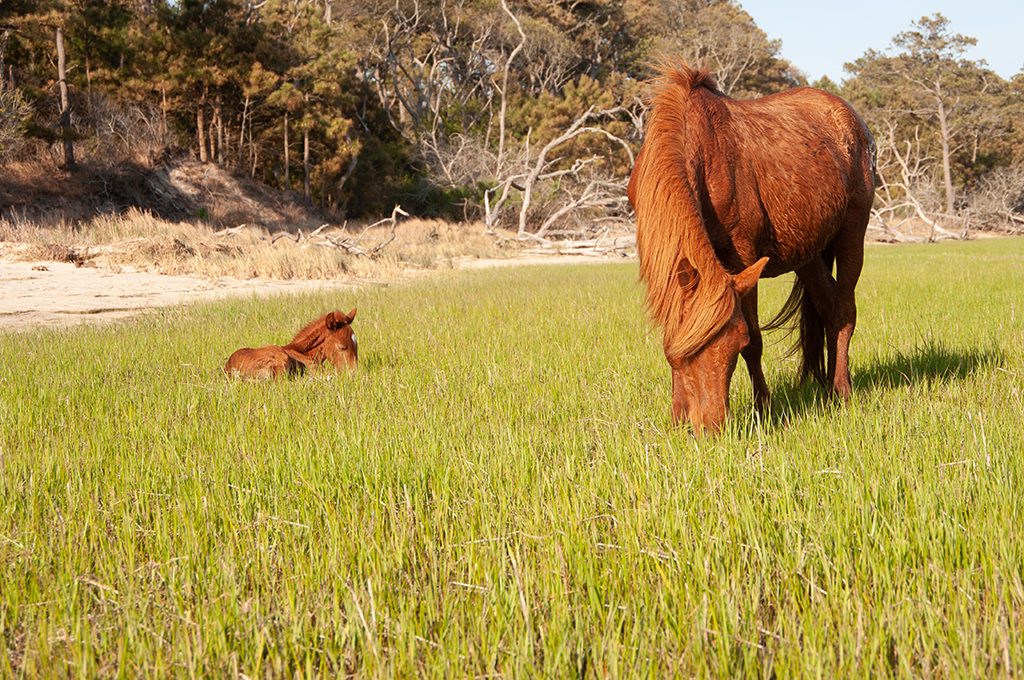 When we first started planning our full-time travel as a family in an RV, our oldest daughter immediately started chiming in with suggestions. The top of her list? Visiting Chincoteague Island, home of the annual Chincoteague Pony swim, to visit the wild Chincoteague Ponies. She is more than a little horse crazy and has been obsessed with the Misty of Chincoteague book series since she first read their pages.
To be honest I didn't protest much because the whole idea of wild horses wandering a population-less island seemed very dreamy to me. As I was researching the area and planning our visit, I didn't really find much information on the national park or what to expect when we got there. Because of this, I honestly believed that once you were there you would just find ponies wandering around and that you would be able to get close enough to them to view them easily. Unfortunately, this was not the case. However, during our visit, we learned a lot of great tips and tricks that will help you have an enjoyable day at Chincoteague National Wildlife Refuge for yourself. Hopefully, after reading hopefully you'll be able to find some ponies easily.
First, plan on spending the whole day at the national park. There is so much to do and enjoy here that you might be disappointed if you don't have time to enjoy it all.  Ponies, beaches, visitor's centers, a lighthouse, and all sorts of wildlife will fill your day. Pack a cooler with lunch and drinks so you can fully enjoy your day without having to leave the island. Don't worry, if you need to head back to town for lunch it isn't too far.
Packing List for Chincoteague Island
Bug spray
Sunscreen
Binoculars
Camera
Refillable Water Bottles
FOOD- lots and lots of food. Bring a cooler
Beach clothes to change into, towel, sunscreen, beach toys
Walking shoes
Bikes and helmets
Cash for $25 entrance fee

Bring Your Bikes
There are so many great and beautiful trails on Chincoteague Island that you will want to bring bikes. We debated for a long time whether or not to bring them and I am so glad we did. Most of the trails are paved and pretty level, making them easy for all ages. They were so beautiful and biking together as a family ended up being one of the highlights of our visit. There is a Chincoteague wildlife loop which is perfect for bird watching and the occasional pony herd wanders through.

How to find the Chincoteague Ponies:
If possible, get to the park in the morning as early as you can especially if you are visiting in late Spring or summer when it tends to be hot. When the weather is warm during midday the horses retreat to the forest to stay cool. In the morning you will likely be able to see them in the pen at the head of the woodland trail or on the various lookouts on the trail itself. We found it very helpful to talk to the park rangers and other visitors to help pinpoint where the ponies are at any given time. The horses are wild and unpredictable, so they do their share of wandering, but the rangers usually have some ideas of their typical routes. Keep your ears open and ask around to see who has seen ponies and where they were spotted.
When it is cooler in the day (early or late), biking or walking the woodland trail is usually a safe bet. We did see one herd of horses from the observation deck in the late afternoon but they were pretty far away. Asking around we heard a rumor that some ponies were on the beach just off of the woodland trail. Other folks said they were too far away. Not one to turn down a challenge we went off the beaten path and struck horsey gold. The ponies including a brand new foal were grazing off the beach in the most magical way.

Plan time for the beach
During the day when it is hot and the ponies are hiding is a great time to enjoy a swim and picnic on the beach. The National Wildlife Refuge has miles of clean beach to roam with parking, changing rooms and outhouses. In early May the water was still chilly but the kids were quickly off wading. If the beach is not your thing then you can also visit one of the two visitor centers, one of which has the famous Chincoteague eagle cam. There you can learn about the Chincoteague Ponies and other wildlife, shop the gift shop and enjoy some air conditioning.

Island Lighthouse
The Chincoteague Island Lighthouse is an easy short walk on a wooded path. Apply bug spray before you head into the wooded areas to safeguard yourselves against ticks and other bugs. We really enjoyed the views of this historic lighthouse and believe in peak summer times it is open to the public.
Chincoteague Pony Swim
The pony swim and auction usually takes place in July, and due to our trip schedule, we won't be able to see them this year. If you're planning on attending make sure to get the official dates from Chincoteague Island and make sure to plan ahead. The event brings in more than 40,000 visitors annually.

Be Patient and Enjoy the Day
My main advice for visiting Chincoteague is to be patient. Enjoy the day. Know that you may or may not see ponies out in the wild but you will likely see them at some point in the pony pens. If you can, enjoy the whole day there. Seeing the Chincoteague Ponies will be remembered as some of our favorite memories for years to come.
Chincoteague Island VLOG
Pin This: