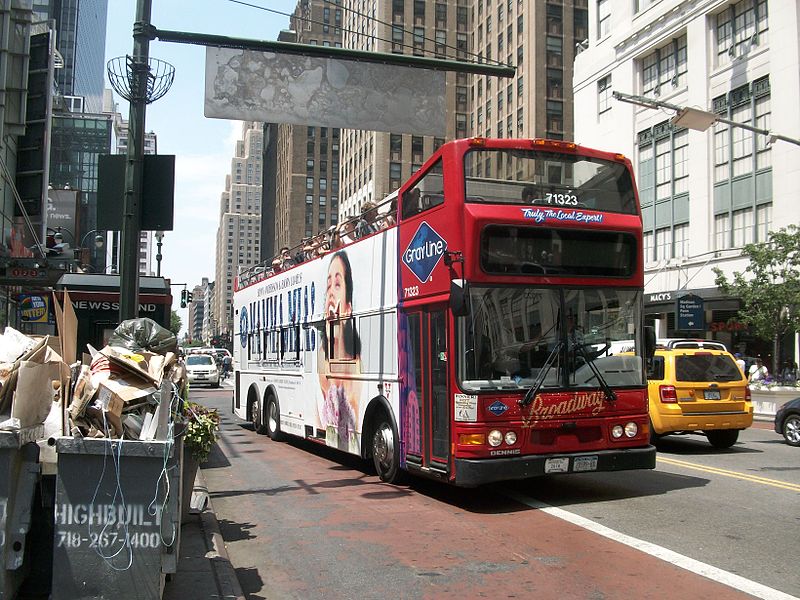 Before we left for New York City I spent a great deal of time researching the best ways to see the sights in New York City with two small children. I was worried we would miss so much dealing with strollers, trains, and diaper bags and I depseratly just wanted to take it all in. I knew there was so much-too much to see so I went into the trip knowing and understanding we weren't going to see it all. But I was hoping that maybe we could at least see a good chunk of it.
That's when I came across Gray Line Tours hop on hop off bus tour. It seemed like the perfect opportunity for us to be able to see the sights and not wear out our children completely.
The terminal itself is a short jaunt from Times Square where we picked up our tickets and our maps. We decided we would try the downtown loop first, which we were told would be two hours all the way around. I was slightly dissappointed because the weather was not cooperating and it was freezing so we had to sit inside the bus as opposed to the top. But the interior seats were warm and stadium style, so when I wasn't wrestling with ToddlerTravels we were able to enjoy the sights.
I think this is a great/fun option for those traveling with children or elderly but I do need to point out it takes awhile with traffic and on busier touristy days the buses fill up at drop off locations so you may have to wait for a few buses to be able to catch one, but they run very frequently. Still that being said, we had a lot of fun seeing New York while BabyTravels napped on my arm (so convenient).
*Gray Line provided us with complimentary bus tickets to review their tour. This did not sway our opinions for the review.