Interested in becoming a VipKid Teacher? Click this button to apply!

In an effort to help support and sustain our entrepreneurial lifestyle while we build up other businesses– I decided to get a job with VipKid which is a company who teaches ESL to Chinese children. The job lets you set your own hours and actually pays a decent hourly wage which makes this job a perfect supplement for teachers as well as others looking to make a little extra money. The requirements for teachers is a 4 year degree from an accredited school and teaching experience. This does not have to be in a traditional classroom. I personally was a Communication's major and decided to apply and listed my experience as teaching children at my church (which I had done for the past four years) as well as homeschooling my own children.
See Related:
How to Make Money and Travel Full-time Working at VIPKid
How Much Money Do You Make Teaching At VIPKID?
15 VIPKID Classroom Essentials for Teachers
I passed the application and was prompted to set up an interview in which I would do a mock class. I'm going to be 100% honest with you. I was so blind going in and had no help or support through the interview process. I was not using a referral link as I knew no-one who worked there. Looking back I wished I had someone to coach me along. If you want someone to help you through the interview process please use my referral link and email me and I will guide you. It would have saved a lot of headaches.
Once I set up my mock class interview- I legit had no clue what I was doing. The first one you teach is a 5-year-old who knows absolutely no English. So instead of saying directions you keep instructions to an absolute minimum (they will call it incidental language) and use TPR which means Total Physical Response. It's key that you study this via YouTube or ask your referral for help. I seriously thought I had botched this so bad but somehow I made it through the first interview and was offered 7.50 per class (plus the on-time and 40 classes a month incentive).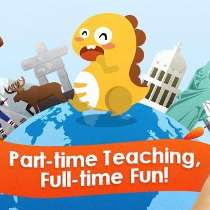 On to the first mock class(es). This class is scheduled with a VipKid mentor who is someone who has been teaching there for quite some time. It's kind of like a roulette of who you will get. This class you are going to teach a full class to a child with little to no English skills. You need props. You also need to study synthetic phonics. And you need to TPR like crazy. I was so nervous for this part of the interview.
To help out, I prepared, studied and watched too many YouTube videos and then of course the day of there was a major internet outage in my area. So I jetted to my inlaws house and thank goodness it worked out ok. I had the NICEST mentor for my first mock class and it put me at so much ease. He was so kind and patient and offered great tips.

There are a very select few who do amazing at the Mock Class 1 and are just hired. MOST people have to do another Mock Class this time half of the class will be little English ability and the second half is a higher up student with English ability. I think it's great to have one more chance to get some feedback before you start teaching so I was looking forward to it. With the higher levels, there is way less TPR and way more interaction and discussion. Those are still my favorite to teach today. I was still nervous but felt ok about this grueling interview process.
In the second mock class, my mentor came on and he was a complete jerk. He right away made me feel like dirt so my confidence was shattered and I felt like just giving up. He made my interview way harder than it needed to be and he also made me feel really stupid about things I did. Hey- I was a beginner this was new. He also berated my rewards system and a bunch of other unnecessary stuff. Somehow I'm not sure how I passed. That being said I wanted to be honest and tell you the process was not fun. In fact, it really sucked but now that I'm hired I love it so it was worth it.
After you pass all of your interviews… you still aren't done. Then you get a bunch of training and a simple test to pass (just making sure you went through the training) and you have to upload a bunch of documents, pictures, write a bio and upload an intro video. It's quite the process. Then you are ready to start booking students! This is where I'm not going to sugarcoat it for you either. Don't expect to get hired and open a bunch of time slots and expect them to fill up. It takes months and months for you to establish yourself (just like any business). Build a relationship with the students, work on your craft, join the Facebook communities and make sure you have a good intro video and profile pic.

If you are interested in getting started with VipKid and want help through your interview process please use my referral link and contact me. I would love to help you. Please note due to time constraints I cannot help those who don't use my referral link, I'm building businesses and I have four kids and homeschool! But I will continue to write these posts so check back for more info and tips! Interested in becoming a VipKid Teacher? Click this button to apply!