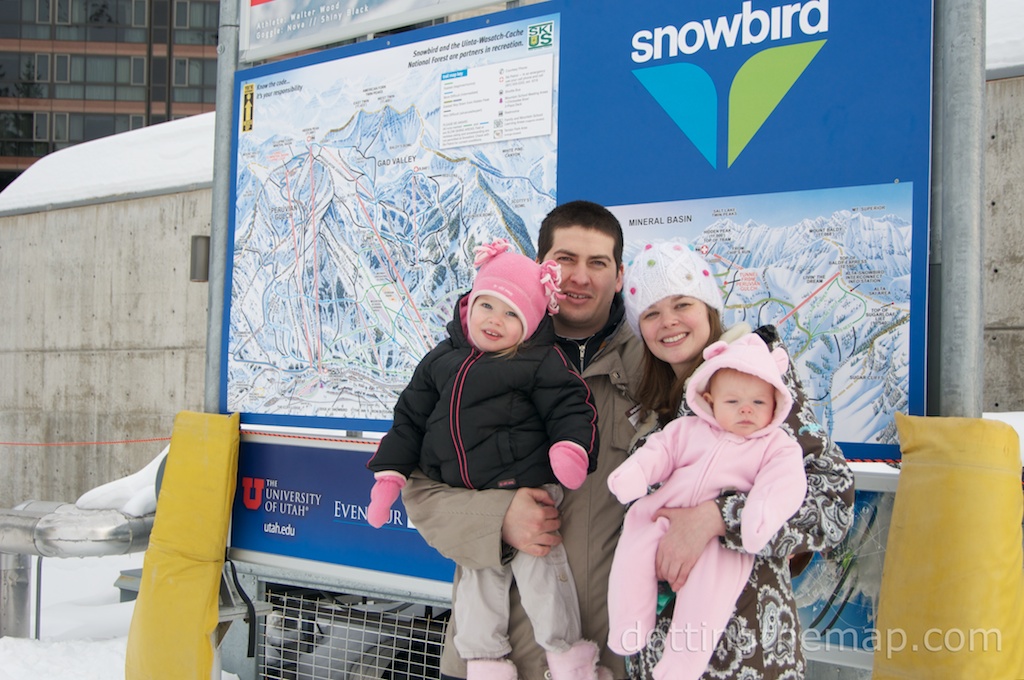 Skiing and snowboarding isn't usually just a typical recreational activity or believed pastime, it's a passion. One that is often passed down from generation to generation as families take the time to journey to the slopes, laugh, cry and bond. This is why "take a ski vacation" was included on our list of 12 travel challenges for 2012. Reid and I both share the love of snowboarding and are anxious to enjoy it together along with our children (next year ToddlerTravels will take up skiing!).
We had never been to Snowbird before but had heard countless remarks from colleagues, neighbors and friends about what a great place it is to ski. We decided to include it on our list and check it out. I was very impressed by some of the lengths they had gone to make it so family oriented and make it easily accessible for people of all ages and skill level.
I'm not going to lie, as we pulled up to the resort for our all inclusive vacation my stomach dropped a little as I saw the magnitude of the terrain (not sure how fear of heights and snowboarding mixes really). But was pleasantly surprised to find some green and blues that I not only felt comfortable with but enjoyed more than usual. I was impressed with all the runs that would make a beginner feel at ease, so brining little ones that have never learned before would be more than possible.
I also loved the fact that they have Camp Snowbird, a fun looking daycare (we did not actually get to use because we had a nanny on hand and BabyTravels is only four months old) that accepts children as young as 6 months old. See? It is possible to enjoy a day on the slopes with young children and make it fun for them too!
I was a little put out at first by how spread out the lifts were, until I realized they had shuttle buses that operate very regularly that will drop you off at your car or your lift of choice. What's not to love about that?
The tram was really impressive (I didn't get a chance to use it but Reid did and he loved it). Reid, who has really yet to find any terrain he is uncomfortable with, had a blast at Snowbird exploring the ins and outs and crevices (quite literally since there is a tunnel that takes you to the backside of the mountain). So to say that it can please the whole family really isn't an understatement.
While ToddlerTravels did not get a chance to ski, she loved playing in the snow and swimming in the pools. A day has not gone by where she hasn't asked to go back to the mountains.