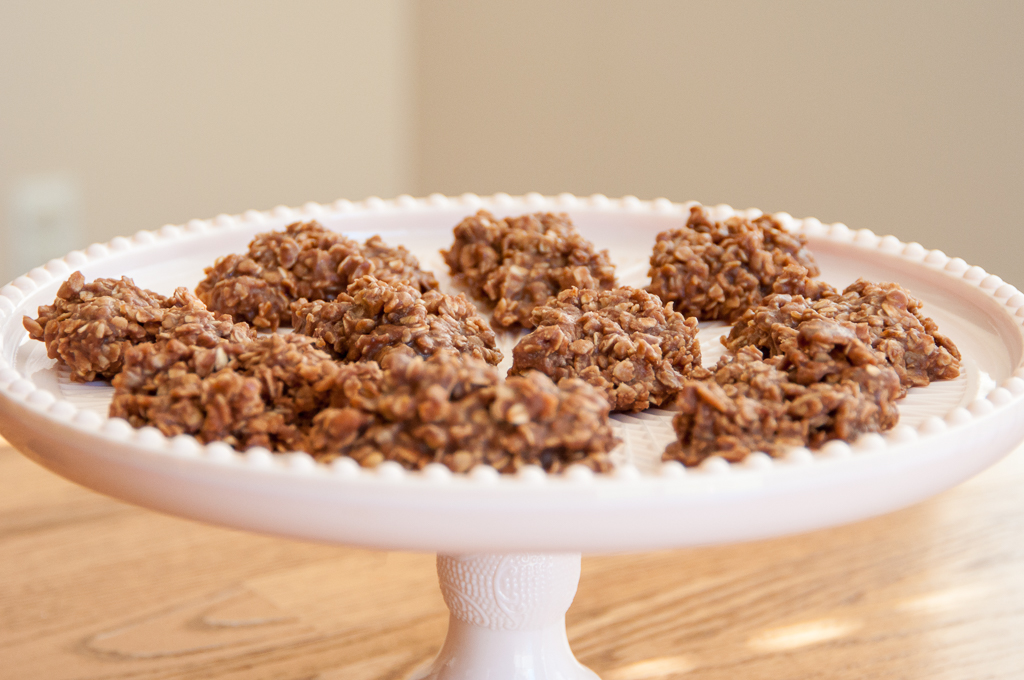 Oh, man, do I love a good no bake cookie. It seriously brings me back to elementary school days. So delicious and chocolatey. Yum! The only problem is minus the oats and peanut butter they are awful for you. The other day I was staring at the ingredients trying to talk myself out of making and eating the whole batch (nevermind saving any for the trip that was coming up) when I got the idea to use coconut oil and add some ground flaxseed to make them a little better (I'm sure I'm not the first one to do this).
I'm not one to fiddle with recipes but this just sounded so perfect and that it couldn't fail so I decided to give it a shot. They did not disappoint, I was worried they wouldn't firm up but they actually did a little better than using butter (or margarine-gross). And you can't taste or tell there is flaxseed at all because it's ground up. I like to throw mine in the freezer for an amazing random snack or just to help firm them up for airplane and road trips. ToddlerTravels definitely gave her approval as well.
Coconut Oil and Flaxseed No Bake Cookie Recipe:
1/2 cup coconut oil
1/2 cup milk
2 cups sugar
3 tbs cocoa
1 tsp vanilla
1/2 cup peanut butter
3 heaped cups of oatmeal
1/4 cup ground flaxseed
Instructions:
Combine oil, sugar, milk, and cocoa in large saucepan. Bring to full boil on medium heat. Add peanut butter, flaxseed, oatmeal and vanilla. Mix thoroughly and quickly. Spoon drop out on wax paper. Let cool and set. Devour.