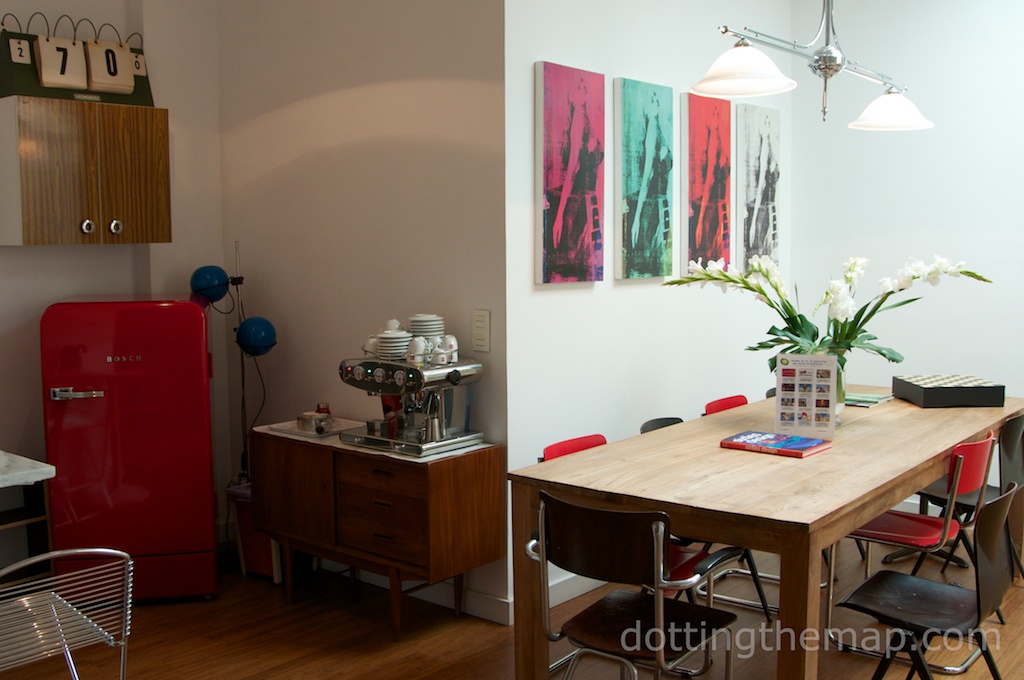 We loved our stay so much at the Retrome in Rome, Italy that we were pretty excited to try out the Retrome Barcelona property. The day that we were to check in to the hotel we had just stepped off our Mediterranean cruise and were a little bummed that part of our trip had just come to an end, but we perked up once we checked in to the retro digs we were to stay in for the next couple of days.
I loved that not only was it a bed and breakfast but that it also felt like you were renting an apartment in a nice part of Barcelona. The common area was stocked full of books about Barcelona and the different styles of architecture and we really appreciated that. It was also very close by to a number of attractions and shopping areas.
Even though it was a smaller property, and some of the rooms are nearby I thought we might have to deal with noise and maybe even some city noise, but it was quiet and we were able to get a really good nights sleep on the comfortable and plush bed.
Breakfast was served at a nearby cafe and it was delicious and easy. Also another nice perk to staying here was it was easy to get a transfer bus to the airport. Just a couple blocks away and the busses leave every five minutes for a painless and easy ride. That helped us out a lot since we were catching a very early flight.
Overall we were very pleased with our stay at Retrome Barcelona and definitely recommend to any travelers who may be making their way to the beautiful Spanish city of Barcelona anytime soon.
*Retrome Barcelona hosted our stay, but our opinions are our own