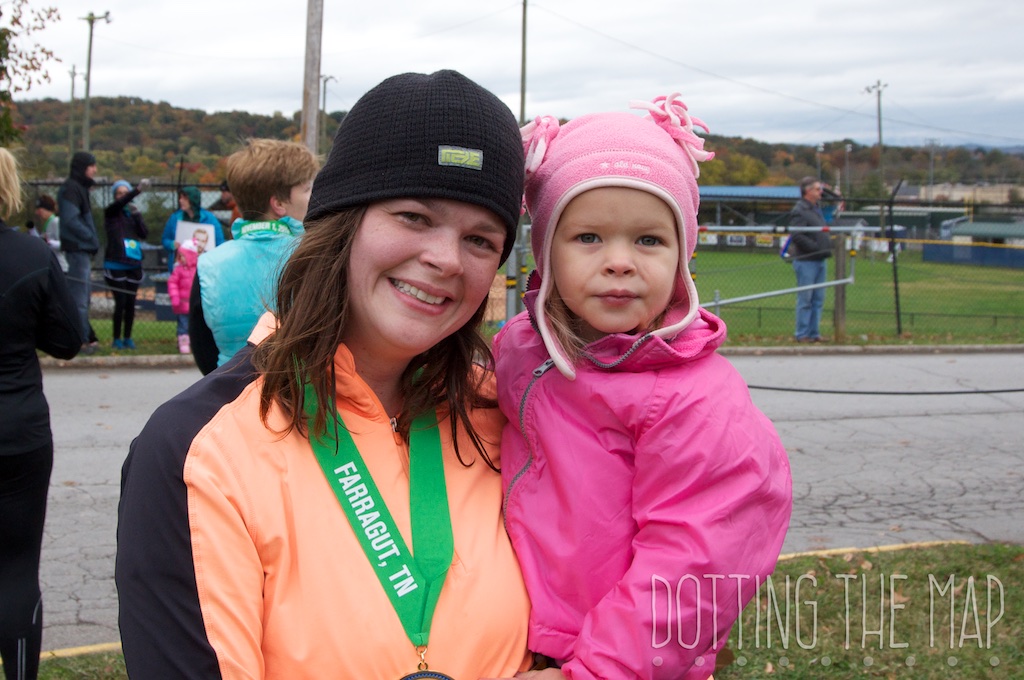 I'm so not a runner. I'm not even really all that athletic. I'd like to be and I admire those who are but athletics are not something that has just come easily to me over the years. I have to work at it and even then it takes me a bit longer then the average person. It took me at least a hundred times to get up on a wakeboard for the first time and at least three seasons of snow-plowing down the mountain before I got the hang of snowboarding. My extent at running was a lap around the track or so during my stint on the junior varsity tennis team.
For some reason although I had mostly avoided it like the plague I got a very distinct feeling this past spring that I ought to train for a half marathon. That's ridiculous I thought! How is this going to help me achieve my goals in life! So I put it in the back of my mind. Then I kept seeing friend after friend on Facebook pop up all with the same picture. It was them standing there looking accomplished, a medal around their necks and a wide grin on their faces after completing their half marathon race. It was a conspiracy.
So begrudgingly I stepped out of my room and shocked the life out of Reid and told him I would be signing up for a half marathon that Fall. He was very supportive of me from the start as he had run a half and a full marathon and a number of triathlons in his own right. I still remember the first few days of running. I struggled so much from trying to run just a mile, I would walk over defeated to Reid who was playing with the kids at the park near the track where I was running. I really didn't understand how I could possibly achieve such a difficult task. Maybe it was his encouragement or just forcing myself to stay with it but in the end I accomplished my goal.
Here are the five things I learned about myself, life, and trials while training for a half marathon.
Life is full of stumbling blocks. There were so many times when I had a large amount of setbacks that I wanted to quit. Injuries, time restraints, lack of support, and occasionally my own issues of laziness. If you really want to get what you want during your life you fight through it. Have your passion and drive outweigh the misery and hard times and go and get it.
It's worth it to climb the hills and mountains. I trained in some hard terrain. I did it purposefully to prepare myself for the race both physically and mentally but sometimes I would catch myself jogging up hill and grasping to breathe and I wanted to give up. I wanted to be anywhere else but here, but I knew if I just could hang on for even a couple more minutes that I would get to the top and it would be easier for awhile while I caught my breath and headed downhill. Isn't that just like life? Sometimes we have to go through the hardships so we can have it a little easier for awhile.
It's all in your head. Every seasoned runner will tell you it's all a mind game. I struggled with this for the first half of my training but thank goodness caught on towards the longer runs. If you are negative about your run and miles they will drag on for what feels like forever, you will have low energy and have a rough time completing them. However, if you keep your mind focused on positive thoughts and picture your goal in mind it will come along easy and you will have a better happier time.
Enjoying the journey is part of the process. Now, I alluded to it at the beginning but I hate running. I am not a fan but as I learned more about it and how to make it easier on myself it did began to get fun. I think back and smile on some amazing conversations I had with my running partners and some sweet moments of Reid cheering me on during my 11 and 12 mile runs as he biked alongside me. Finishing the race was a moment for me but getting there was definitely half of the fun.
The reward is worth it in the end. I was very emotional as I rounded the corner to my 12th mile. I was alone at that point and very tired but tried my best to muster any and all positivity that I could for that last 1.1 mile. I had endured so much to get here and I pictured my babies at the end cheering me on and then I realized I did this all for them. I want to be a positive role model for my girls and let them know you can keep a goal if you set your mind to it and you can overcome a lot to get where you want to be. As I crossed the finish line and saw my sweet girls I realized all the pain was worth it.
I realize a half marathon may not be the accomplishment of a lifetime. Reid often reminds me it was only a half marathon as he lovingly jabs my ribs. But for me it's not only the accomplishment of setting out to do what I started and actually finishing it (I did question if I would be able to many times due to injuries including up to the night before) but it was also the lessons I learned along the way that were truly valuable to me. As I look back on that time of my life and what we were going through I was able to pull strength from those thoughts and feelings I experienced as I trained. There were an unbelievable amount of parallels at the time and it brought me great solace.
Believe in yourself, you may be surprised where you end up.