It's no secret that Costa Rica is a beautiful family destination. The combination of climate, adventure, wildlife, and cuisine draw travelers year round. One area, in particular, offers many family-friendly activities in Costa Rica. The Arenal area and the city of La Fortuna lie just a few hours from San Jose and have a bunch of activities for all ages that will keep your whole family entertained. Here is a list of our favorite family-friendly Arenal activities around La Fortuna. If you're looking for great food in La Fortuna, check out our friend PuraVidaMom's page of La Fortuna Restaurants. She personally showed us some of these places and they're fabulous.
A great way to have these experiences with none of the hassle is to hire an experienced tour company that specializes with family trips. The company we have worked with and have come to know and love is Costa Rica Family Holidays.
Related Posts:
The Perfect Bermuda Family Vacation
Why You Can't Afford Not to Travel
Baldi Hot Springs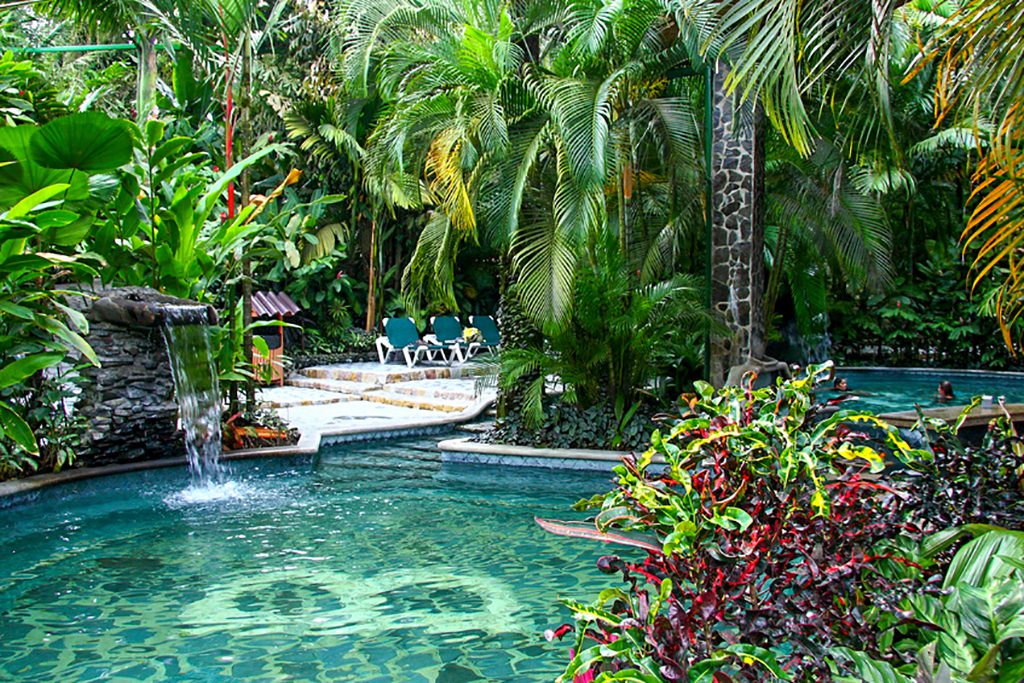 The famous Costa Rican volcano Arenal is La Fortuna's claim to fame and is visible from town and really everywhere. Its conic peak rises ominously from the rainforest below. Although the volcano isn't active and hasn't been some time, there is still a lot of warmth below the earth's surface. This means that the area around La Fortuna is home to a plethora of hot springs for your family to enjoy. They range in size, temperature, and of course admission price, but they are everywhere. In fact, many hotels have their own personal hot springs on property. If you're looking for a hot spring to please everyone in the family look no further than Baldi Hot Springs. They have a range of pools in temperature ranging from lukewarm bath water to pretty darn warm. Every pool is labeled so you don't accidentally plunge into something uncomfortable.
For families with kids, there is a large splash pad for toddlers and young children. There are also waterslides, a full restaurant, and even an on-site hotel if you'd like to make a stay of it. Many of the pools have full service bars for adults as well. Full changing rooms with showers and lockers make it even more family friendly. There is nothing like soaking in a warm pool in the middle of the rainforest. The property is lush and fun to wander with hidden pools, caves, and even a natural sauna.
Mistico Arenal Hanging Bridges Park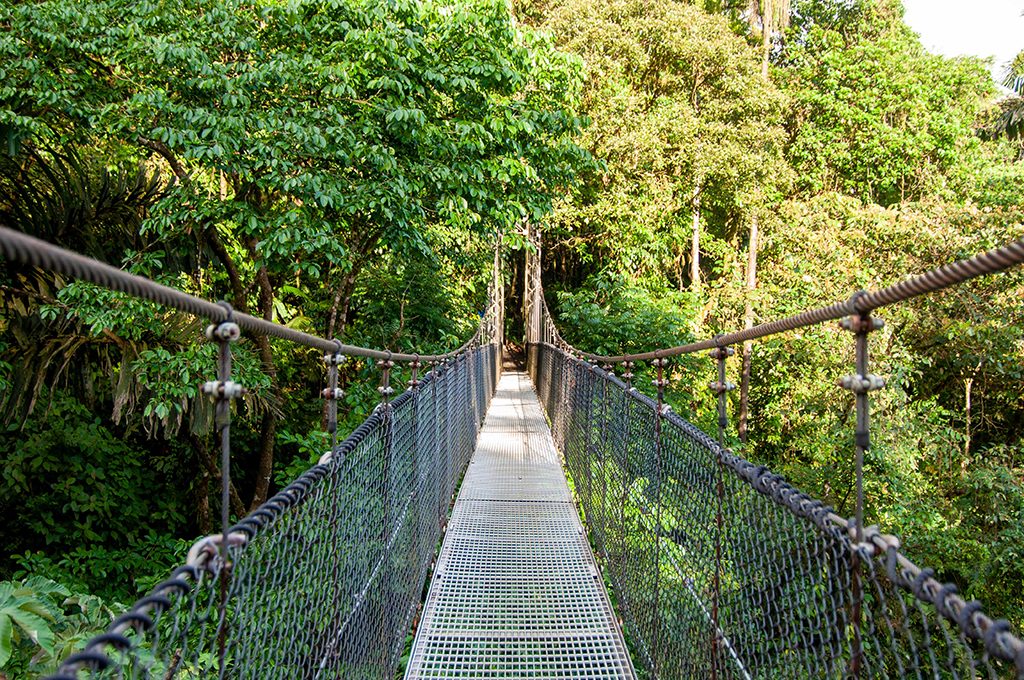 The view of Arenal doesn't get much better than from the top of Mistico Arenal Hanging Bridges Park. The park is full of paths carved through the wild rainforest that are suitable for all ages and abilities. If you're not up for much of a walk you can tour the magical gardens which are home to many species of tropical flowers as well as butterflies and hummingbirds. If you're up for more of an adventure continue on through the rainforest and step out on to the parks 16 hanging bridges. They hang over various steep ravines and jungle streams. The views cannot be beaten.
If you keep your eyes open you'll be surprised with a variety of wildlife. In our hour and a half tour we saw snakes, lizards, too many birds to count, coatimundi, and lots of butterflies. More patient viewers may even see the elusive sloth which often move so slow they are hard to spot in the forest canopy.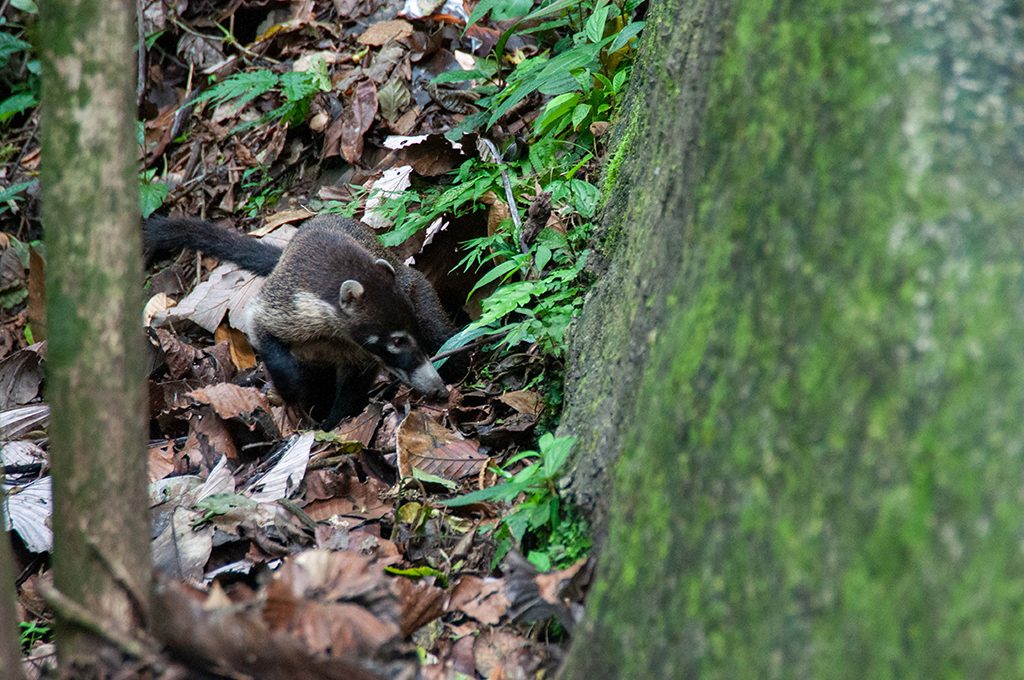 The full loop of only takes a few hours to do the entire thing. If you're not up to it, a smaller loop is paved and is suitable for smaller children as long as they are comfortable with a little bit of up and down walking. The hanging bridges are fenced in quite well, but still make children or parents uncomfortable due to their height and the sway they have. If hiking or heights are not your thing, an entire loop of the park is wheelchair accessible which means stroller friendly as well.
Ecoglide Arenal Park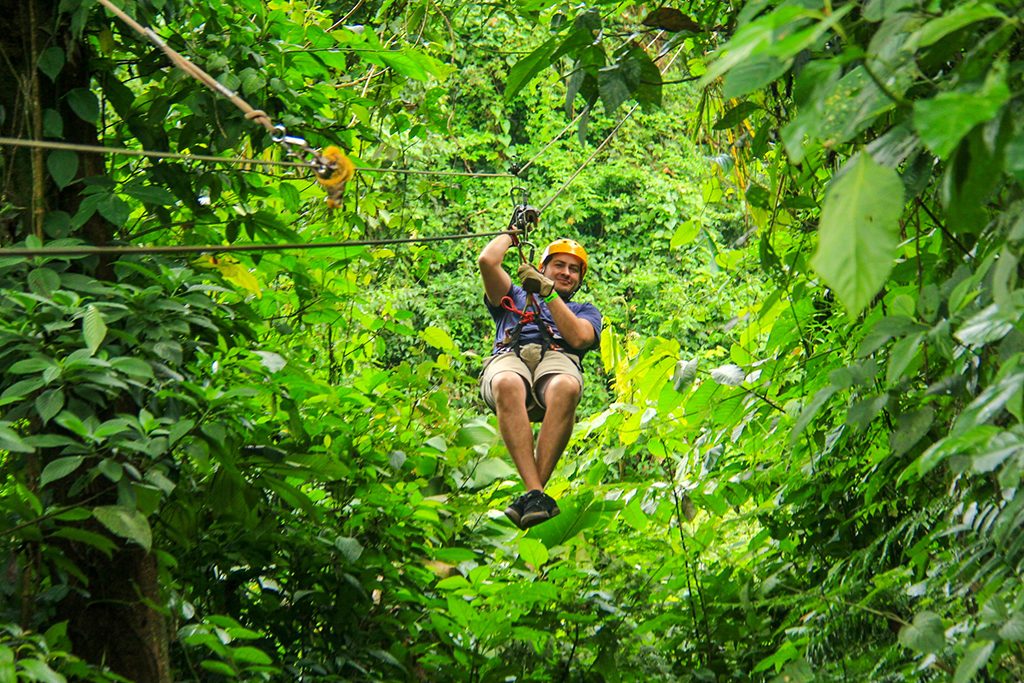 Costa Rica is known for their adventure travel and is blessed with some of the world's most amazing zip lines. La Fortuna is home to quite a few, so why not bring the entire family out for an adventure soaring through the rain forest canopy. I've been on a handful of zip lines through my travel career and must say that the Ecoglide Arenal takes the cake without question. The park is home to an amazing tour of 13 ziplines of various lengths that a will leave you breathless not only from the adrenaline, but the amazing views.
After a short, but informative safety course and trial zip to get you comfortable they shuttle you up the mountain to begin the adventure. The guides are professional and efficient making you feel comfortable and able to fully enjoy the experience. Midway through the tour there is an optional Tarzan-like rope swing that is the rush of a lifetime that you're able to add on for a fee.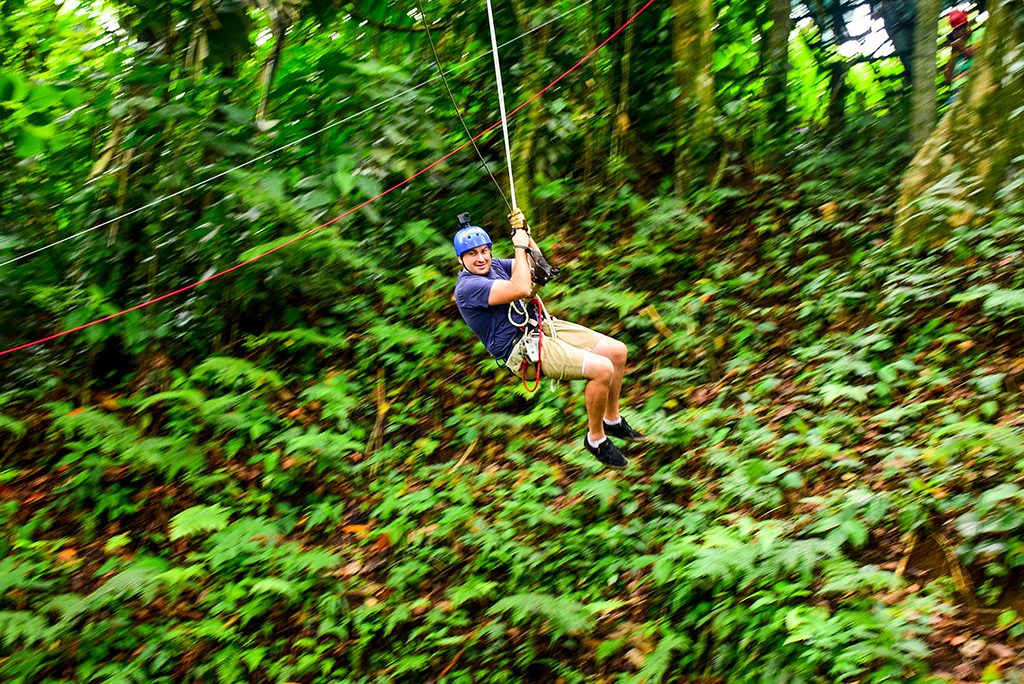 The tours have no age limit, they are based solely off of weight and height. Their rule of thumb is that if your harness fits properly you can ride, although younger children and less experienced riders typically ride tandem with a guide. Soaring through the tops of the trees in lush forest and breaking through to an open vista of the lush valley below is something that truly has to be experienced.
Arenal Volcano National Park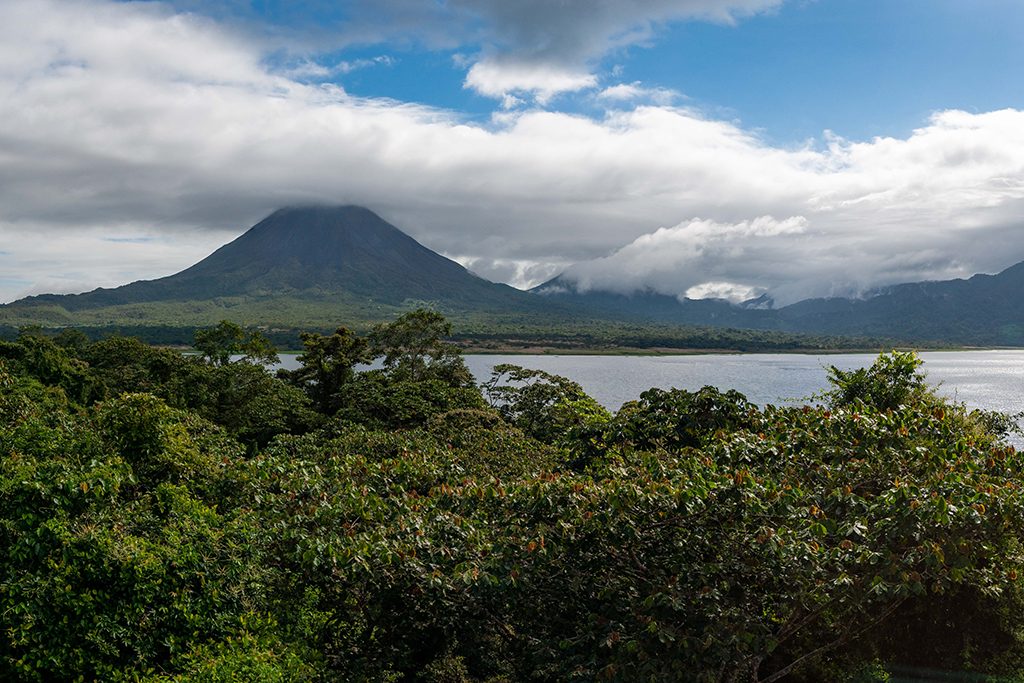 A nice rainforest walk that is totally family friendly is the Peninsula Sector or Arenal Volcano National Park. They have a newly paved trail that is wide and stroller friendly. There are a few slopes, but nothing that smaller kids would have trouble with. The entire hike of the peninsula is through lush forests with plenty of wildlife viewing opportunities. The highlight of the hike is a tall viewing tower with stairs near end of the peninsula that has spectacular views of Arenal Volcano and Lake Arenal. A little further down the path the trail ends at the shore of Lake Arenal with another viewing platform. It is truly a gorgeous view and a great way to spend a morning as a family.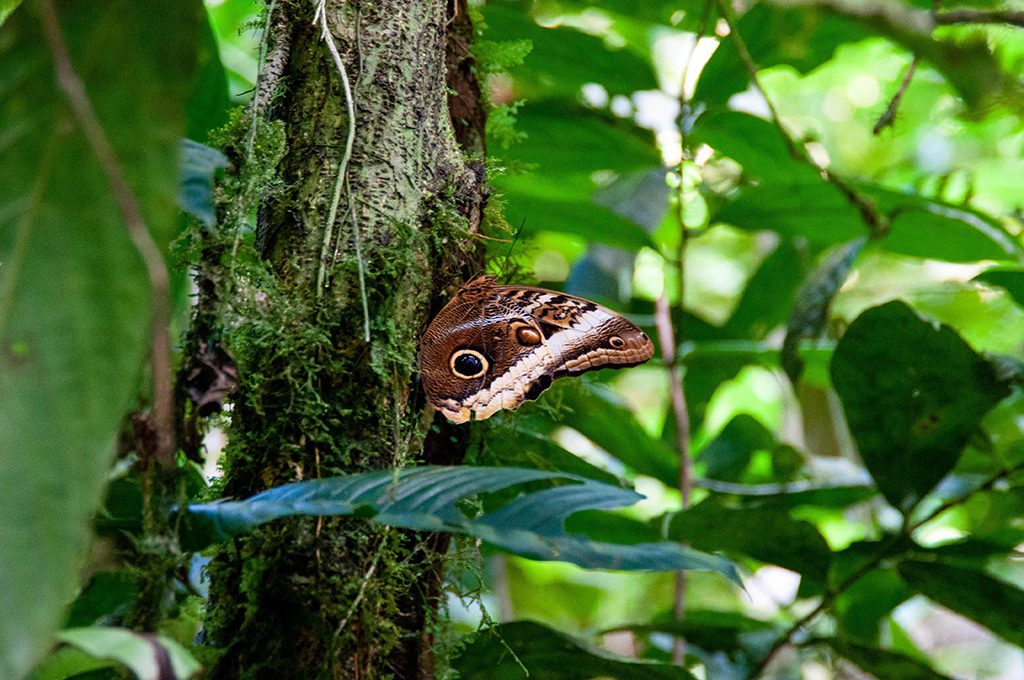 Arenal Vida Campesina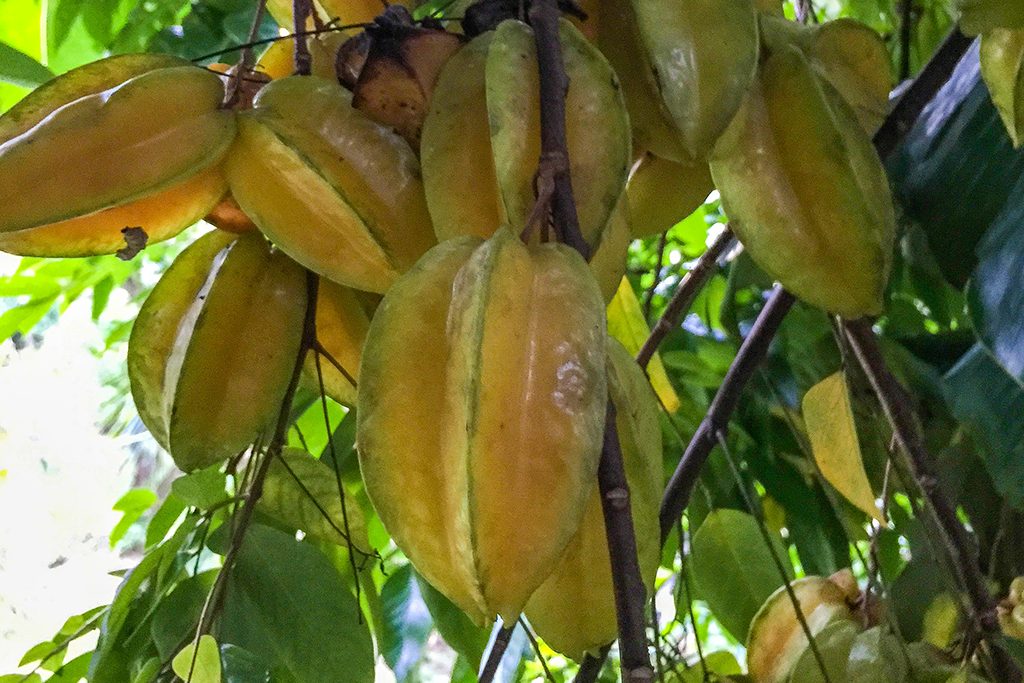 Arenal Vida Campesina is an organic farm just outside of La Fortuna that has a ton of activities that are educational. From coffee and rainforest tours to food tasting and special cooking lessons. We were fortunate enough to get a tour of their gardens that support their on site restaurants. During the tour we learned all about the different fruits and plants native to Costa Rica. We even got a hands on view of how sugar cane is pressed and harvested. Our tour ended with a hands on meal where we were introduced to traditional tortilla making and native Costa Rican cuisine. It is a must stop for families.
We loved our trip to Costa Rica! Have you ever been to La Fortuna? What are your favorite Costa Rica adventures?
Our visit to Costa Rica was sponsored by Costa Rica and Il Viaggio Travel but our opinions are always our own.
Pin This