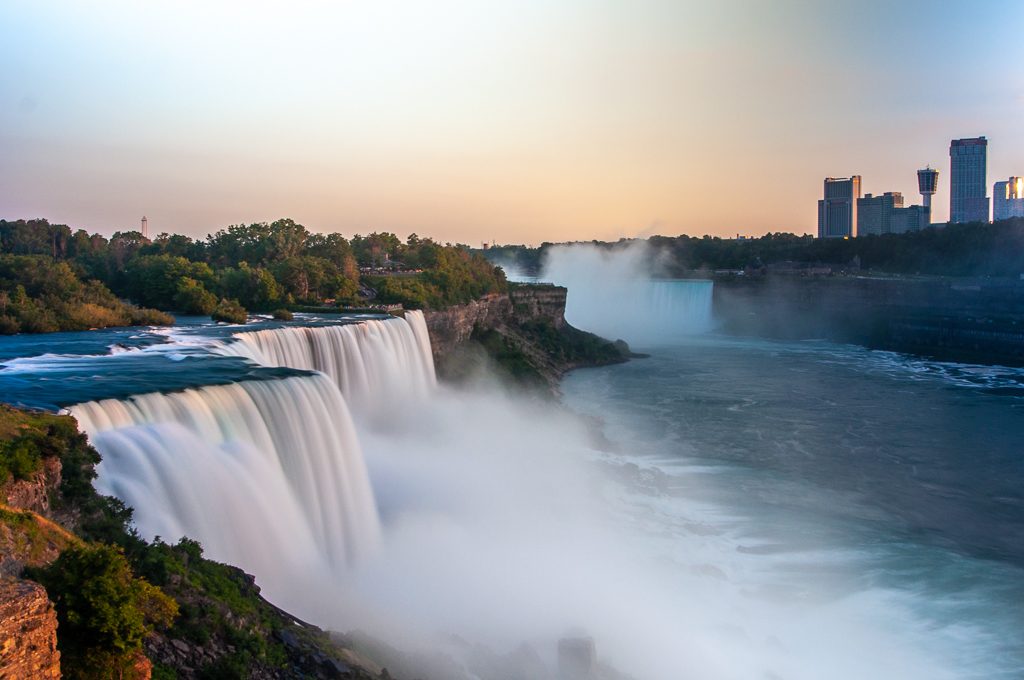 Niagara Falls is a quintessential road trip destination for Americans and Canadians but is also well traveled by international visitors as well. Obviously, the main draw to the area is the enormous natural wonder of the Niagara Falls themselves located both in New York Niagara Falls State Park and Ontario Canada. Don't limit yourself to just seeing the falls then taking off to your next location. There are many fun and free things in Niagara Falls for couples and families as well. We spent a week in the Niagara Falls area taking in a bunch of Niagara Falls free attractions as a family.
Related Posts:
10 Family-friendly Things to do in Niagara Falls with Kids
5 Free Things To Do in Williamsburg, Va
Best Free Things To Do In Las Vegas
Here is a list of our favorite FREE attractions to both sides of Niagara Falls. Whether you are interested in enjoying the beauty of nature, learning about the ingenuity of Tesla in pioneering electrical advancements, or just spending quality time with your loved ones. Niagara Falls is a family vacation destination that has it all and won't break the budget.family-friendly things to do and see in Niagara Falls that families of all ages will enjoy.
Free Things To Do In Niagara Falls NY
Niagara Falls State Park
This is my favorite first stop in Niagara Falls. Seeing Niagara Falls on the American side does not cost money at the state park. If you want to park right next to the Falls it will charge you roughly $10 for the day. You can get a great view of Horseshoe Falls and American Falls and even feel the mist for free. There are many great walking paths and sights to be seen on Goat Island and there is a visitors center, gift shop, and restaurant that is enjoyed by all. The Niagara Falls State Park is where you can catch the trolley to other attractions, take a tour of Cave of The Winds, and grab some ice-cream for a mid-day treat (all of these have extra charges associated with them).
Niagara Gorge Discovery Center and Schoellkopf Power Station
Families will enjoy touring the interactive exhibits and seeing the ruins of the original hydroelectric power station. This is a great free educational opportunity that is not to be missed. Our kids enjoyed the views, the hands-on learning and the nearby nature hikes. The Discovery Center itself is not free (about $3 admission for adults) but you can view the ruins for free if you head to the elevator and there are several great hikes at the trailhead here.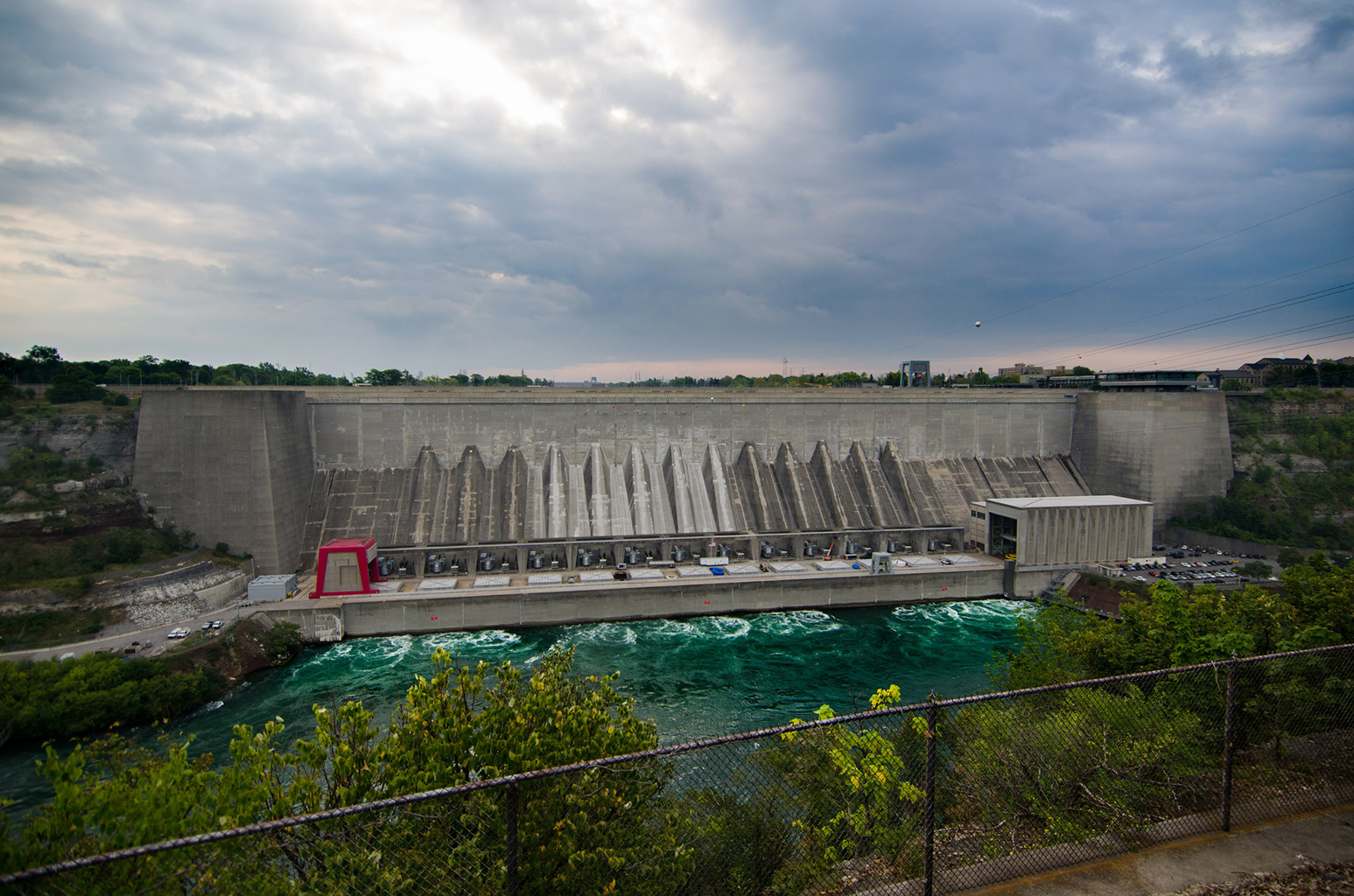 Niagara Power Vista
People are often surprised that this attraction is free and well worth the stop. Interactive exhibits, stunning views of the gorge draw over seven million visitors here a year. Very educational as you learn about different means of energy and are able to interact with various points in the process in a personal way with your own avatar.
Das Haus German Heritage Museum
A free educational heritage museum that showcases the stories of various German immigrants who fled their countries in search of freedom.
Grass Island
Located on the Niagara River near the North Grand Island Bridge in Niagara Falls, New York is a beloved picnic and summer hangout spot. Grass Island is the perfect spot for a boat ride and a picnic.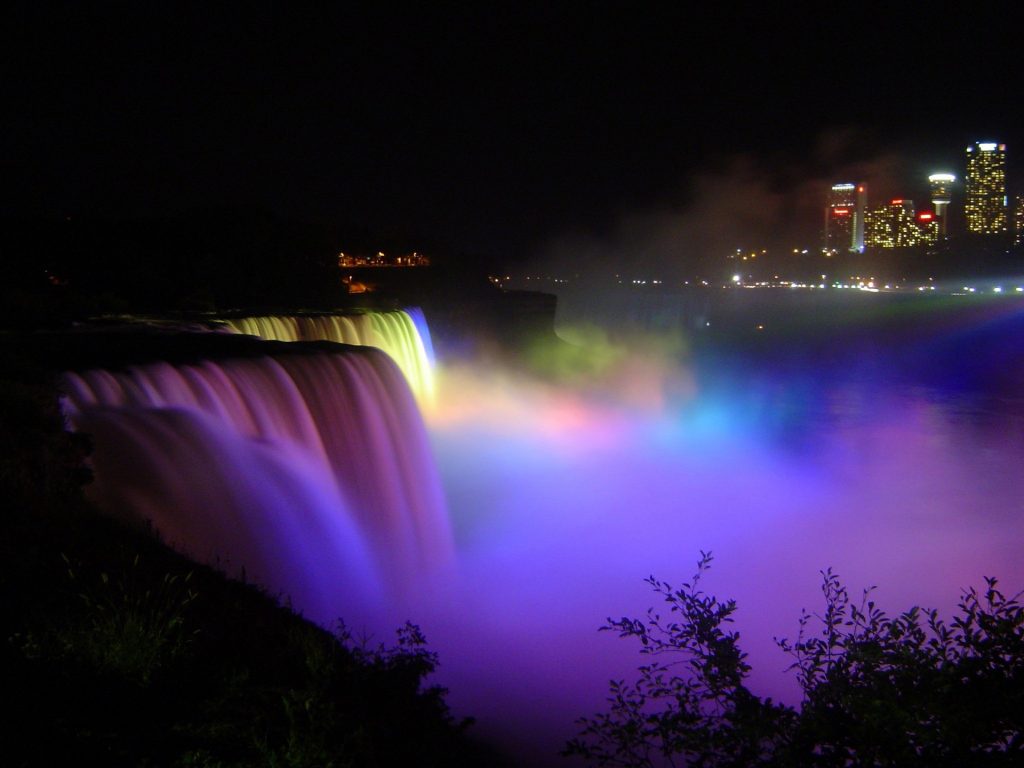 Niagara Falls Illumination
Every single night all year round after sunset is a light celebration across Niagara Falls illumination. The falls are lit up in various colors (sometimes festive colors depending on the season) and are a delight for the eyes. This is something you will want to see and experience with your family. You can view both American Falls and Horseshoe Falls illuminated and great viewing points are at Queen Victoria Place.
Niagara Falls University
Castellani Art Museum boasts over 5500 pieces of either modern or contemporary art. Located right in the center of Niagara Falls University it offers a cultural refuge. A great way to offer kid's a unique perspective and broaden their horizons while traveling.
Hyde Park
Outside of the city of Manhattan, Hyde Park is the largest city park in New York. Hyde Park has a municipal golf course, bocce, tennis, baseball fields, and lawn bowling, Olympic sized pool and wading pool. Local residents love to come and walk through the meticulously groomed rose gardens.
Whirlpool State Park
If you are looking for stunning scenery and views of Niagara Falls River rapids then this is the place you want to go. You can get a birds-eye view of the Niagara Whirlpool on the lower Niagara Gorge. If you are out and about with your family on a scenic drive this will make for a fun and free stop.
Queen Royal Park
located in Youngstown, New York with stunning views of Lake Ontario and on clear days you can catch a glimpse of Toronto. It is also a great place to enjoy a picnic with your family, watch the sailboats and depending on the time of year catch an outdoor concert or festival.
Splashpads and Playgrounds
There are many fabulous splash pads and playgrounds located throughout the city. You can check the Niagara Falls parks and recreation department for an updated list. We enjoyed the pool at Fort Niagara and while it wasn't free (a couple dollars a person with young children being free) it was refreshing and fun on a hot July day and has great views of the lake!
Free Things To Do In Niagara Falls Canada
Oakes Garden Theater
A beautifully manicured garden with stone walkways welcome visitors looking for a floral escape from the hustle of the city. Located near the entrance of Queen Victoria's Park and at the base of Clifton Hill, it is an easily accessible stop on your walking tour of Niagara Falls Ontario.
Queen Victoria's Park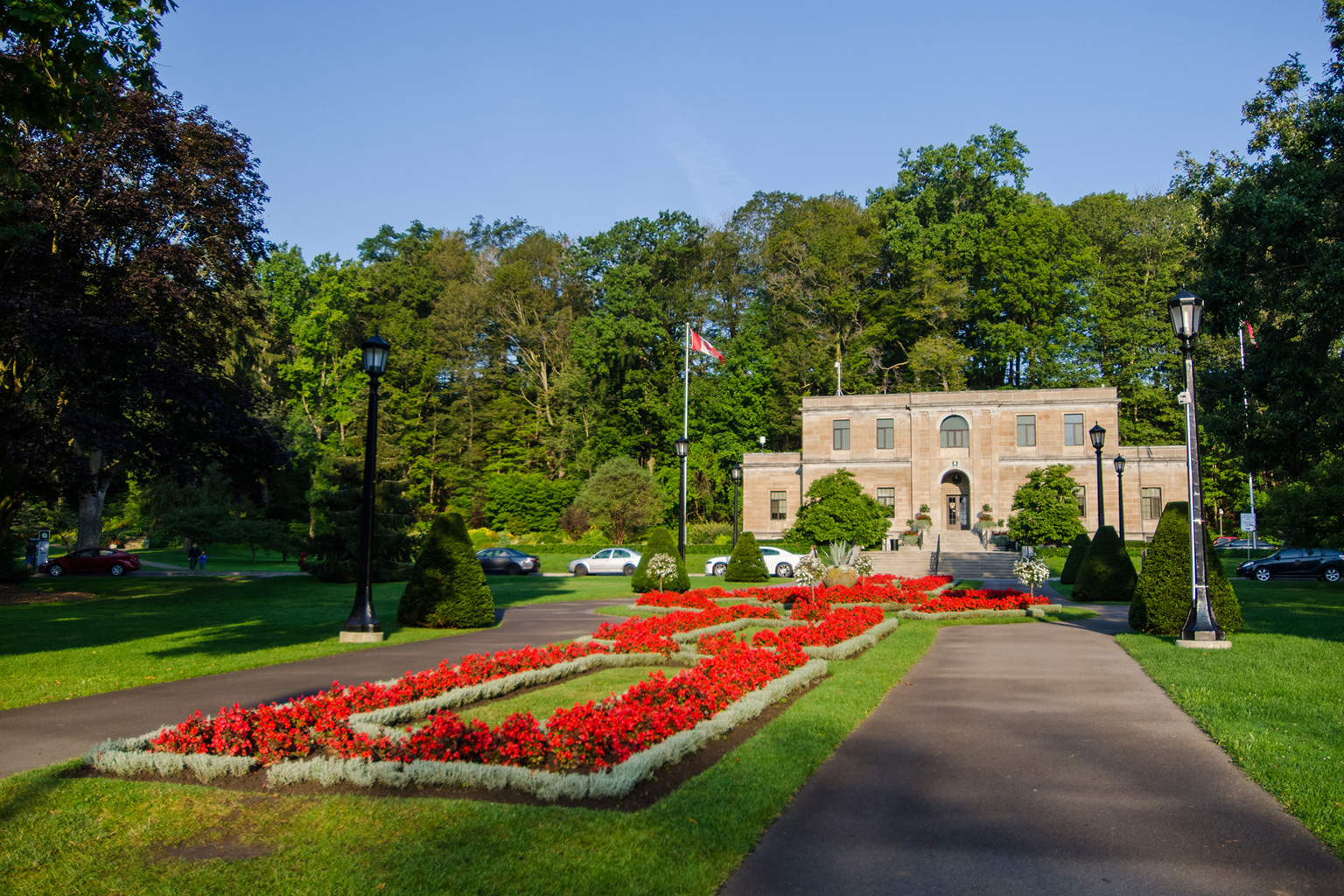 This is a no-brainer stop on the Canadian side of Niagara Falls. Not only do you get an amazing one-of-a-kind view of Horseshoe Falls but the beautiful gardens and scenery that lead you to the view will almost rival it. A rose garden, rock garden, and beautiful flower displays with ample benches will be an eye-popping stop to your day.
Niagara Parkway
Also occasionally referred to as Niagara Road is a historically rich scenic drive that will take you from Niagara River through Fort Erie and on to Niagara on the Lake. If you are looking for a stunning option for your Sunday drive, this is the choice for you. Crank up some oldies and enjoy the scenery with those you love. If you have kids along for the ride make sure you point any wildlife you see.
Hershey's Chocolate World
So while this may not be a completely free attraction, it is one of Niagara Fall's most beloved attractions. Essentially it's a glorified Hershey store where you can purchase delicious Hershey's confections from the Taste Bar, peruse the shop of rare Hershey's treats, or just come in and do some window shopping and look around. Either way, it is much loved by kids and adults alike.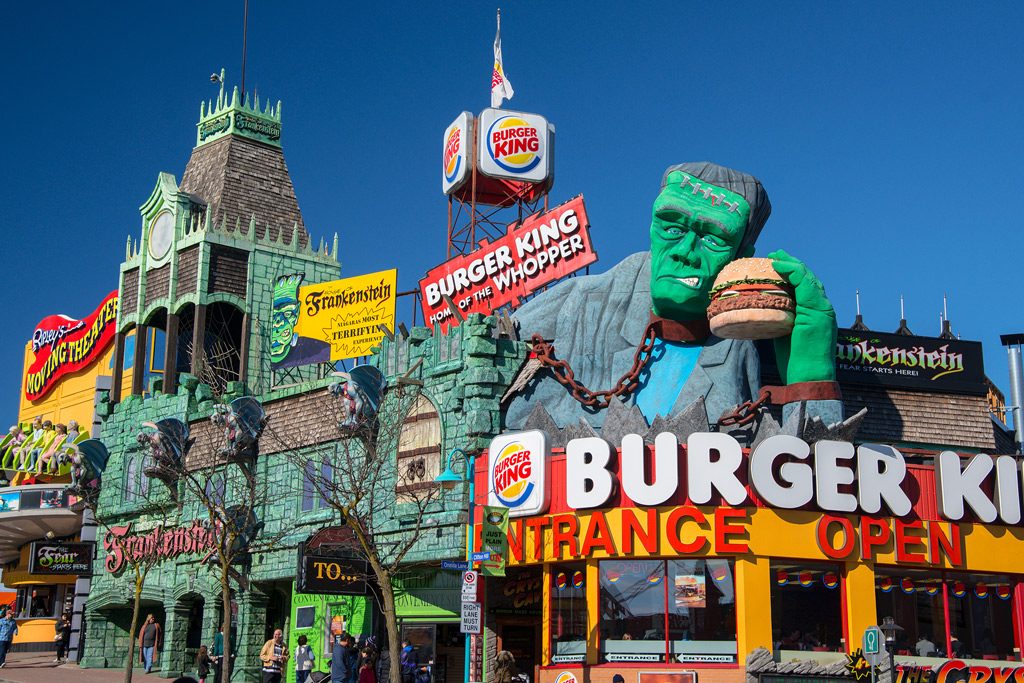 Clifton Hill – "The Street Of Fun By The Falls"
Here you will find your more kitschy Niagara Falls attractions. These include a Ferris wheel, go-karts, miniature golf, and other various midway games and rides. Think carnival by a large waterfall. The rides and food cost money but it is also a fun place to stroll and watch the action.
Niagara Falls History Museum
If you are looking for the nitty-gritty on Niagara Falls and it's colorful origins, then a stop at the Niagara Falls History Museum is a must. This museum does charge admission during high traffic times but from 5:00 pm to 9:00 pm admission is FREE. If you plan your day correctly you can continue your budget-friendly streak and learn about the working history of Niagara Falls.
Floral Clock
Close to the Niagara Botanical Gardens, this iconic display is a must stop on your walking tour through downtown Niagara Falls on the Canadian side. It is a wildly popular photo destination and it is stunning in its own right.
Niagara Botanical Gardens
Niagara Falls Canada loves their gardens and beautiful natural scenery. The Niagara Botanical Gardens boast 99 acres of unique gardens, trees, and plants all well manicured for your enjoyment. This is a great place to take a stroll and learn about new plant species. This garden features over 2,400 roses so it's a place to excite all your senses including your sense of smell.
Niagara Glen Nature Preserve
Stunning views of the turquoise water of the Niagara River, nature hikes, overlooks of Niagara Gorge and Whirlpool are just a few of the reasons people visit every year. It's perfect for those who are interested in the more natural attractions that Niagara Falls has to offer.
Dufferin Islands
One of our favorite spots to visit when in the Niagara Falls area. This 10-acre park connects various small islands with footpaths and bridges making it a fun place to explore. There is also catch and release fishing available and a popular picnic destination. Kids will love wandering from island to island or it is a quiet and peaceful spot to enjoy some relaxation.
Ever since I was a little girl I had longed to visit the northeast part of the United States. Growing up in the west the rich history of the East Coast, beautiful scenery and unique sights beckoned me. It wouldn't be until I was much older that I would get the opportunity to visit all the places I had dreamed of. But the wait was worth it. Niagara Falls, New York was a dream come true.
The kids loved each and every experience they had at this destination. My oldest kept saying this is the best day ever! We did opt for a few paid attractions and even purchased the discovery pass which was a bargain. It bundles all of the most popular paid attractions in Niagara Falls such as Maid of the Mist, Cave of the Winds, the Aquarium, the Imax movie theater, the trolley and many more. We felt the value was worth the expense. So consider that as well if you decide to bring your family to Niagara Falls.
Have you ever visited Niagara Falls, New York or Niagara Falls Canada? What were your favorite attractions to visit?
Pin This