I LOVE reading Holiday Gift Guides. They are fun to get ideas off of and brainstorm for people who are hard to gift for. But some of the ideas are a little outrageous and who wants to pay $400 for an eye cream for their Grandma? Due to our lifestyle choices we are pretty minimalist when it comes to toys and gifts. I HATE to spend money on something for someone just for the sake of spending money. I want them to enjoy and love what they get and for the gift to have special meaning. 
That being said, I thought it would be fun to do our 2017 Holiday Gift Guide a little different this year. These gifts are not random toys picked off of Amazon to entice you to use our affiliate links (but if you do we are ALWAYS grateful) these are gifts that my kids are ACTUALLY getting for Christmas this year. They are handpicked by a mom who has her kid's interests in mine plus realizing that I'm trying to save space in the RV for sanity's sake. 
So if you see my kids before Christmas…SHHH!!!! These are the gifts they are getting and I hope it inspires or helps with last minute gift ideas!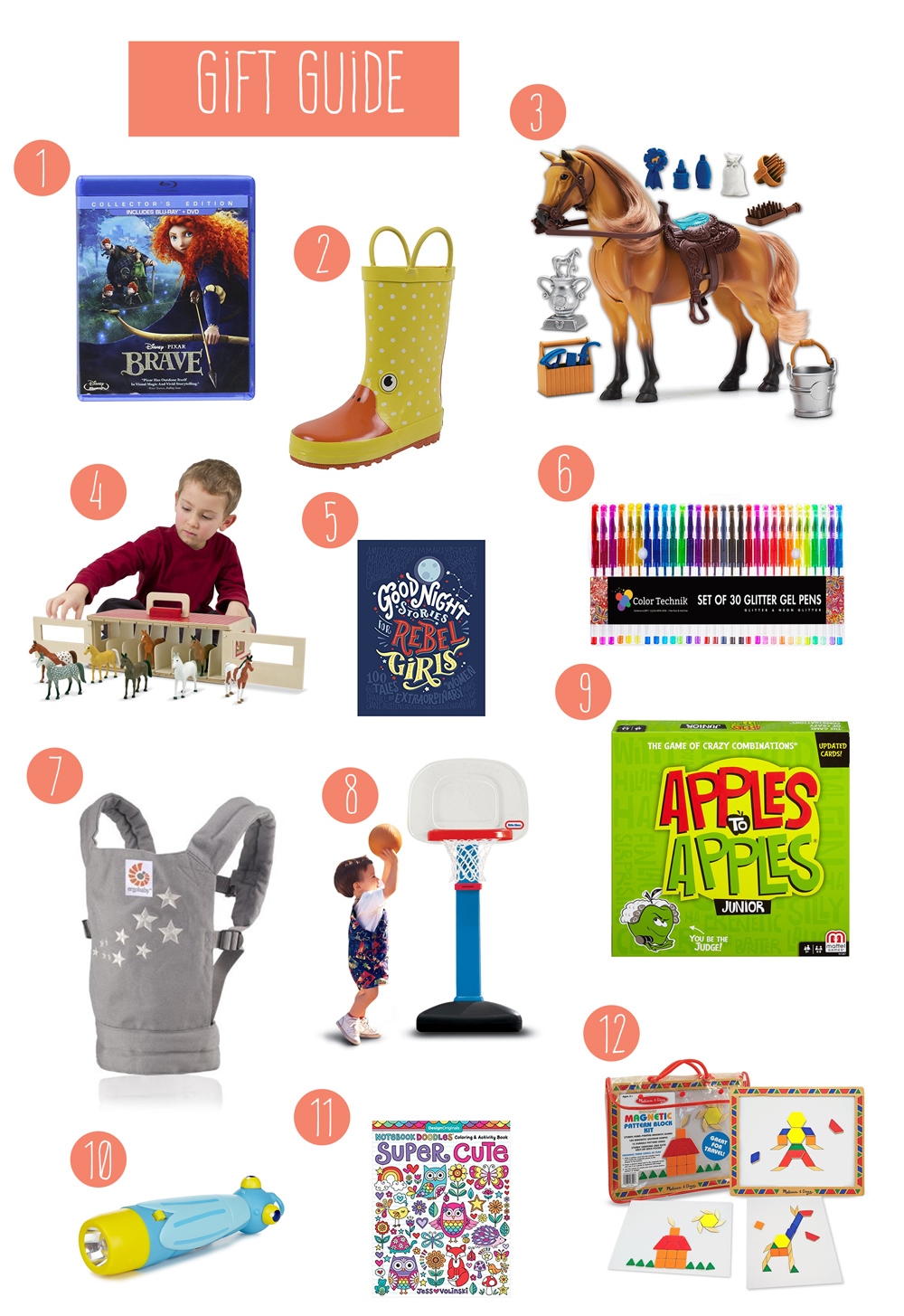 Brave - We are huge Disney fans and for some reason I noticed that Brave was missing from our collection! I'll admit we didn't really get into this movie until recently, but after I got back from Scotland this year the kid's have taken to Merida and my oldest even dressed as her for Halloween.

Rainbow Daze Printed Rain Boots for Kids - 

There is nothing cuter than a kid wearing rain boots and stomping in puddles. I am replacing some of our worn out rain boots with these cute little ducky boots. 

Sunny Days Blue Ribbon Champions Deluxe Horse - 

My oldest is obsessed with horses.

Melissa & Doug Take-Along Show-Horse Stable Play Set - 

 She collects little horse models and I think she will love this Melissa and Doug horse stable to store and play with them. I also love this horse grooming set for her. She will be sad to leave her pony she has come to love at Horse Therapy but hopefully these horses can cheer her up a bit.

Good Night Stories for Rebel Girls - 

Ok if you have daughters you have to be introduced to the book Good Night Rebel Girls. Girls need good role models to look up to and this book is full of inspiring stories of woman who have done amazing things from astronauts, scientists, to courageous woman who have made big impacts. This is probably the gift I'm most excited for my kids to open on Christmas morning!

Glitter Gel Pens - 

So number 6 and number 11 really go together. My second daughter is obsessed with crafts, art and sits and fills notebook after notebook of drawings. She is going to go nuts over these gel pens. Girls and glitter gel pens- there is just something magical there. I think these pens and this adultish coloring book are going to keep her occupied for hours.

Ergobaby Original Doll Carrier - 

My third girl is obsessed all things baby dolls right now. I wish this phase could last forever! It's so cute! I think she is going to love being able to bring along a stuffed animal or baby doll on whatever adventure we go on with this cute baby doll carrier.

Little Tikes EasyScore Basketball Set - 

It's fun to have a boy and finally get the opportunity to buy boy things. But truth be told this will be fun for the whole family. RV space is limited but there will be room made in the family room for all to enjoy this miniature basketball hoop. I foresee many rainy day basketball competitions happening.

Apples to Apples Junior - 

We used to have Apples to Apples the adult version and my kids always wanted to play. I love that game so much but the kids don't always get the references or the people. I'm so excited to play the kids version with them and see the ideas they come up with!

Melissa & Doug Sunny Patch Flash Firefly Bug Flashlight - 

I don't really know what it is about kids and flashlights but they go nuts for it. I was the same way when I was a kid. It's always a fun gift or stocking stuffer and my kids will have fun with them!

Notebook Doodles Super Cute - 

S

ince we homeschool if I can sneak something educational in, I always will. 

Melissa & Doug Deluxe Wooden Magnetic Pattern Blocks Set - 

These Melissa & Doug magnetic wooden pattern sets are perfect for traveling and are fun but also teach simple math and reasoning skills. Plus they are fun! 
Happy shopping! I love Amazon prime because it makes my life so much easier. I don't have time to hit the stores during the season and I can check off my list or get last minute items easily! 
* This post contains affiliate links. We receive a small commission when you purchase from our links. The money goes to keeping shoes on feet and food in bellies. Thank you!