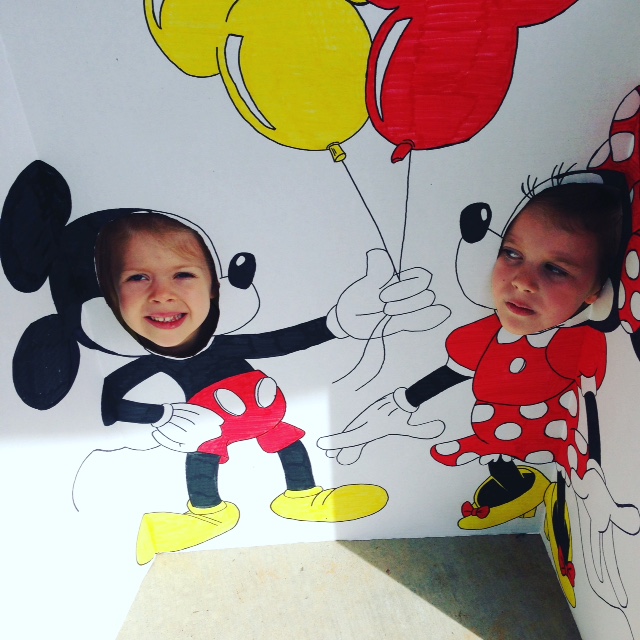 I'm not going to lie, when I saw the email come through that we had been selected to throw a #DisneyKids Preschool Playdate I almost cried. I knew how excited my two little girls would be to throw it and I knew my bigger girl would be just as excited to be a helper. Since my kids have a ton of friends that live in the area I knew that they would be so excited to have a fun excuse to get together for no other reason then to play games and enjoy yummy snacks.
For weeks we anticipated that glorious mystery-surprise-pixie-dust-filled box of goodies. And when it came I had to refrain myself from busting it open in all of it's glory so we could film an unboxing video with the girl's on their YouTube Channel.h
Next stage was planning. We handed out our invitations we made and people were more excited about it then we were expecting. We had twenty cute and eager preschoolers show up to our house (which is not huge mind you) and were ready to party!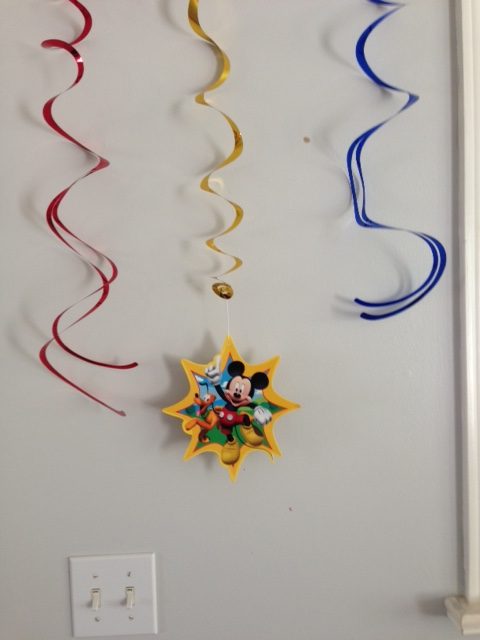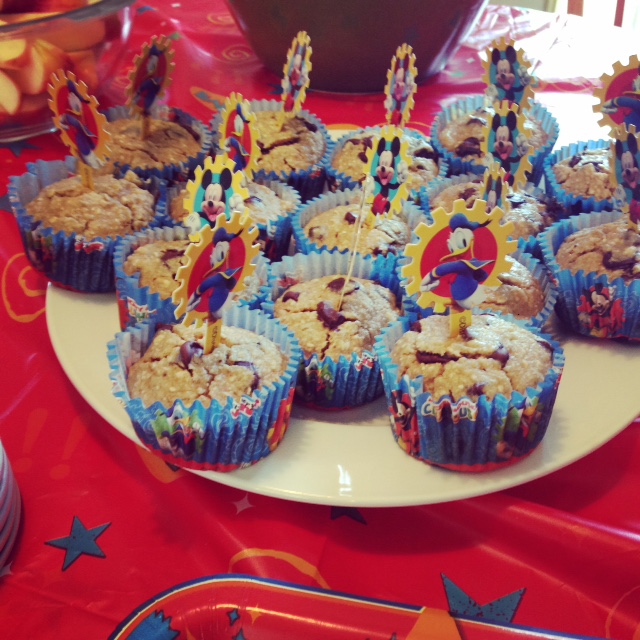 We decorated our house with all sorts of cute Mickey and Donald decorations and put together some fun snacks. On the menu was sliced apples, popcorn with coconut oil and salt, and gluten free oatmeal banana chocolate chip muffins   and apple juice. We kept the menu really healthy and we also had some allergies we needed to be mindful of.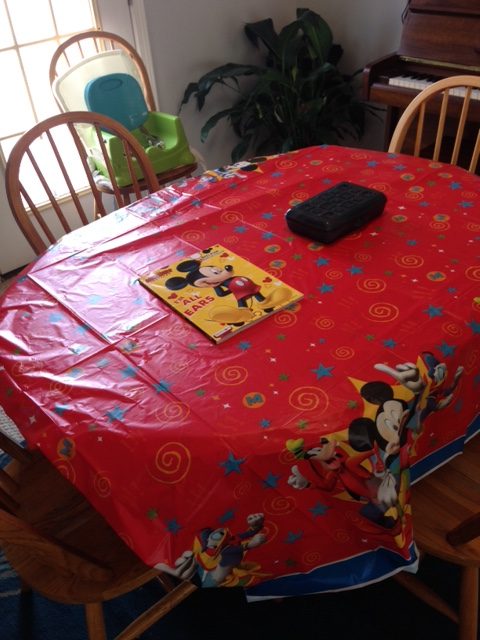 Once the kid's started to arrive we corralled them all by doing a coloring picture out of the Mickey Mouse coloring book and had our favorite Pandora Disney channel going in the background. Once that all was wrapping up we had a craft where they applied yellow star stickers to a shiny blue party hat to make their own Mickey sorcerer hat. The kids loved doing this so much!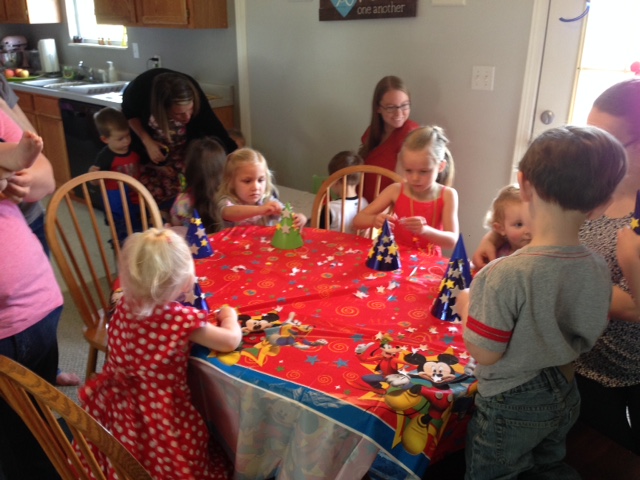 My oldest who is 7 was our magical helper and she led the kids and taught them how to do the hot dog dance! I wish I had gotten some video because it was adorable.
Next we split up into groups of three to do some fun activity stations. One of the stations we made Disney character fortune tellers (that was taking it back for me! Had not made one of those since junior high!).  Another of the stations was a Disney World ride memory game and the last one we did Disney Character charades. This was a great way to get the big group moving through the activities with minimal chaos. We had the moms go with the kids so they were in charge of their group. I set a timer on my watch for five minutes and then we would rotate. It seemed to be about the attention span of the kiddos.
Lastly my favorite activity was the hidden Mickey search. Before the kids arrived we hid Mickey's around our backyard and gave the kid's each a card that they could color a Mickey every time they found one until all had been found. Once they found all the Mickey's they came back and got a surprise! A cool Jake and the Neverland Pirates hat that was reversible to also be a Princess Sofia crown. Those were a complete hit!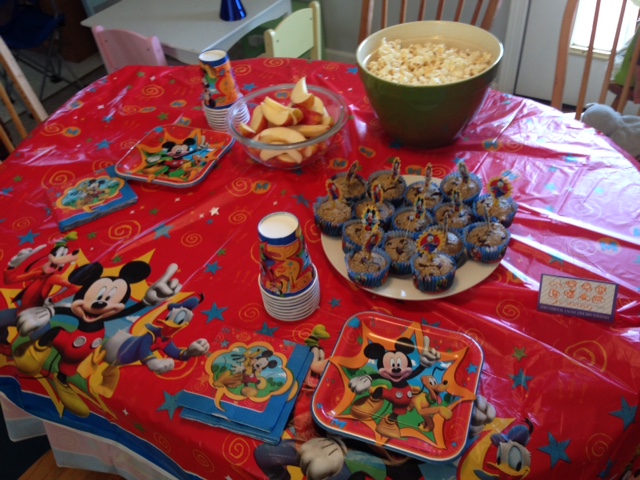 Then it was snack time and free play. The snacks were gobbled up so quickly the kid's barely noticed there were no "treats." So the moms definitely counted that as a win. The kid's also loved taking turns taking pictures with the Mickey and Minnie cutouts that a friend of mine brought that also doubled as a bean bag toss. The kid's filled up their loot bags and Mom's brought home HP Social Media Snapshots (those were hard to give up!) which are like really fun polaroid style sheets that you can stick on your wall!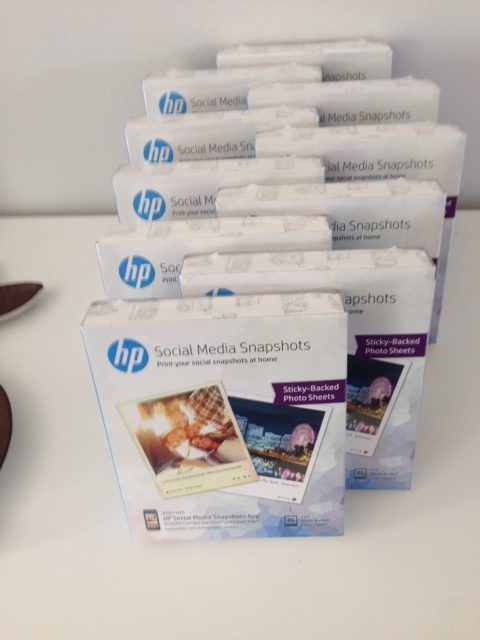 I was exhausted afterwards and had a lot of vacuuming to do but it was totally worth it and I'm just so grateful #Disneykids gave us the opportunity to participate. We had so much fun!