Embassy Suites Waikiki Beach Walk Hotel Review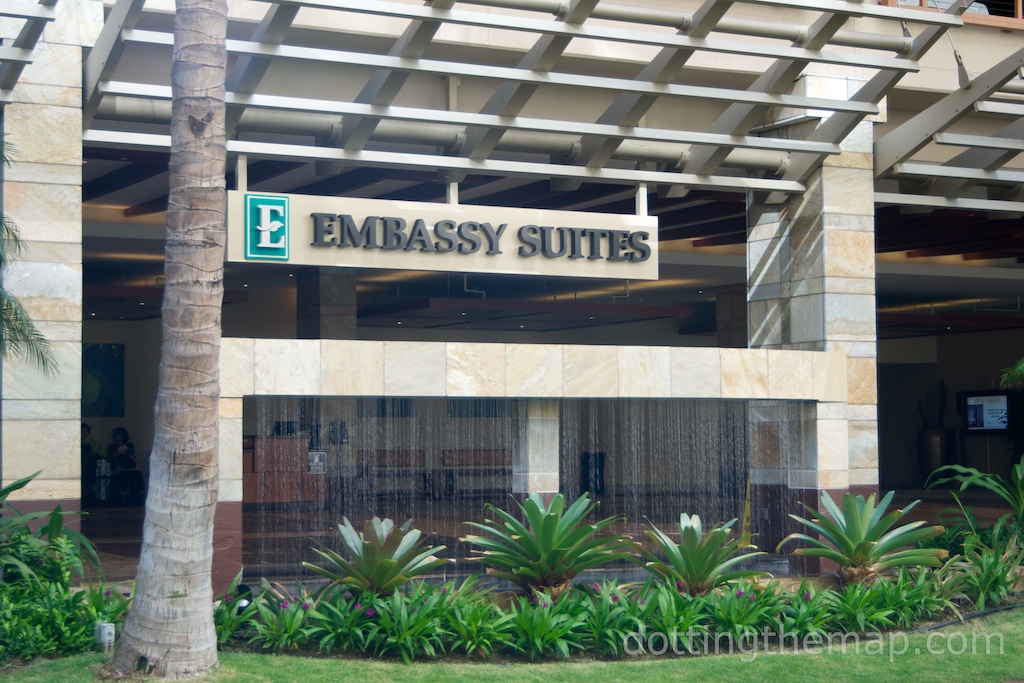 We pulled into the Embassy Suites in Waikiki pretty late after a really long flight. It was dark and I hadn't even gotten a real look around the island or even the area we were staying in. The kids were very cranky and since it was a four hour time difference it was 1 am their time. We needed our room and we needed to get the kids to bed fast.
We pulled into the valet area which was adjacent to the check-in lobby area. I was impressed. Tiki torches lit up the area and water features were abundant. Little ones in the backseat of our rental car were cooing about the scenery. We checked in and were given goblets of refreshing papaya peach juice. Quickly and efficiently we were shown to our room.
We were on the eighteenth floor and I was sure we had a good view of something, but since it was so dark outside I couldn't tell what. We tucked our children and ourselves to bed, knowing our bodies needed the rest for the day ahead.
When I was woken too early in the morning by babies inprisoned by their internal clocks at 5 am I was bummed. But then I opened the curtains and gasped at an amazing view, not only of the beach, the other hotels but the enticing pool area that beckoned us from below.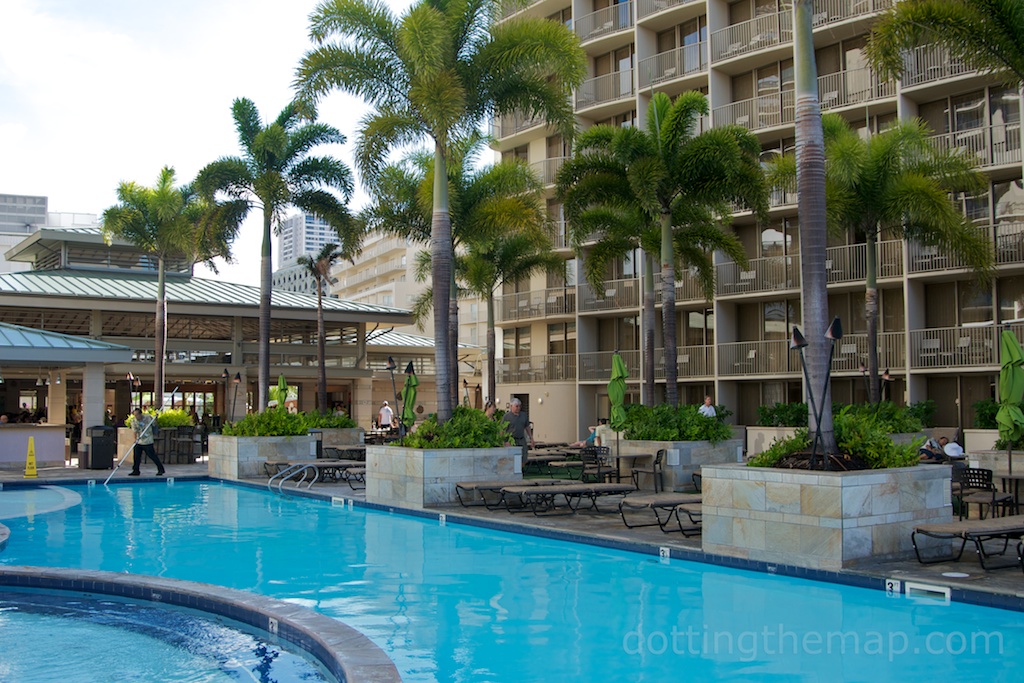 The hotel rooms were clean, comfortable and had a fun island design. They weren't overly extraordinary or plush but they were perfect for our needs, a family vacation in the islands. The room had a seperate bedroom (which if you know me is a must when traveling with children) a comfortably sized living room and an area with a microwave, fridge and a sink.
I loved how it was a quick walk to the Fort Derussy beach areas, and right outside the hotel was the lively Waikiki Beach Walk, which if you didn't have young children and weren't confined to your hotel around 8 pm every night you would have enjoyed.
The hotel staff was extremely welcoming and kind and even dug up some beach buckets and toys for our little ones to enjoy from the lost and found. One of our favorite amenities was the cook to order breakfast each morning in the area near the pool. Huge selection of breakfast items that all members of our family enjoyed including the omelet station.
They also did a small managers reception every evening with some snacky items and soft drinks and juices. A great way to wind down from a long day of beach going or sightseeing.
All in all we were so pleased with this property and it really did meet all of our needs for a family of four with little children. The location was great, the staff kind and concerned, with clean cheerful rooms, and extra amenities that add to ease of your vacation.
*We were hosted by the lovely people of the Embassy Suites Waikiki Beach Walk but it did not sway our opinions. Blame that on the island high we were experiencing.