A Wicked Time In Phoenix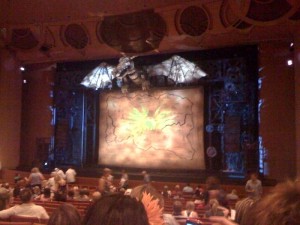 A couple of weekends ago I had the pleasure of accompanying my mom and sister to Phoenix Arizona to not only spend some quality time together but also to enjoy a Broadway favorite Wicked. We were all looking very forward to the show and since we couldn't get tickets locally, decided it was worth traveling for.
Broadway Across America tours the United States and Canada bringing some of the most beloved and adored Broadway shows right to your local theaters. They have toured such productions as Lion King, Monty Python's Spamalot, Disney's Lion King, and obviously Wicked. The show was fantastic. For anyone familiar or traveling to the area, the production was at Gammage Theater which is located on the Arizona State University Campus. I highly recommend the theater to anyone who loves a good show and looking for some relief from the heat. I know that the theater will be offering Annie, Legally Blonde, and Mary Poppins in the near future. And make sure to buy some roasted nuts before the show begins, those things are to die for!
Broadway musicals offer a little bit of escape and culture to our everyday lives which can sometimes be a little dreary. Even though it may cost a bit of money, it's definitely worth it in the end. The memories will last a lifetime. I remember seeing Phantom of the Opera when I was only 9 years old and it still is a fond memory. Now I can add Wicked to the list and am trying to figure out my next Broadway musical to visit- hopefully this time on Broadway!